Halloween is almost here! Eeeek! While you're running around trying to pull your kids' costumes together, here is a super easy, 15-minute Halloween trifle recipe that you can whip up in no time – and enlist the kids to help!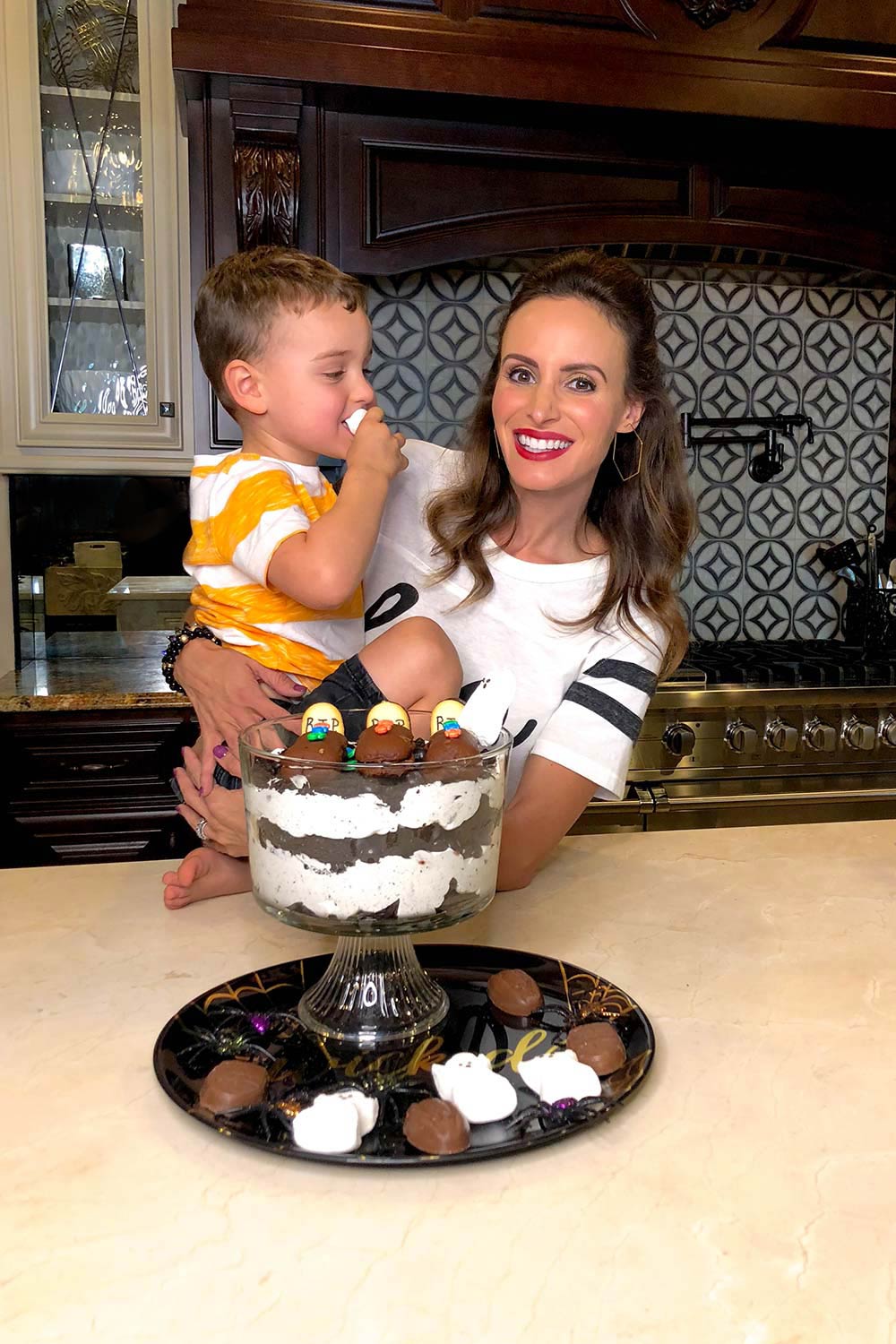 Halloween is by far one of my favorite holidays! I mean, watching Hocus Pocus, getting to go all out with costumes and binge eating candy … seriously, what's not to love?! Having a kid now makes it all even better. You thought I was talking about him before? LOL.
For real, though, getting to plan family costumes, going to the pumpkin patch and reading all sorts of Halloween books with Brexton is the best!
I also love the kids' Halloween parties, which are becoming more and more popular. Seeing all the kiddos dressed up and so excited about their costumes is priceless!
I know a lot of us have multiple parties throughout the month of October, and you don't want to show up empty handed! So I took my go-to dessert, the trifle, and made it kid- and Halloween-friendly.
I wanted a dessert that didn't take a lot of time and that Brexton could help me with. Seriously, if you know me at all, I'm not whipping up a cake from scratch. And even though I normally eat healthy, I always use the 80% healthy, 20% treat yourself rule … so live a little!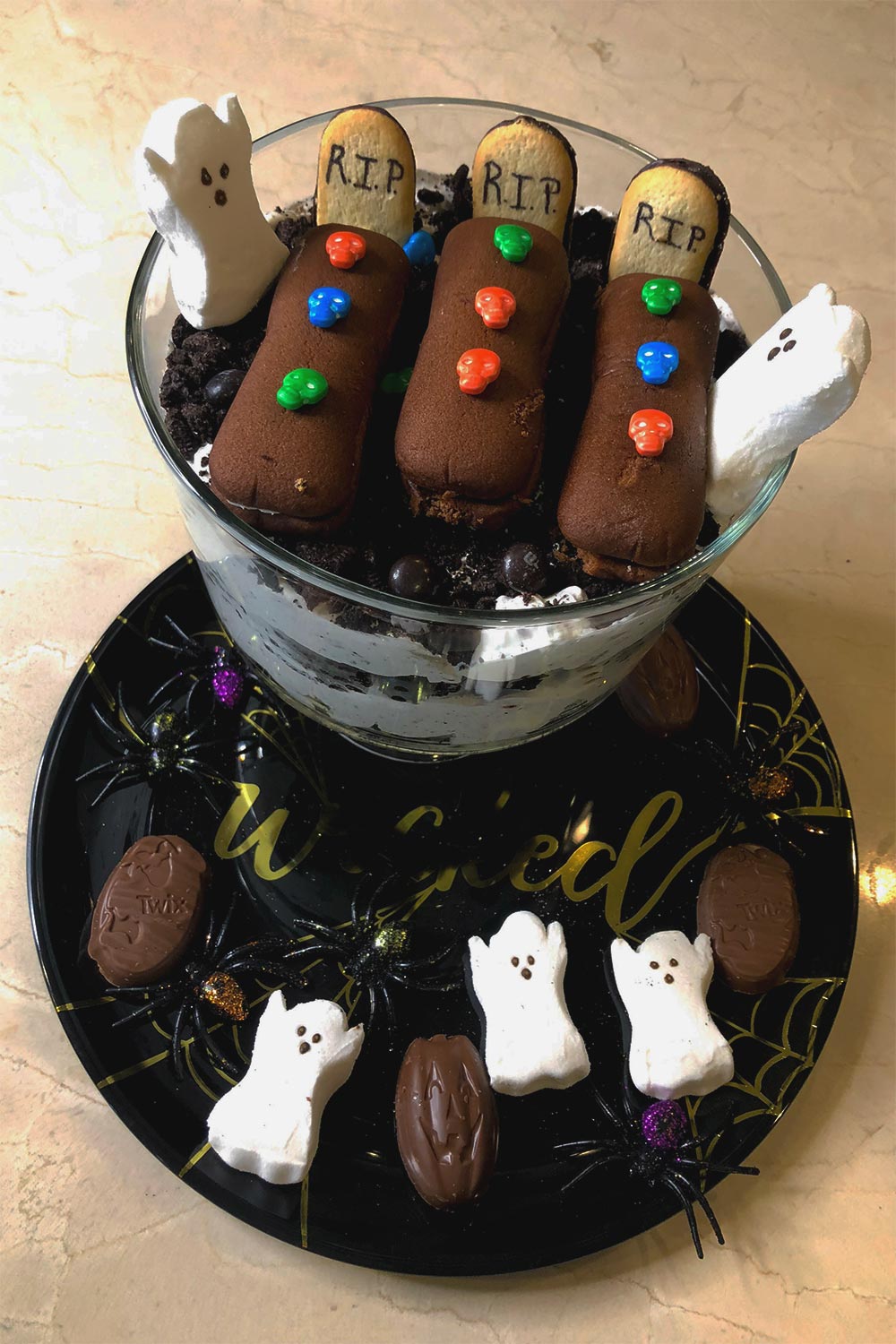 My idea for the recipe came when I was at Target and saw Cookies and Screeem M&M's! Ummm, hello, these sound amazing. Get in my cart!! (Side note: they are only available at Target, so don't run around town looking for them!)
I picked up a few store-bought items and was excited to get home and whip this up with Brexton. I think he ended up doing more eating than preparing, buuuuut … We were able to make this fun little Halloween dessert in under 15 minutes.
Watch the video here and scroll down to screenshot the shopping list and instructions for later!
Shopping List
Pre-made chocolate cake (brownies would work too!)
1 package Oreo's
16 ounces whipped topping (thawed)
Cookies & Screeem M&M's (only at Target)
Cake snacks
Milano cookies
Halloween candy for decor
Food writer pens or gel frosting for decorating
Trifle bowl if you don't have one (I got mine at Homegoods)
Instructions
First, cut the chocolate cake into 1" x 1" squares and mash up the Oreos. Brexton loved this part. I put them in a baggie and gave him a wooden spoon. You could also use a rolling pin or a blender/food processor.
Set some of the crushed Oreos aside and mix the rest into the whipped topping.
Place one layer of chocolate cake along the bottom of the trifle bowl – Brexton was a great helper!
Add a layer of the whipped topping/Oreos.
Next add a layer of Cookies & Screeem M&M's.
Repeat the layering.
For the very top layer, add the extra crushed Oreos to look like dirt.
Use the cake snacks and Milano cookies to make a graveyard scene.
Lastly, decorate with the Halloween candy.
For the top, you could go all out and be super artistic, but Brexton and I did our best! I think it turned out great and would be perfect for the neighborhood Halloween party.
Here's another fall trifle recipe I did a few years ago when Brex was just a baby (OMG!). I used the Pumpkin Spice Latte M&Ms, which I don't think you can get anymore. But you could definitely use the White Pumpkin Pie M&M's that are out this year!
What are your kiddos (and the grown up kids) dressing up as this year for Halloween? I can't wait to reveal our costumes and see everyone's photos!