When they say kids grow up so fast, they are not kidding.  It literally feels like just yesterday Brexton was born and here we are with a 3 year old (excuse me while I sob in the corner)!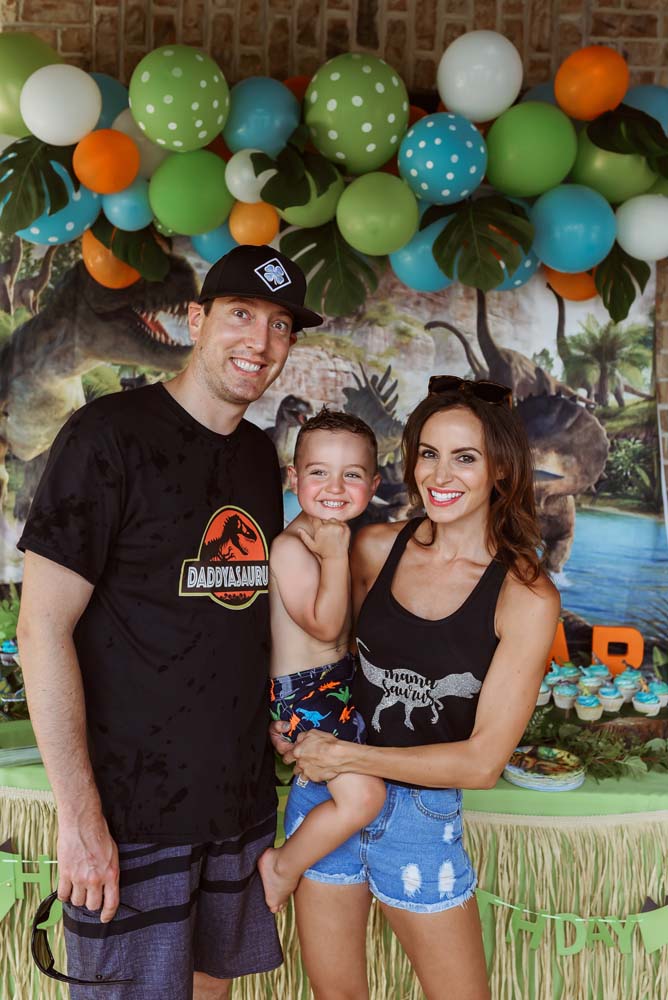 We love any reason to celebrate here in this family, and Brexton's birthday is no exception.  Birthday parties are especially fun because I love coming up with all these fun ideas (thank goodness for Pinterest!) and seeing it all come together.  But most of all, I love seeing Brexton enjoying his special day surrounded by our friends and family!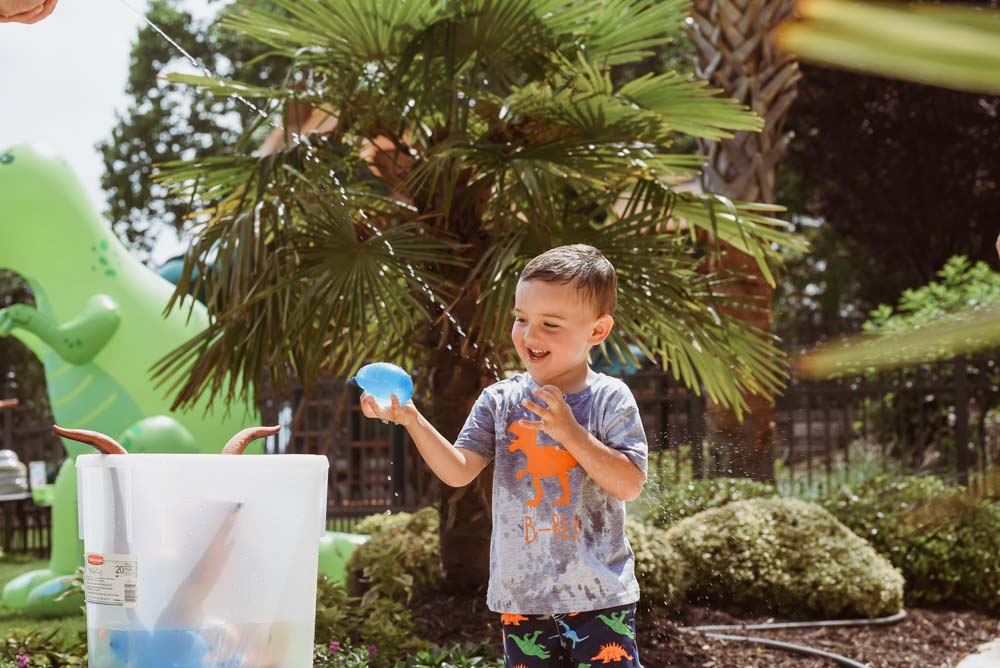 This year's theme was dinosaurs because Brex is OBSESSED with the dinosaurs right now.  And when I say obsessed, I mean OBSESSED.  He knows all of them by name (which amazes me) and corrects me if I call one the wrong name!  His favorite is tyrannosaurus rex, which is perfect because one of his first nicknames was B-Rex and it has stuck!
I wanted to share with you some of the great ideas I found for a dinosaur-themed birthday party in case you have any little guys (or girls!) to celebrate!  These are all relatively easy and quick projects that come together to make an amazing party!
One of my favorite things at the party was the dessert table.  It looks so elaborate but was actually pretty simple to pull together!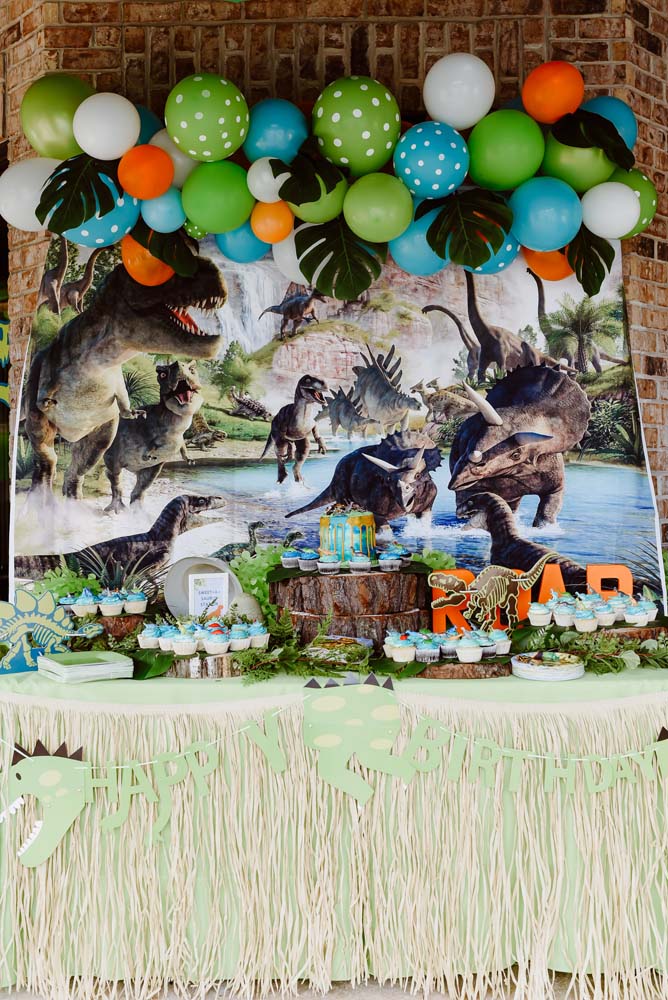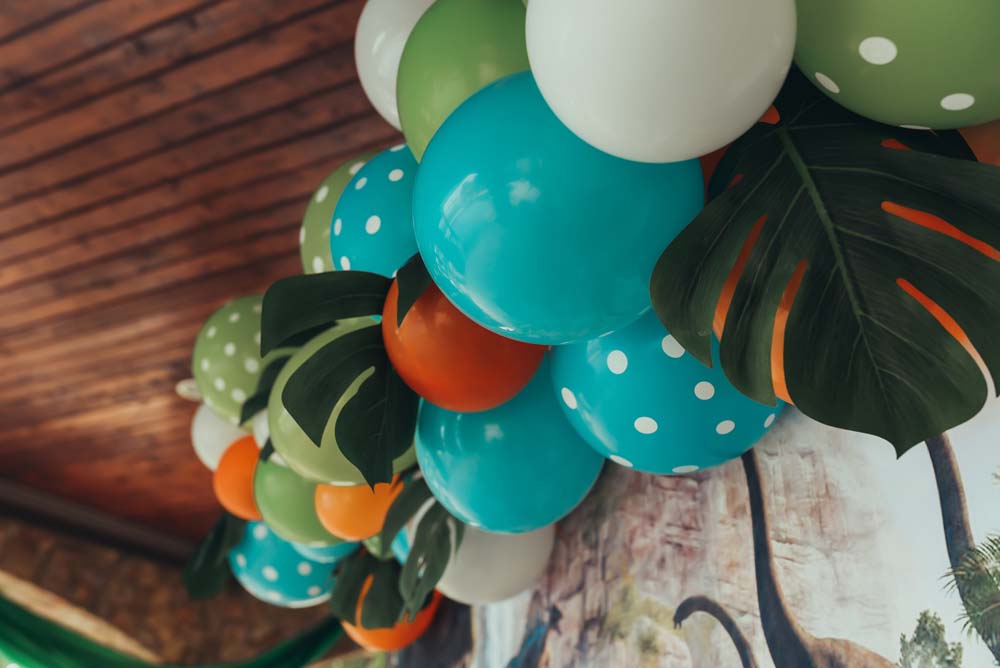 For the balloon garland, we followed this tutorial.  It was surprisingly easier than it looks and made such an impact.  You just need (lots of) balloons – different sizes, colors, etc., a blunt needle, fishing line, some palm leaves and a low-temp glue gun.  We used this portable electric air pump for balloons and it was a LIFESAVER.  If you plan on doing a balloon garland (or anything with balloons), invest in this!  We made this the night before and the balloons stayed full of air.
For the dessert stands, we literally used a chainsaw to cut different size discs out of a tree that had been cut down.  Then we stacked them up to make different heights on the table.
Here are links for some of the items we used on the dessert table:
Backdrop
Palm Leaves
Raffia Table Skirt
Happy Birthday Banner
The dessert table was full of yummy cupcakes and cake from Drip Cake Bar here in Charlotte.  They are so creative and fun and, like their website says, almost too pretty to eat!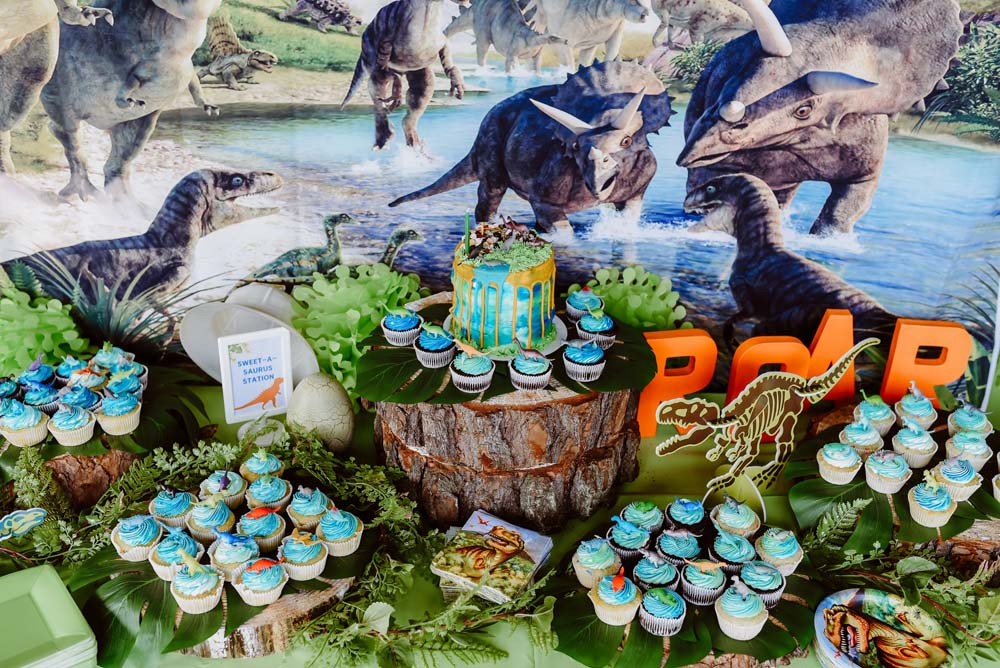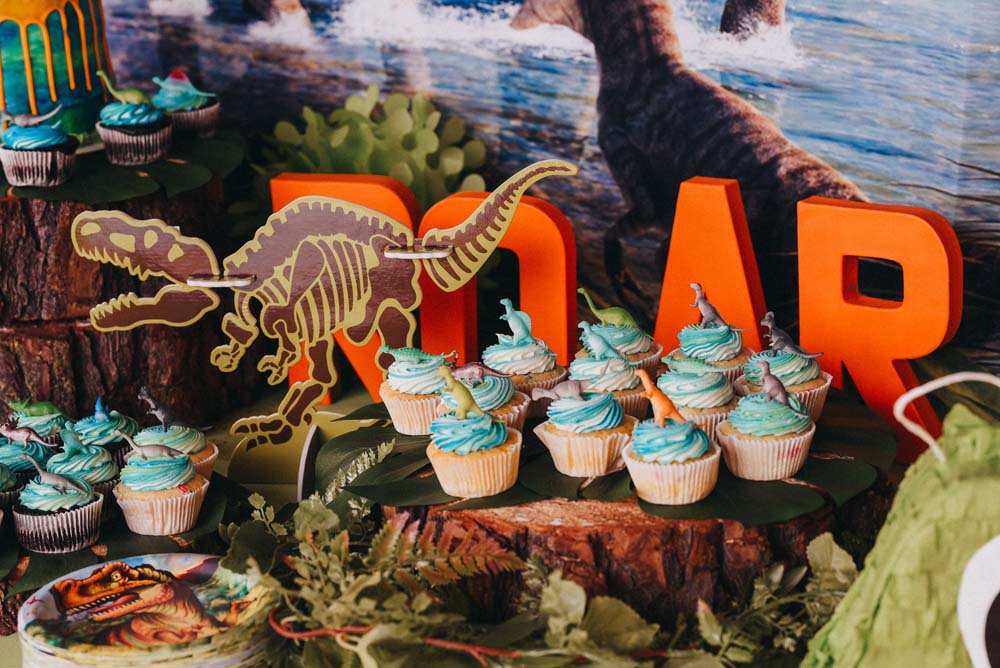 For the seating, we rented umbrella tables and the palm umbrellas to create that jungle theme and it turned out so perfect!
My mom and I made the centerpieces using greenery picks, foam blocks, rocks and pots from our local craft store.  Seriously, so easy but exactly the look I was going for!  Then we just tied a balloon and added Brex's favorite T-Rex to each table.  (#RealLife: We brought Brexton out to see his party before everyone came, and he took all the T-Rexes off the tables to play with.  Oh well, it's his birthday, he can do what he wants!)
The dinosaur tails are one of my favorites!  They are plush tails with a Velcro band that goes around the waist.  I put them around every other chair for a cute décor and then the kids could take them home!
Here are links for some of the items we used on the seating:
Tyrannosaurus Rex
Greenery Wire
Dinosaur Tails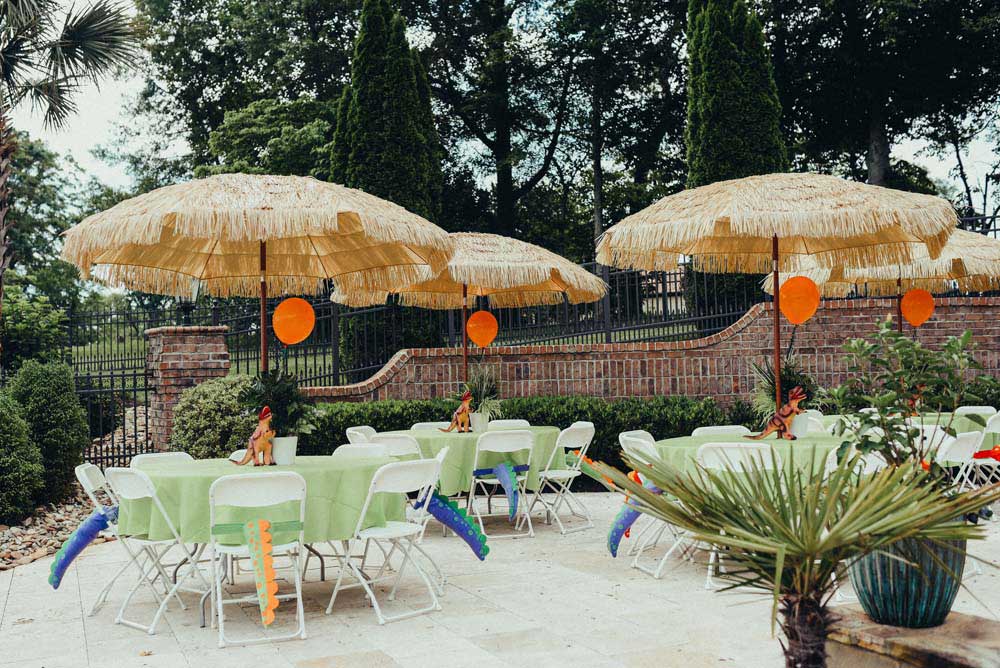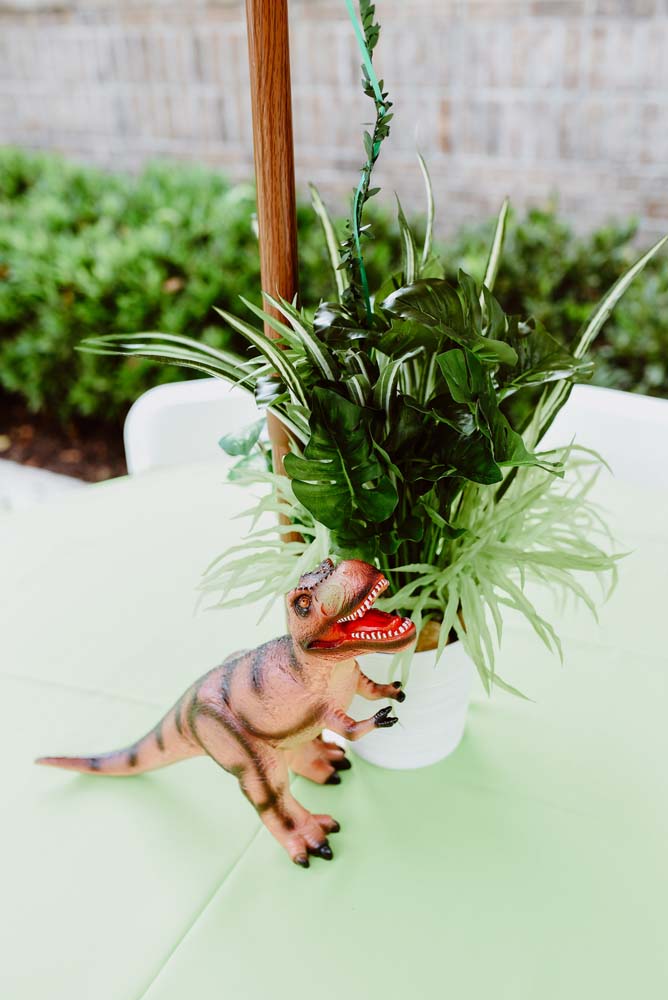 Another really cute idea we found was a dino dig site.  We just buried some plastic dinosaur skeleton figures in tubs of sand and put pails, shoves and small paint brushes so our little archeologists could go to work!
Here are links for some of the items we used on the dino dig site:
Dinosaur Skeleton Figurines
Dino Dig Site Streamer
Pith Hats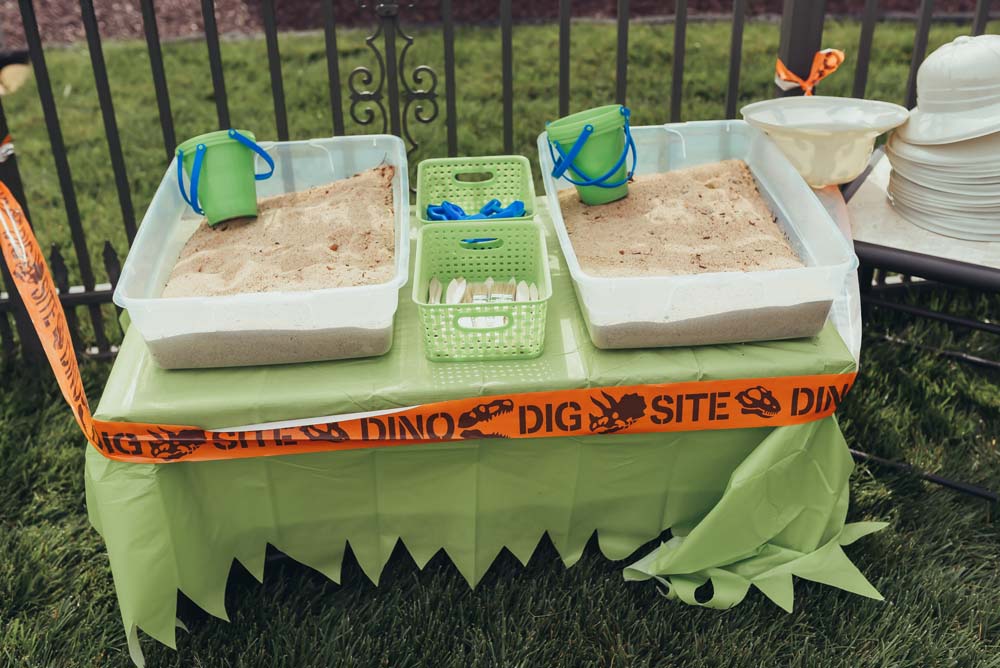 We dressed up the drink stations with all kinds of fun dino décor.  I just love all of the detail – I think that's what really makes it all come together!  We used Hawaiian Punch Green Berry Rush for our Jurassic Juice and we rented a frozen drink machine for our Mesozoic Margaritas for the "big kids".
Here are links for some of the items we used on the tables:
Drink Dispenser
Inflatable Dinosaur
Raffia Table Skirt
Happy Birthday Banner
Photo Frames
Pith Hats
Palm Leaves
Plastic Cups
Margarita Glasses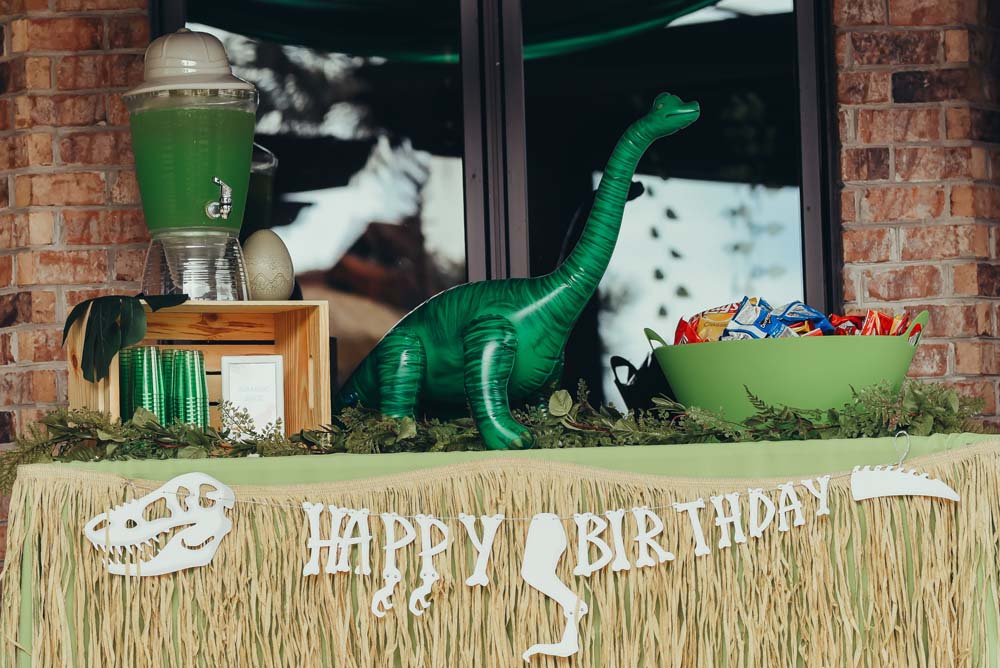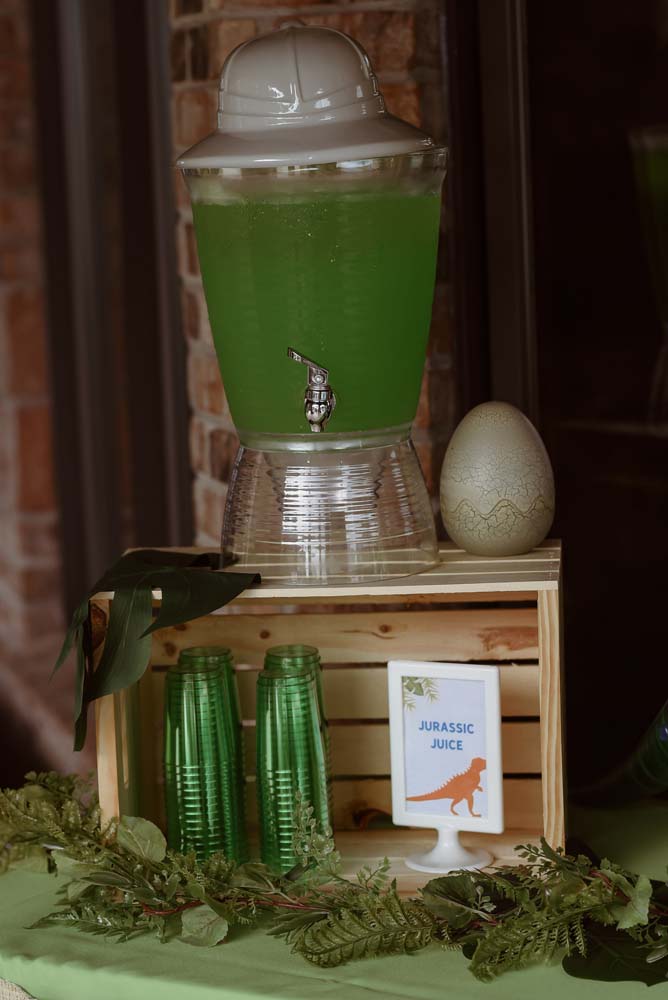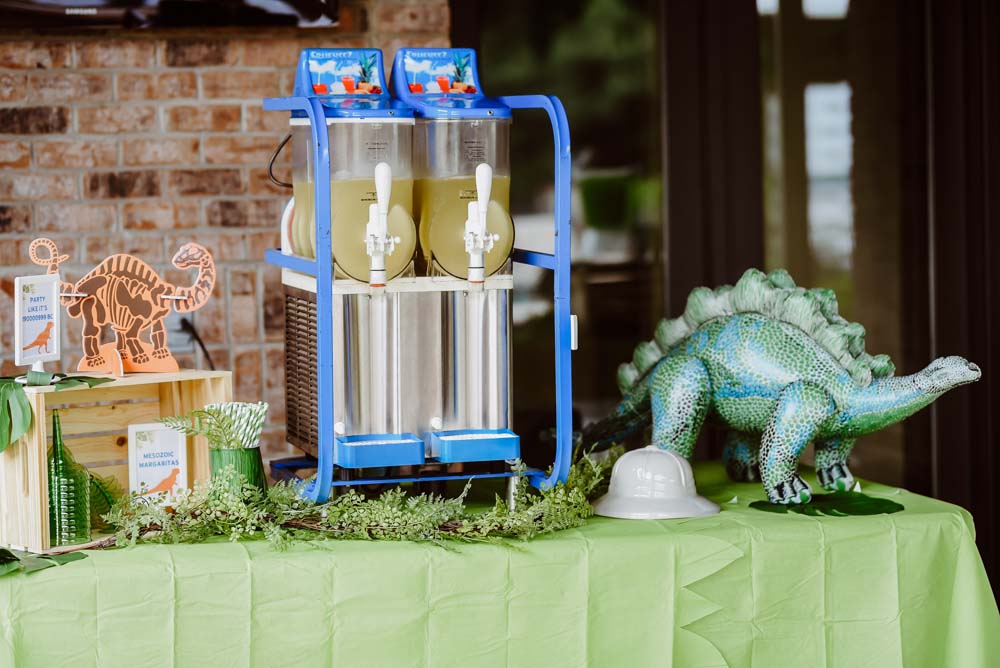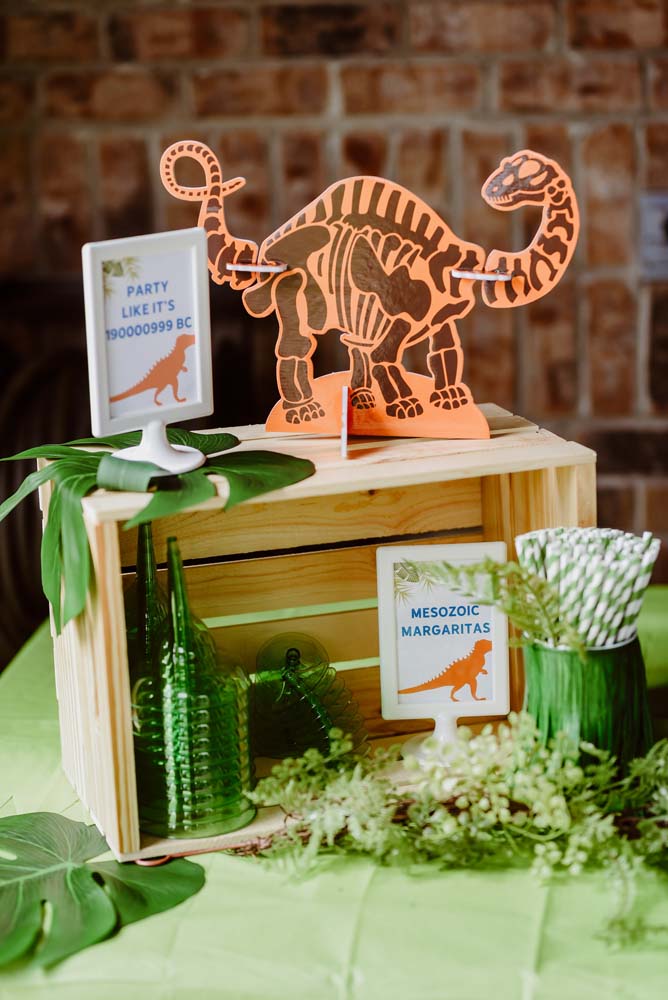 At last year's birthday party, everyone loved the Carolina Smash Truck so much, we brought them back this year!  It works out great because (a) the food is AMAZING and (b) they do all of their own setup.  Bobby and his team are so awesome to work with and came up with creative dinosaur names for all the food.  We definitely recommend them if you are in the Charlotte area!  Check them out here.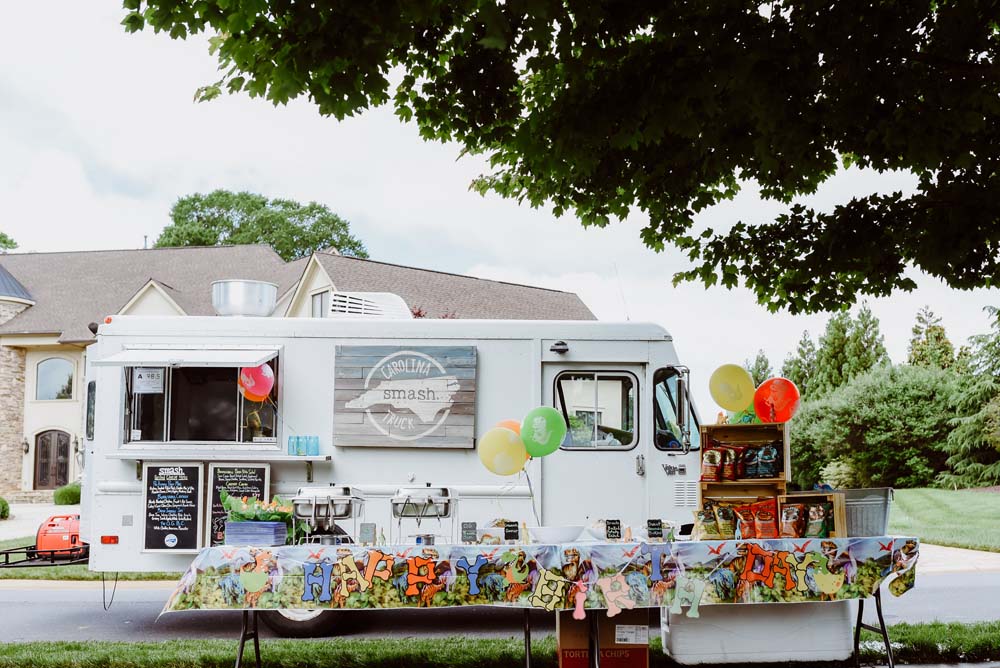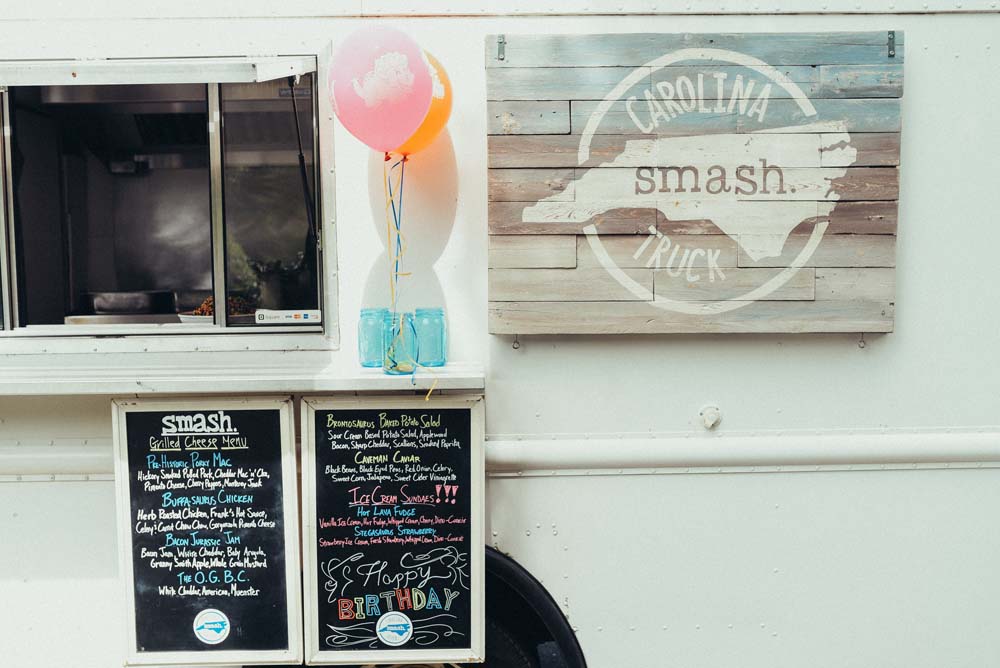 Kyle and I had discussed not going over the top for this year's party, but I just can't help myself!  I love coming up with these fun themes, putting it all together and then seeing the excitement on Brexton's face when he sees his party and celebrates with everyone.  It makes it all worth it (right?!?!).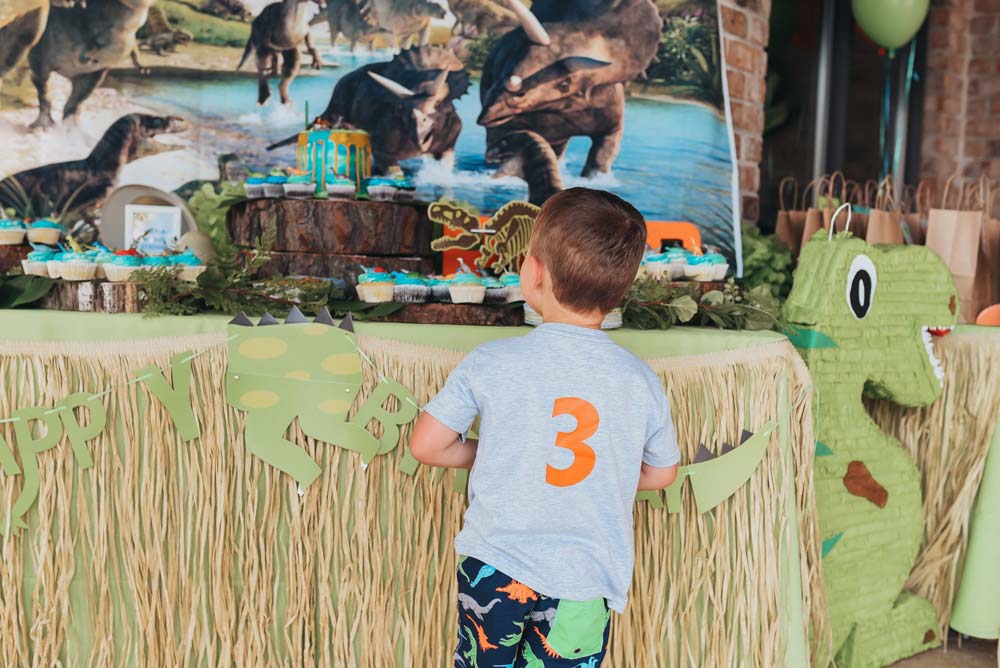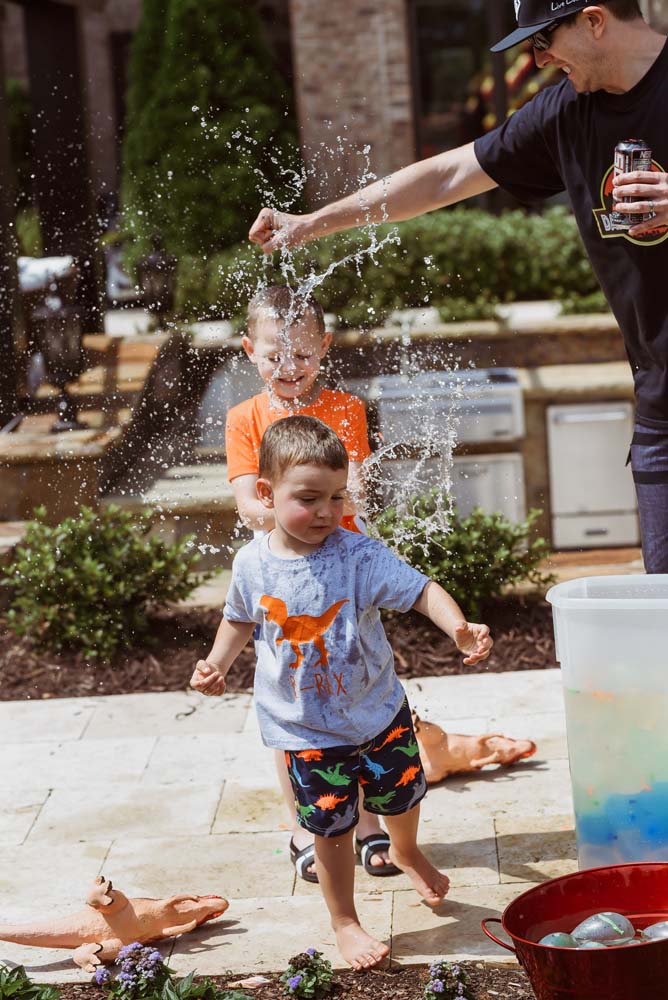 Special thank you to Michelle Porter Photography for capturing all these memories for us.  If you are local to the Charlotte area, definitely check her out for your family, newborn and maternity photos – she is amazing!