The sunny, hot weather has arrived, and you know what that means? Dress season!
It never fails that when I'm looking for an outfit to wear in the summer, I always find myself reaching for a dress.  Dresses make for the perfect outfit anywhere and everywhere you go! You can dress them up or dress them down and there's always a dress out there for any event!
I want to share a few of my favorite dresses from my online clothing store Murph Boutique. These are all very affordable dresses that can be worn for so many different occasions. They are all a part of my summer must-haves and if you've been thinking about treating yourself to a new dress or maybe two, one of these may just be the right one for you!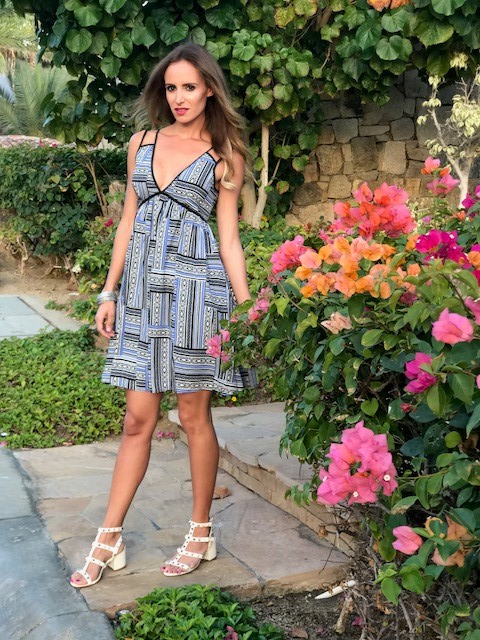 How cute is this Aztec Strappy Dress?! Not only do I love the colors and pattern, but this dress has the best flow to it. The material of the dress is thicker so it's not see-through at all but it's still lightweight and is the perfect sundress! I would wear this dress out to dinner with the hubby or a night out on a patio with the girls!  And what makes this dress even better is that it's only $34! You really can't pass up on a dress at that price! I also paired it with our Studded Block Heel Sandal to complete the look! Oh, and these sandals are only $36 and sooooo comfortable and cute!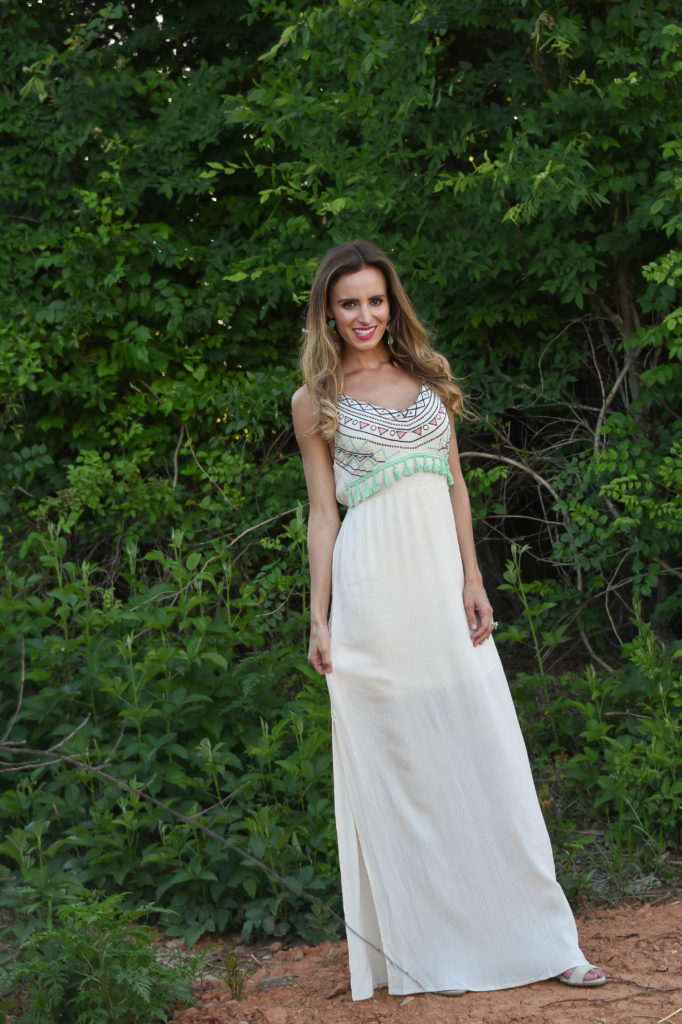 Everyone needs a good go-to maxi and this Aztec Tassel Maxi is the PERFECT one. It's not too busy or bright, but it has a pop of color and tassels! Who doesn't love tassels? This dress is perfect for mommies who need something quick, cute and comfortable to throw on to quickly look put together even though you probably have some sort of food product from your toddlers lunch in your hair!
If you are on the taller side, this dress goes perfect with sandals and if you're a little shorter (like me!) then pair it with some chunky heels or wedges and you're good to go!  And at $38 it can be yours!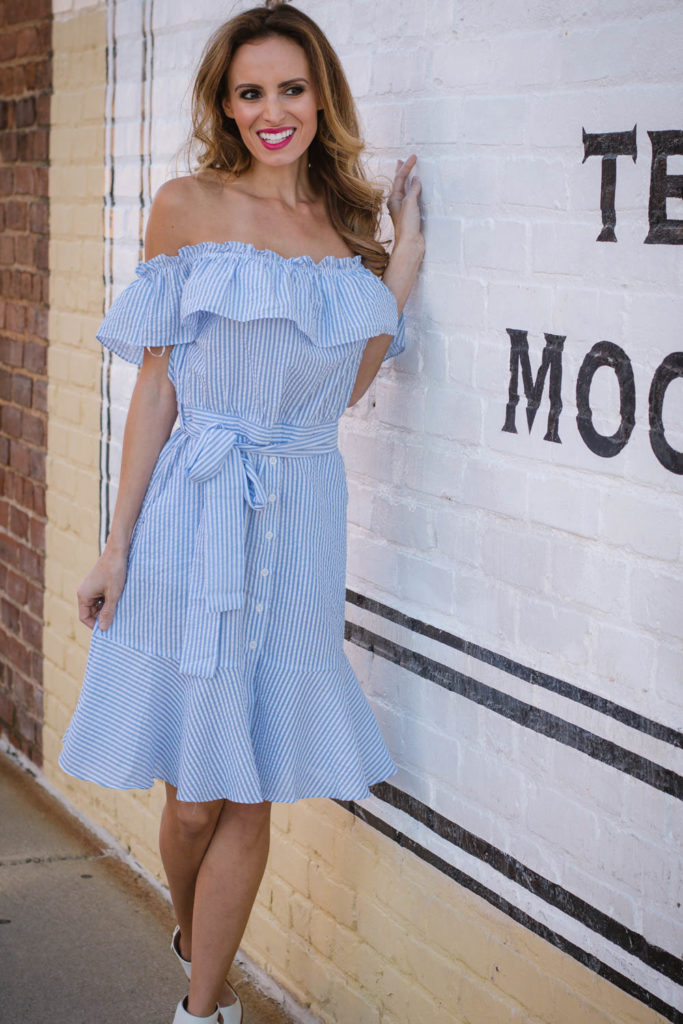 Where are my girly-girls at? This Off-Shoulder Tie Front Dress is for you! I love the little details of this dress – ruffles, buttons and a tie front. It's the perfect length that makes it cute but also a little more conservative! Taking a trip to the beach soon? Or a cruise? I picture this dress worn by the water on a night out with the family.
The best part? It's on sale! And a steal at only $28! I would pair it with our best-selling Braided Block Heel Sandal ($36) to complete the outfit.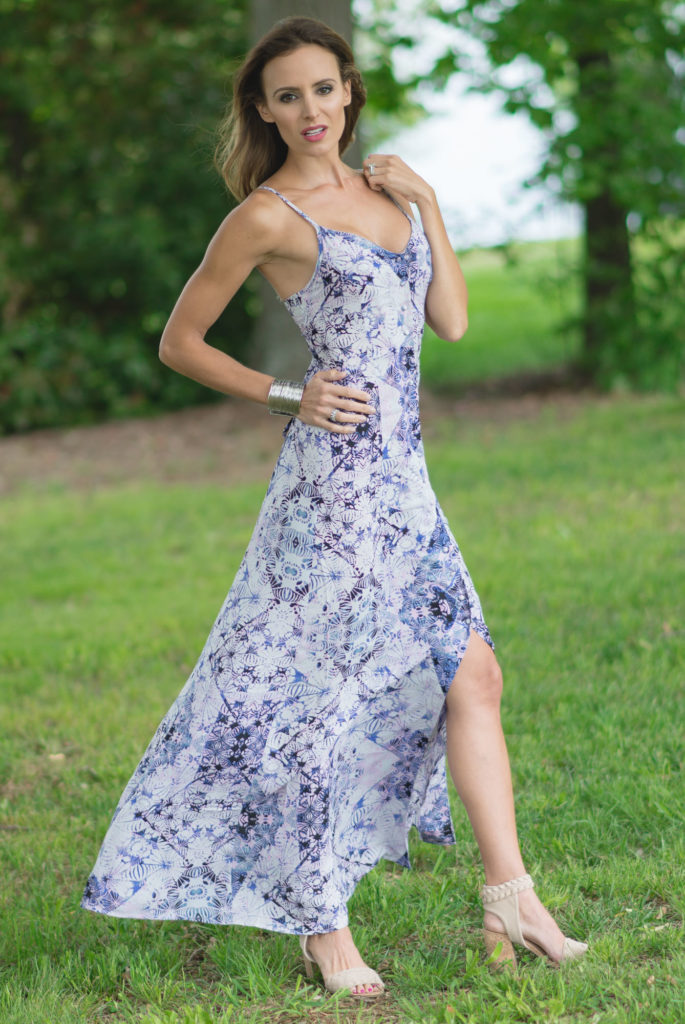 Summer weddings are in full force right now and this is a perfect wedding maxi! I LOVE the colors of this Button Down Maxi and it fits like a glove! Pair it with your go-to nude sandals or wedges and people will be complementing you all day! This dress is $42 and it is one you will hold on to for a long time!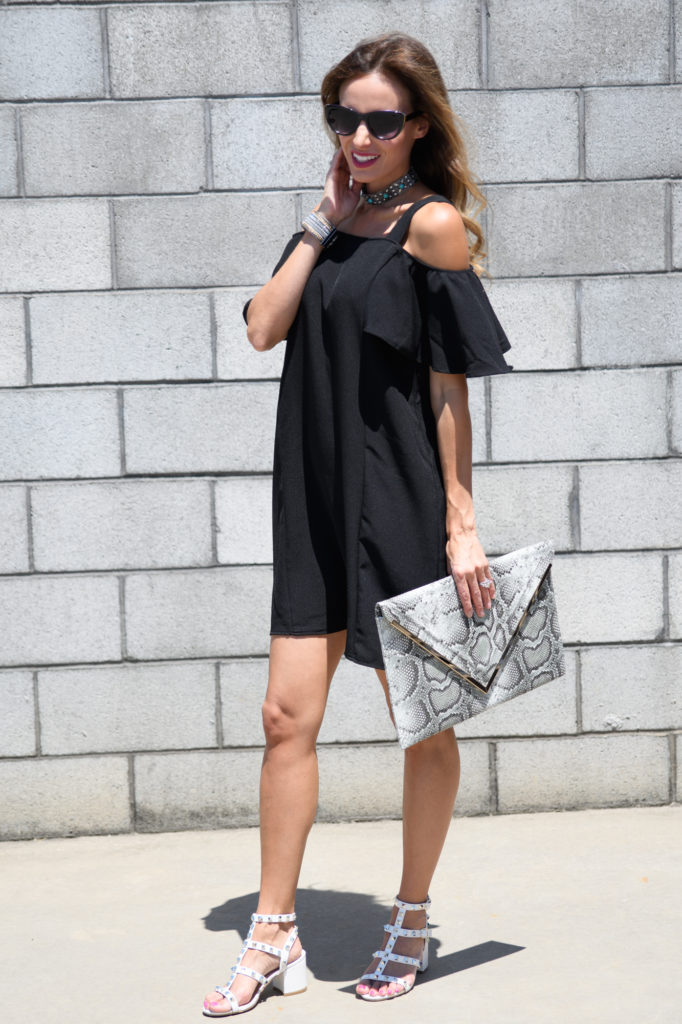 The infamous LBD! Everyone needs a LITTLE BLACK DRESS! And if you're like me, I need lots of LBDs! This Flutter Sleeve Dress is cute and flirty and so versatile! Date night? Check! Concert night? Check! Special event? Check! You can wear this dress anywhere! It is so easy to change the style just by swapping out your shoes! Wedges, sandals, fun sneakers, cowboy boots … this dress is so versatile and comfortable you won't want to take it off!
I paired this LBD, which is only $28, with our trendy Turquoise Choker ($18), Cat Eye Sunglasses ($12), Snakeskin Envelope Clutch ($30) and our Studded Block Heel Sandal ($36). The good thing about a black dress is that any color goes with black. You can mix it up and add so many different accessories to make each time you wear this dress unique!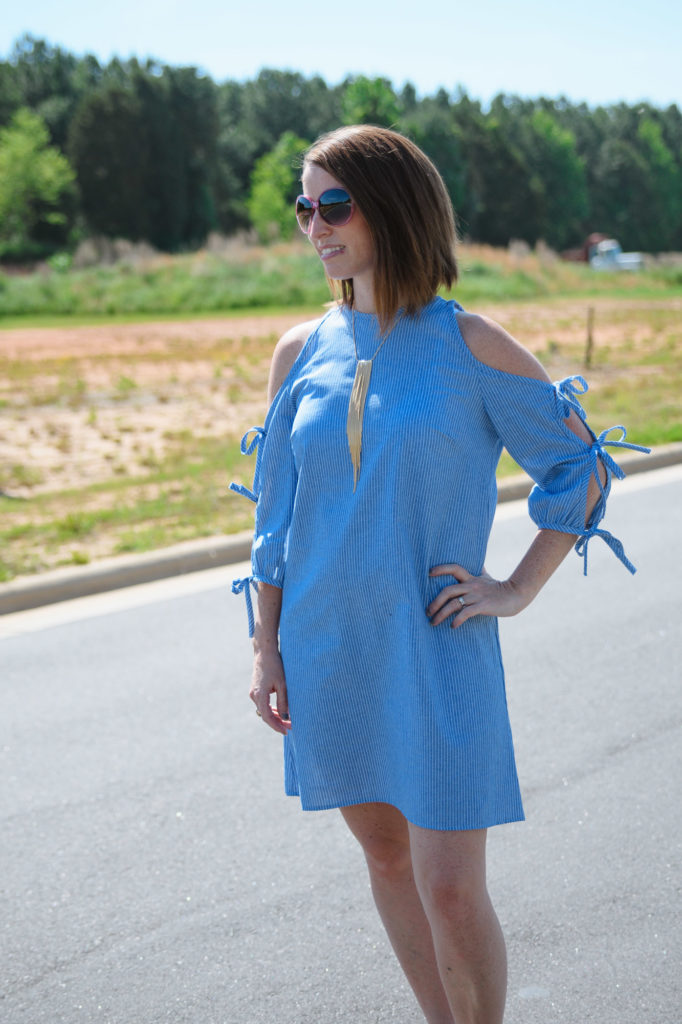 This dress screams "take me to brunch and after brunch take me shopping and after shopping never take me off!" It is all about the details with this one. I love the ties on the sleeves and the chambray stripe. Again, it's a go-to casual dress that is cute and comfortable. This darling Tie-Sleeve Chambray Dress is only $28 and you need it hanging in your closet!
I hope this helps you pick out your next outfit for date night, or girls night or any time. There is always an excuse to dress up and a dress is the perfect way!
I can almost always be seen wearing a dress of some sort and these dresses are cute and comfortable and look good on all different body types! And like I said, all of these pieces can be found online at my store shopmurph.com