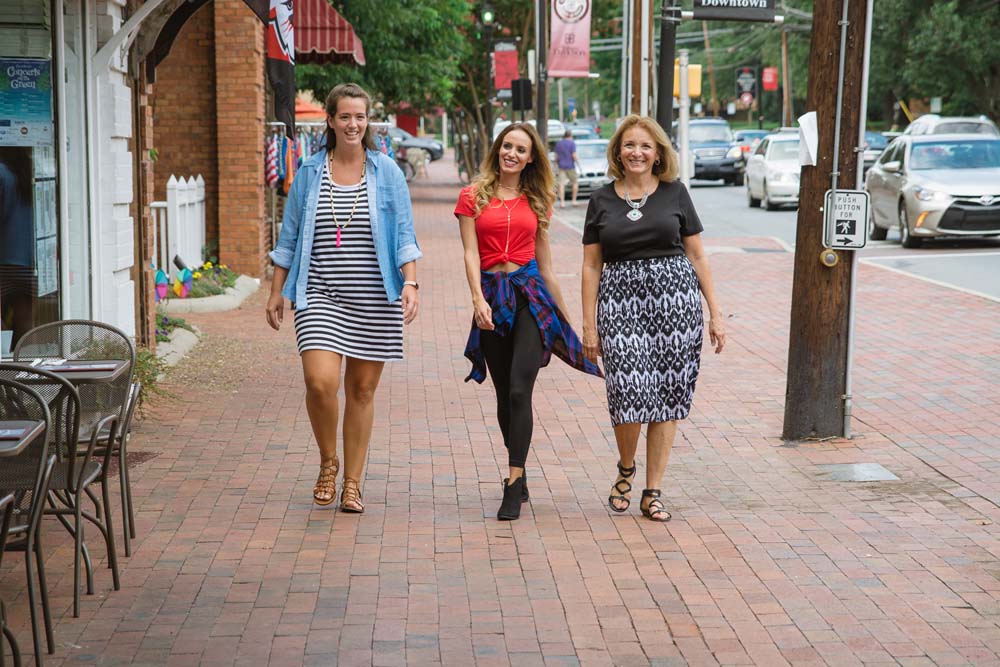 Five Stylish Outfits From Walmart
I always appreciate when readers give me suggestions for blogs, and recently I've been getting requests for outfits for different ages and sizes at a lower price point.  In an email, it was suggested that I create outfits from Walmart so that's exactly what I did! I want to thank you all for reading my blog and I welcome all of your ideas and questions!
I recruited my Mom and a younger friend to be my models and they both LOVED their outfits! When I told them where they were from and the prices, they were blown away.  While we were shooting pictures a number of people on the street asked what boutiques we had gotten our clothes, jewelry and shoes from and didn't believe us when we said they were from Walmart!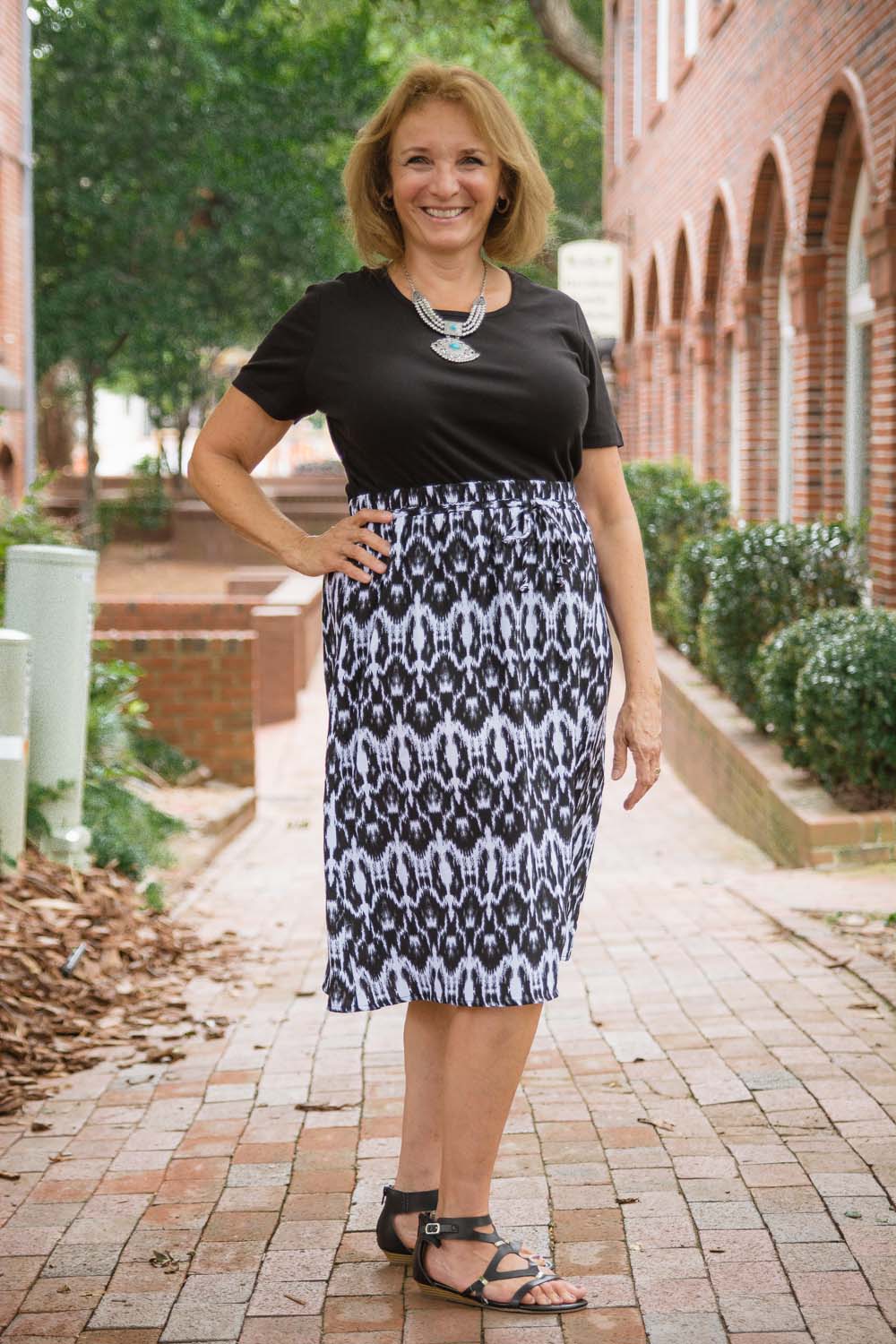 For my Mom's looks, I wanted to create outfits that were causal yet could be worn from running errands straight to dinner. Her first look consisted of this great midi skirt, which I loved the print on, and it has a drawstring waist which ensures the perfect fit.  I paired it with a simple black tee and then added this great silver and turquoise necklace that was $5!! I finished off the outfit with these cute sandals which Mom appreciated because they are easy to walk in!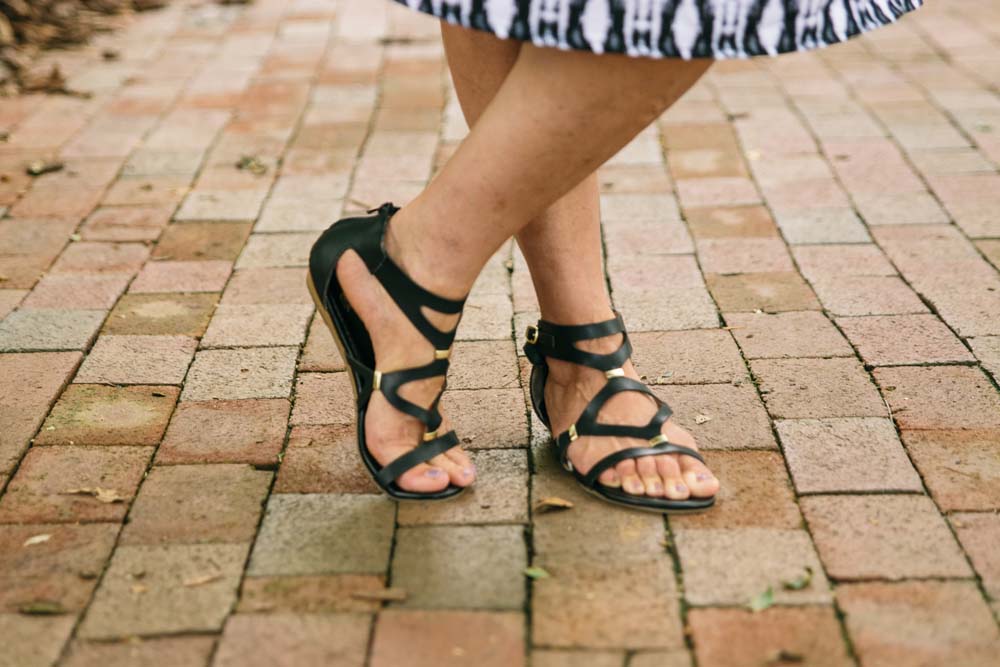 Her second look, her favorite, is perfect for fall! I found these great capris that have a slight stripe wash to them, which is very flattering and elongating.  Jeans and a belt for $9, she loved that! I added a white tank top (which she appreciated had thicker straps to hide bra straps) and topped off the look with this lightweight cardigan that she liked because of the longer length to cover her backside.  The gorgeous tassel necklace was again $5 and I plan on borrowing it often! Unfortunately, the shoes I wanted for this look were sold out at the store so Mom put her own on but I linked a few that would look great for you all!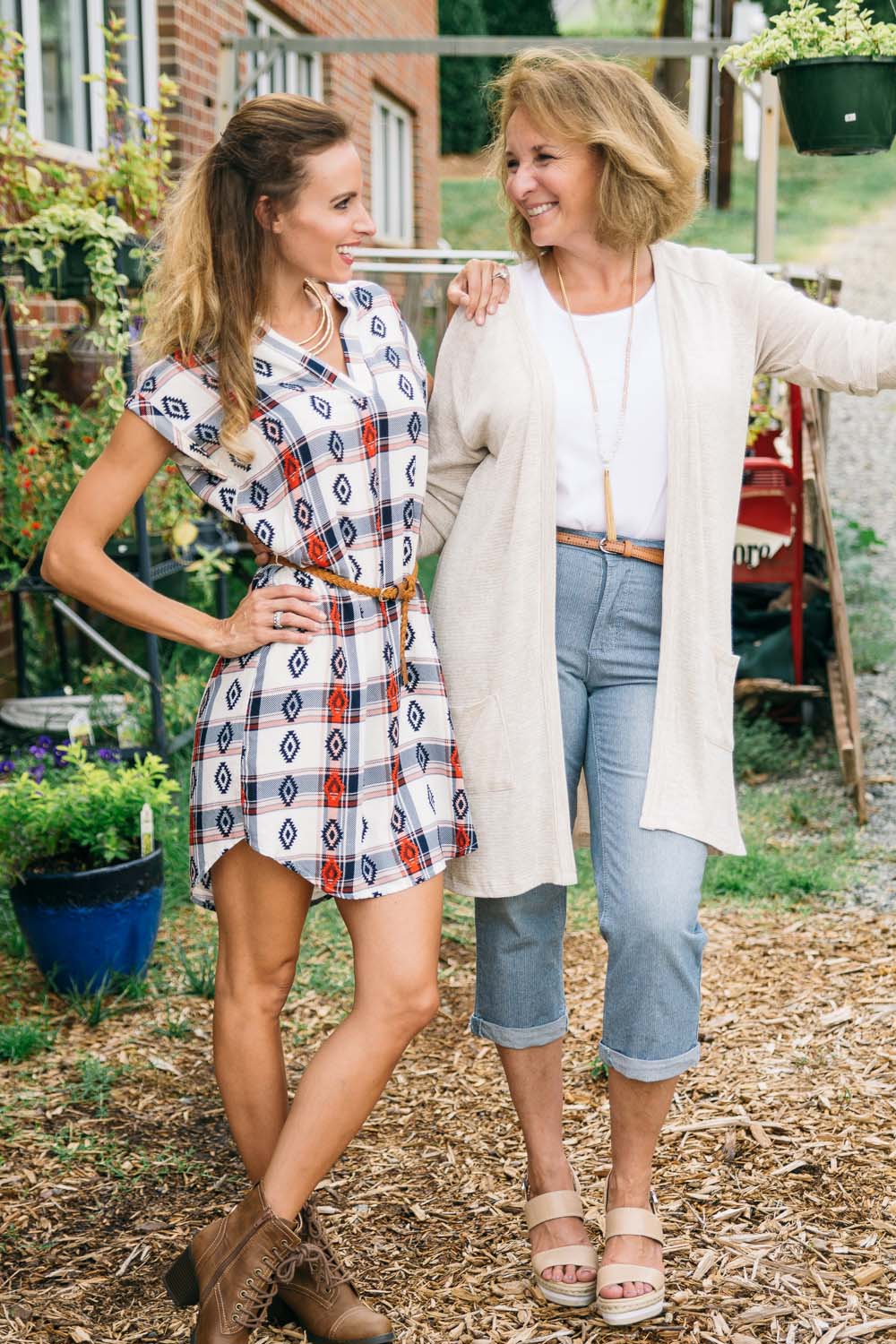 My second model wanted a cute back to school look! A striped dress ($6.86!) is perfect for all seasons, as is a great button down, so I combined the two.  It's also nice for class because you never know if it will be chilly or warm in there! We all commented on how incredibly soft the button down was and that it looked cute worn open as a jacket or buttoned up and tucked into pants.  Comfy shoes are a must for waking across campus and these cute sandals were very comfortable and stylish! To take this look into the fall, simply add black leggings and booties. Her beaded tassel necklace added a fun color pop to finish off this cute campus ready look!
My first look was a sporty casual look that could easily be changed many different ways.  I started with these cropped black leggings (they come in regular length too) and a plain red tee.  I made it into an on-trend crop top by adding a front knot, but you could also tie it to the side or back and at any different length or just leave it regular.
I love this plaid shirt for fall and opted to tie it around my waist.  I also wore it actually on and tied up, on and left open like a jacket and simply buttoned halfway up, untucked with the red top peeking thru. I added this cute layered necklace that I received many compliments on and it's only $5, like all the other jewelry featured! But let's talk about these booties because I am moving into them for fall! They are so comfy and such a cute cut, they go with everything! From shorts to dresses to jeans they are perfect and only $16!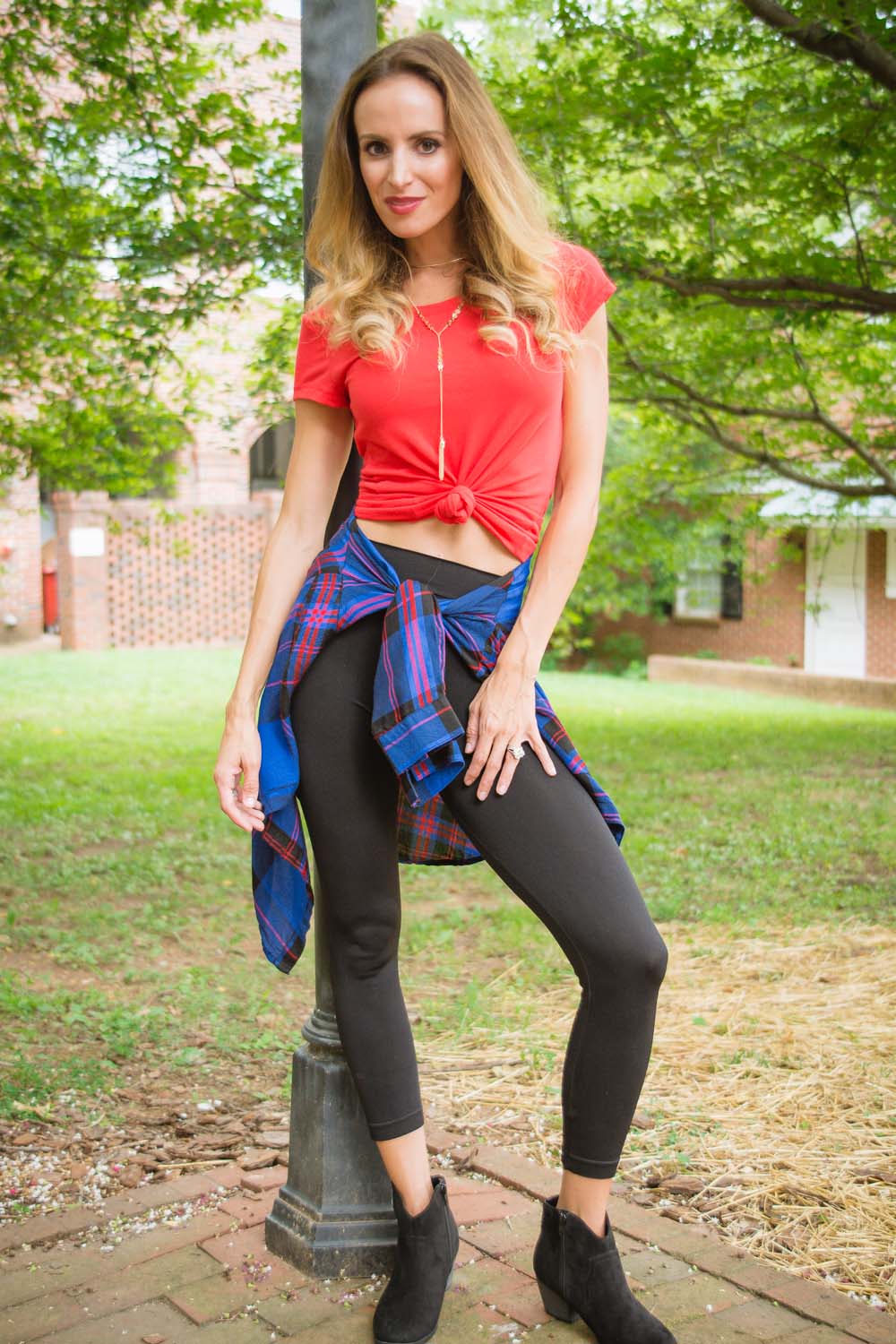 My second look is this cute patterned dress that could be worn as pictured when it's still hot out or simply throw some leggings on underneath for fall! It also comes in maroon with the same print, a plaid and a denim so there are lots of choices! It also comes with the belt! I paired it with these cute boots that have a great block heel which make them easier to walk in. I can't wait for fall to wear them with some ripped up jeans and a cozy sweater!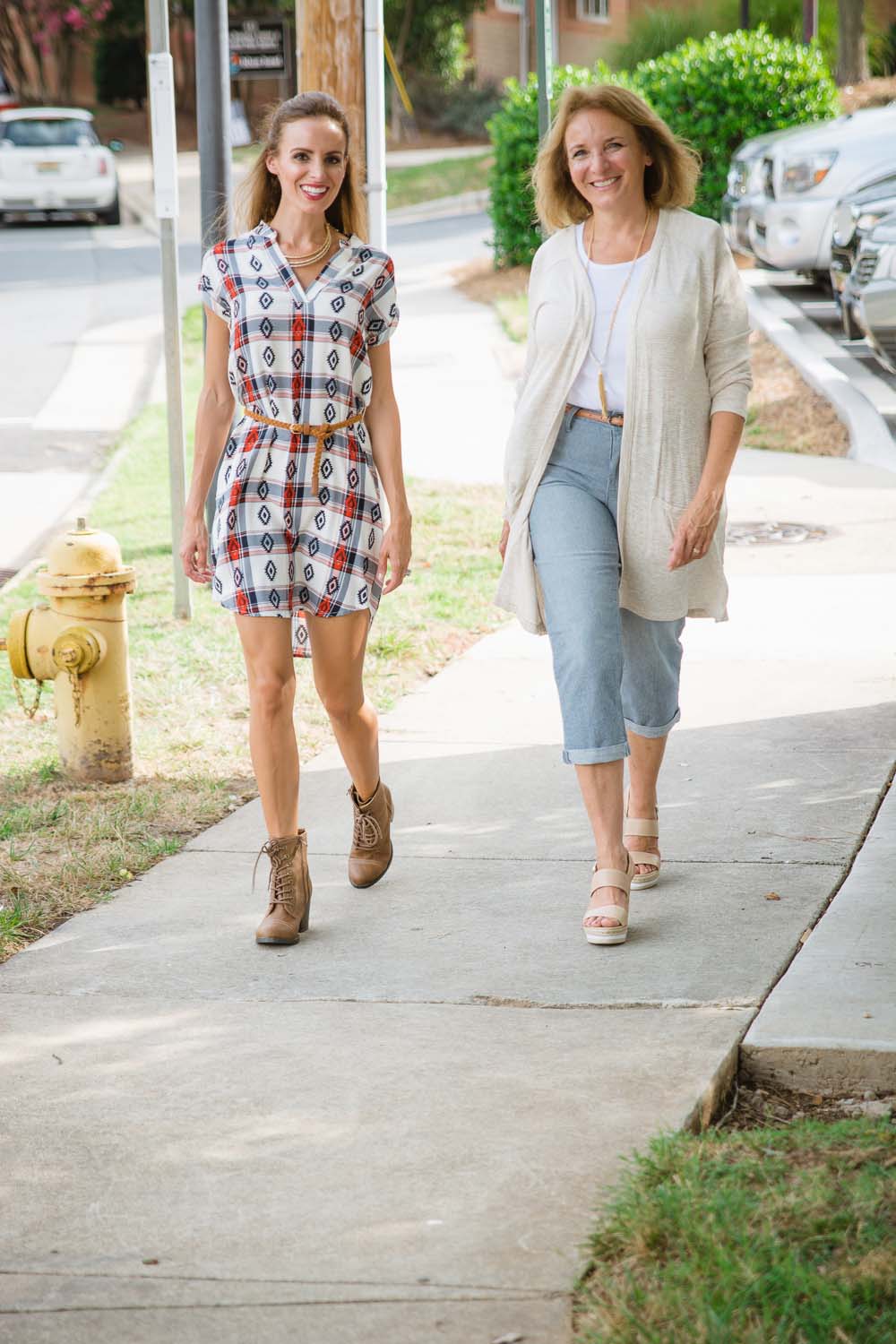 I had so much fun styling these outfits and hope you guys enjoyed it – and found it helpful!  Please send me any of your fashion questions or ideas for blogs – I love hearing from you!