When Kyle and I used to travel to Vegas, we would stay at a swanky resort on the strip, eat at cool, trendy restaurants, catch some shows and even try our hand at the tables to see if Lady Luck was on our side.
Well, now that we have Brexton, things have changed in many ways, including where we choose to stay and what we do during our downtime on the road – especially during the west coast swing when we are gone for three weeks!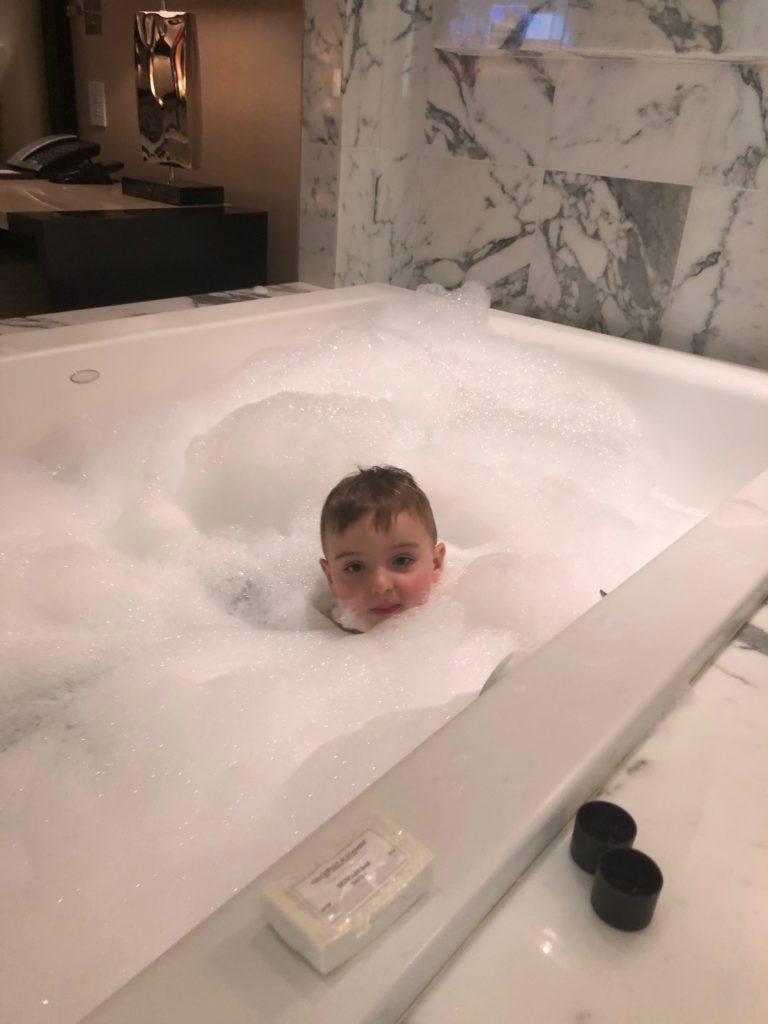 Knowing we had to find things to do to keep Brexton busy and entertained, we started asking around for some kid-friendly options.  Our KBM driver Noah Gragson, a Vegas native like Kyle, suggested we stay at the Red Rock Resort – he told us about how he used to go there as a kid (even though I still call him a kid!) with his family.
What I really liked about Red Rock Resort was that it wasn't on the strip, which can get crazy! Don't get me wrong, the strip is awesome but not so much with a two year old.  The resort is about 20 minutes from the strip and a little under 30 minutes from the race track – which is perfect for us!
The best part is that we never had to leave the property since it had everything we needed right there!  The property has tons of sit down restaurants including a steak house, an Italian restaurant and a Mexican restaurant – which had a $1 taco night special when we were there and they were delicious! They also had a full food court and Starbucks to grab something quick on the go.
Also located inside the resort was a casino which was not overly packed or near as smoky as other hotels we have visited, which was great for us.  The biggest reason we chose this resort though is because of the kid-friendly activities: it has a movie theater, bowling alley and kids play place all inside! Like I said, we never had to leave the resort to find things to keep Brexton entertained!  My only negative of the whole place was that the parents are not allowed in the Kids Quest play structure, it is supervised, drop-off only.  I could see maybe doing this and then waiting in the parents area when he is older, but I wasn't comfortable leaving my two year old with people I didn't know and there was no way Brexton was going to voluntarily go with them.  So unfortunately we didn't use this amenity but it is really nice, so hopefully they will change up their policy for next time.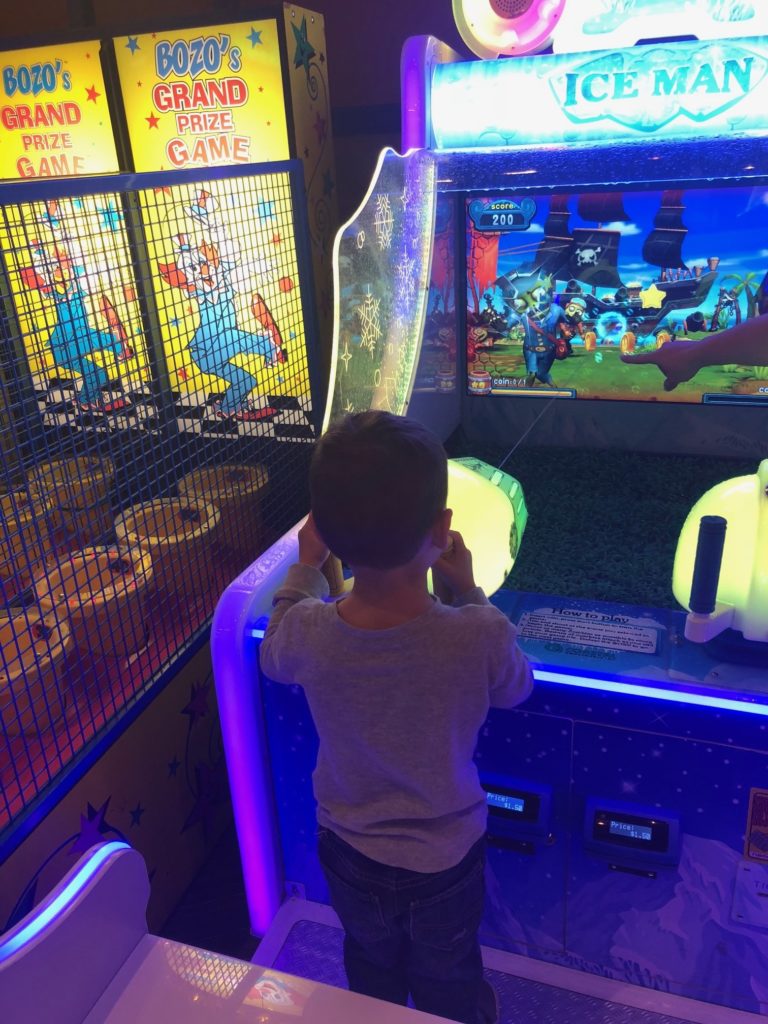 There are plenty of things for adults to do there too, as I mentioned the great restaurants and casino.  My personal favorite is the fitness center and spa! The facilities are gorgeous, modern and well kept.  The fitness center is very large with tons of equipment, it's one of the nicest I've seen with plenty of machines, cardio equipment, free weights and lots of space. They also have lots of classes you can do –which is perfect to get your workout in while you're on vacation!  The spa was absolutely beautiful, and I found the prices to be a bit better than those on the strip. They have a really large spa menu to choose from and aside from fab treatments, you can relax with refreshments in their huge hot tub in the locker room, sauna or steam room.  It's very relaxing and quiet, I think it would be the perfect place for a girls day!
Finally, the rooms are spectacular! We had one that had an outdoor area with a hot tub, which Brexton took full advantage of! The rooms are all beautifully decorated, spacious and very well kept.  I liked the modern design and was really happy with the service there.  Also the decor is the lobby was stunning!!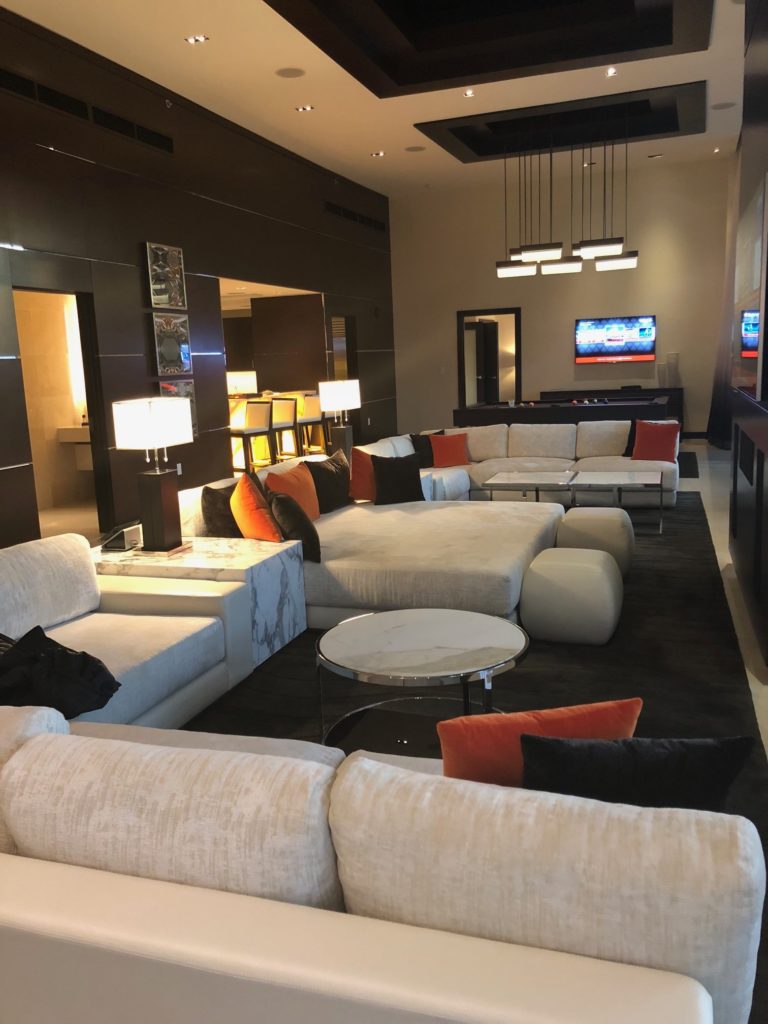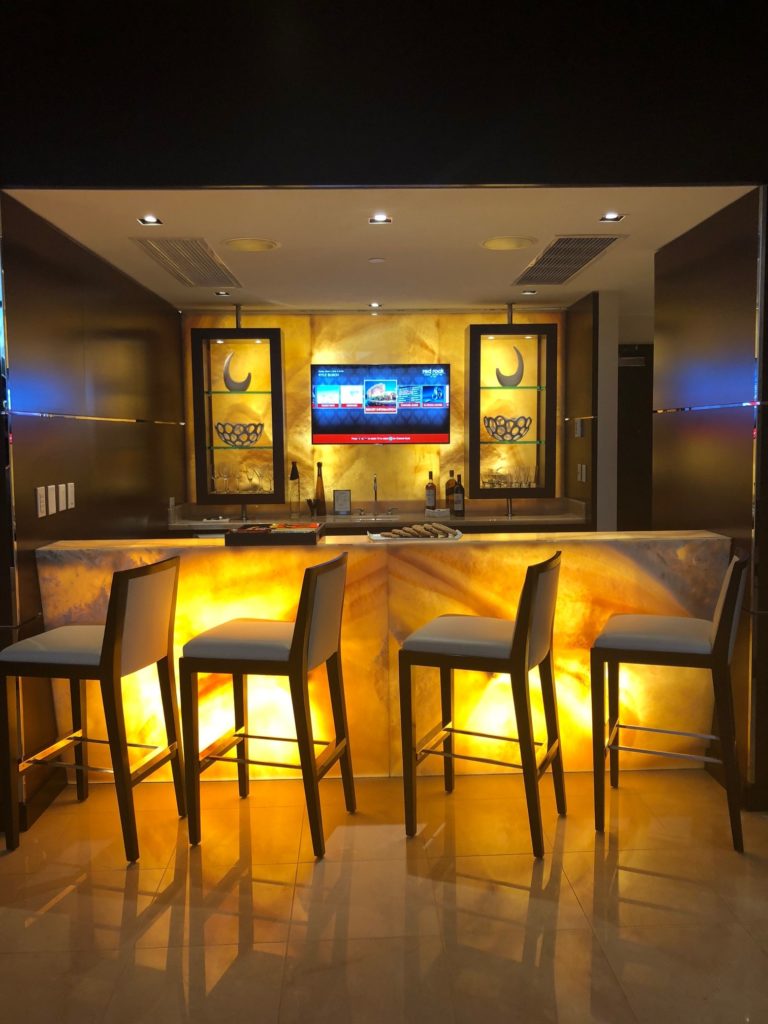 I would definitely recommend staying at Red Rock Resort if you are taking your family to Las Vegas – or even if you are local for a little staycation!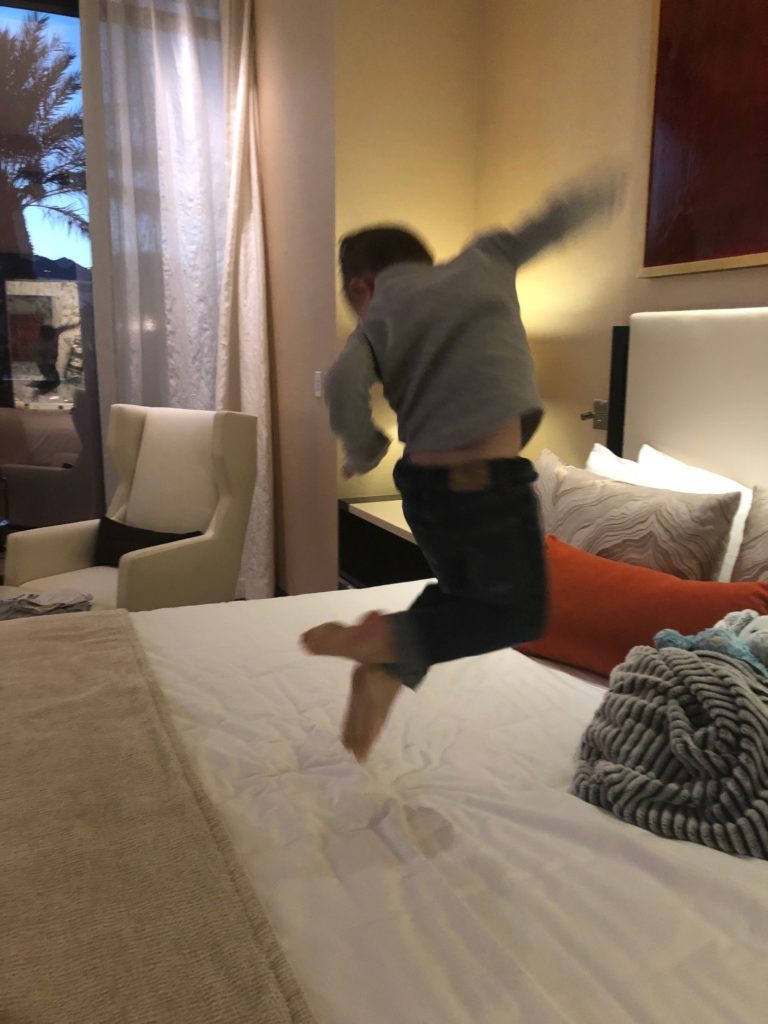 Here are a few other family-friendly places we like to take Brexton to when we visit Las Vegas:
Pump It Up is a fun indoor bounce house center.  They have two huge rooms with huge bounce houses with slides and all sorts of room to run around.  Check online for when their open jump times are.  It is usually pretty quiet there and a great place for Brexton to burn off lots of energy!  For locals, it would be a great place to host your kiddo's birthday party too!
The Bass Pro Shops adjacent to the Silverton Casino is one of our favorite places – we spend hours here!  They have a 40,000-gallon fresh water aquarium and a trout stream.  First, Brexton likes to tour the store and see all the animals on display and then go to the kids' toy section because they always have lots of stuff out for the kiddos to try.  (At Christmastime, this particular location has an entire winter wonderland of activities – but on any given day, they have fun stuff out.)  Then we head over to the aquarium, which Brexton absolutely loves!
We love children's museums, and the DISCOVERY Children's Museum Las Vegas is no exception.  They have so many engaging and educational (in a fun way!) exhibits.  I love it because Brexton is learning through play – and I can't lie, I always learn something new while I'm there too!  They have different exhibits throughout the year for all ages.  Definitely check out their site to see what's going on – and it's a great place for locals to host a kid's birthday party again!
Another family-friendly place to visit while you're in Las Vegas is M&M's World!  It is every M&M's lover's dream – you can make your own personalized M&M's, watch a free 3-D M&M's movie and even get Kyle's #18 merchandise!  It's FOUR LEVELS and has everything M&M's you could ever think of!  They are located in the Showcase Mall next to the MGM Hotel & Casino.
We love travelling as a family to all of these great places and finding fun things to do together.  Let me know if you have any other family- or kid-friendly things to do in Las Vegas.  Happy travelling!
Here are some other photos of our adventures during #NASCARGoesWest!