There is no need to compromise style just because you're pregnant! I have found some of the cutest maternity clothes, as well as fantastic finds from brands I already love! I have been having so much fun putting outfits together that incorporate my style along with my growing belly! Check out this outfit I put together, using two of my favorite trends: camo and neon!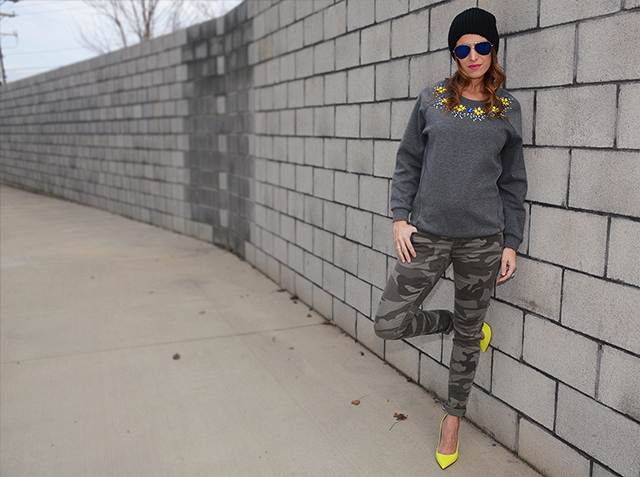 I am so in love with these fabulous camo maternity jeans by True Religion. They have a nude stretch band at the top for comfort and support which is perfect as I grow more and more each day.
Camo is so versatile (it can be worn almost like a neutral) and chic. I usually pair these jeans with a black long sleeve shirt and gray poncho. Today, however, I wanted something a little colorful and fun and this maternity sweatshirt by Madison Marcus was gorgeous with all of its bright embellishments along the neckline. To jazz up this casual look, I opted for some yellow neon heels to tie the whole look together. A great pair of aviator glasses by Jessica Simpson and a black beanie from H&M finished off this fun and funky outfit!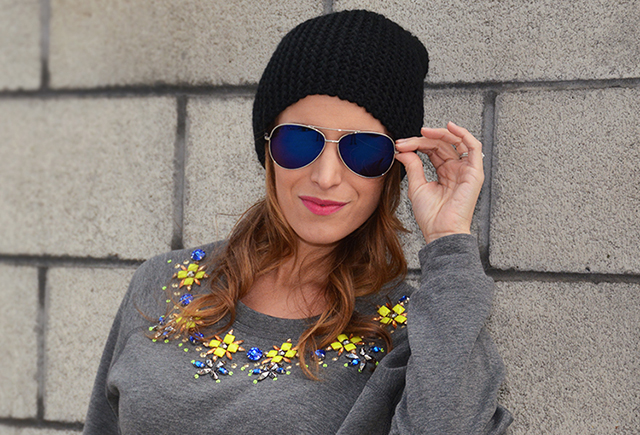 All of the clothes were from Destination Maternity which is my go-to maternity store! They sell the same brands you would find at other major retailers, including Genetic Denim, Bailey 44, Ella Moss, Rebecca Taylor and Splendid, just to name a few. Also, there are Destination Maternity outlets and amazing sales on their website all the time! Check them out!