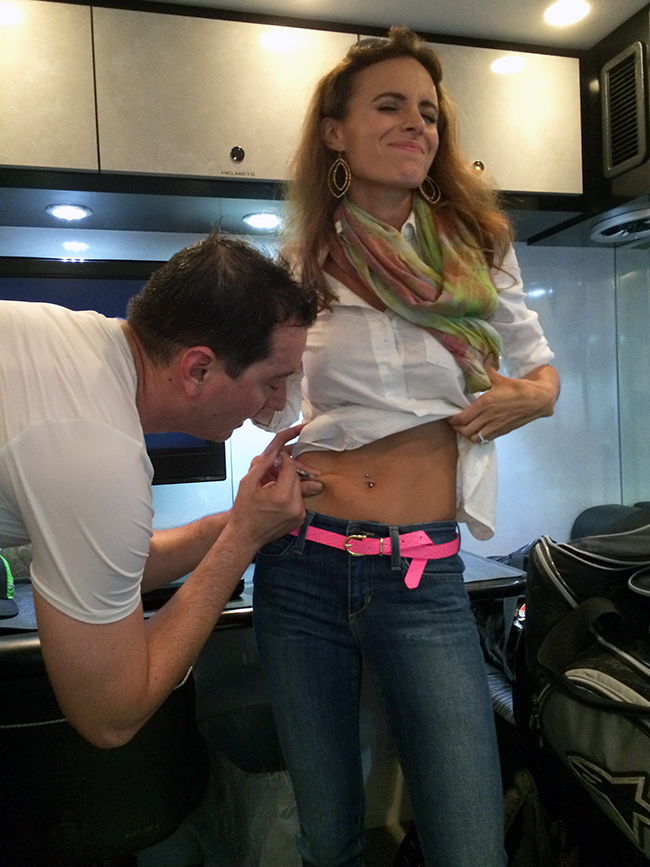 As we shared with everyone, Kyle and I are thrilled to be expecting our first child in May! The anticipation is something that you can't fully appreciate until you are in the midst of pregnancy.  Every day is a constant mix of joy and nerves! I'm also constantly wondering whether I am eating the right foods, exercising enough, reading the best baby books, preparing the nursery with the correct essentials and registering for the right things (there is so much out there, goodness). The list of things to do and think about is never-ending but it is all done out of a love that is so immense for someone you haven't even met yet! It's unbelievable how much love we have for this precious child already! As many of you know, I love children and have dreamed of being a mommy for a long time. Many of you probably don't realize however, the many, many months (well, years) that it took us to get to where we are now.
I battled with myself for a long time, trying to decide if I should share our difficult journey.   I spent many months being embarrassed, depressed and scared, and ultimately found out I had a condition that was causing our difficulties in getting pregnant. Struggling with fertility is something many women of all ages go through, but fertility treatment was a path I never anticipated having to take. With both of us being young, fit and healthy, we just assumed we would have no issues when we were ready to start our family. It was scary, frustrating, and heartbreaking… and so many other emotions I never thought I would experience.
While I realize I'm not the first person to go through this, I do want to share our story if only to be a point of reference for anyone else experiencing infertility.  If you are like me, you could be surrounded by friends and family members that all easily conceive and it can be hard to understand how and why you can not do the same. It also might be nice to have a comparison of what happens to your body and emotions throughout various fertility treatments even though everyone reacts differently. You may feel angry, scared, crazy and alone through your journey so I have documented this process with blogs, photos and even videos in the hopes that you have somewhere to turn. My account is raw, emotional and leaves it all on the table so that hopefully you can avoid my mistakes and not feel alone in your battle to conceive.  You will see the emotional and physical rollercoaster I endured and I want you to take comfort in knowing that the feelings you are having are completely normal and rational although you may feel like everything is spinning out of your control.
I want you to know that through all the hurt and frustration there is HOPE and JOY that can be found in this process.  It may bring you and your husband closer together, bonding and learning through the many struggles and new experiences you will have to face as a couple.  You may be a shoulder for someone else to lean on in the future because you have gone through this.  It may help you draw closer to God in your sleepless nights when emotions overtake you.  I know this process has done all these things for me.  In the beginning of my journey I wish I would have drawn closer and sought Him sooner instead of being so angry at Him that I couldn't easily have a baby like many others. I was jealous and upset when I should have been happy for others. Instead of counting my many blessings I was so upset that God didn't make my body function like a woman's body is suppose to that I had a hard heart. By reading His word and with the help of others I realized that grace and blessings do come out of difficult times if you are willing to open your heart to Him.  For those of you that find yourself in the same boat take comfort in Jeremiah 29:11:, "For I know the plans I have for you, declares the LORD, plans to prosper you and not to harm you, plans to give you hope and a future."
Over the next few weeks I will share blogs, photos and maybe even some embarrassing videos with you that I have been documenting for a number of months. I am proud to say that this process has helped me grow as a woman, and I have found inner strength that I never knew I had to overcome fears and deal with heartache.  While at first I was in a dark place, I am happy to say that over time, I have actually thanked God many times for allowing us to go through this journey.  I feel fortunate that ultimately we were able to go through IVF as you will see in later blogs because I know this experience happened to Kyle and I for a reason. We believe with all our hearts that God had us face these challenges in order to help others.
In addition to documenting the process, Kyle and I want to make a real difference in our community.  We are starting a fund for the REACH clinic in Charlotte, NC where we went to receive our fertility treatments.  They were unbelievably wonderful in helping us to have this baby that we wanted for so long, but could not have on our own. IVF is a necessary procedure for many women who dream of having a baby, but like me, their ovaries and hormones just don't function properly.  For this reason Kyle and I will be donating $25,000 to REACH and setting up a fund in which we hope to raise more money so that others do not have to face the financial burdens of IVF alone.  By the start of the upcoming race season, we hope to have everything in order so that others can donate online too if they feel compelled to do so.
Over the next few weeks I will lay it all out there for you with pictures, tips and details that I hope will bring comfort to those that will face similar infertility issues. I don't have all the answers and still don't understand half of what I went through but I do know that I am past being embarrassed by it. Instead of only telling close family and friends, having them promise not to tell a soul, I want to invite you along on this ride. So buckle up!