Are you a salsa lover like me?  I seriously can't get enough and feel like I could probably eat it at every meal and not get tired of it.  This 5-Minute Black Bean & Corn Salsa recipe is one of my favorite recipes to make for get-togethers because it's perfect for snacking with tortilla chips but it's also super versatile.  I've eaten leftover salsa with grilled chicken and salmon, as a salad topper, on a baked potato and even just straight from the bowl!  Don't judge me.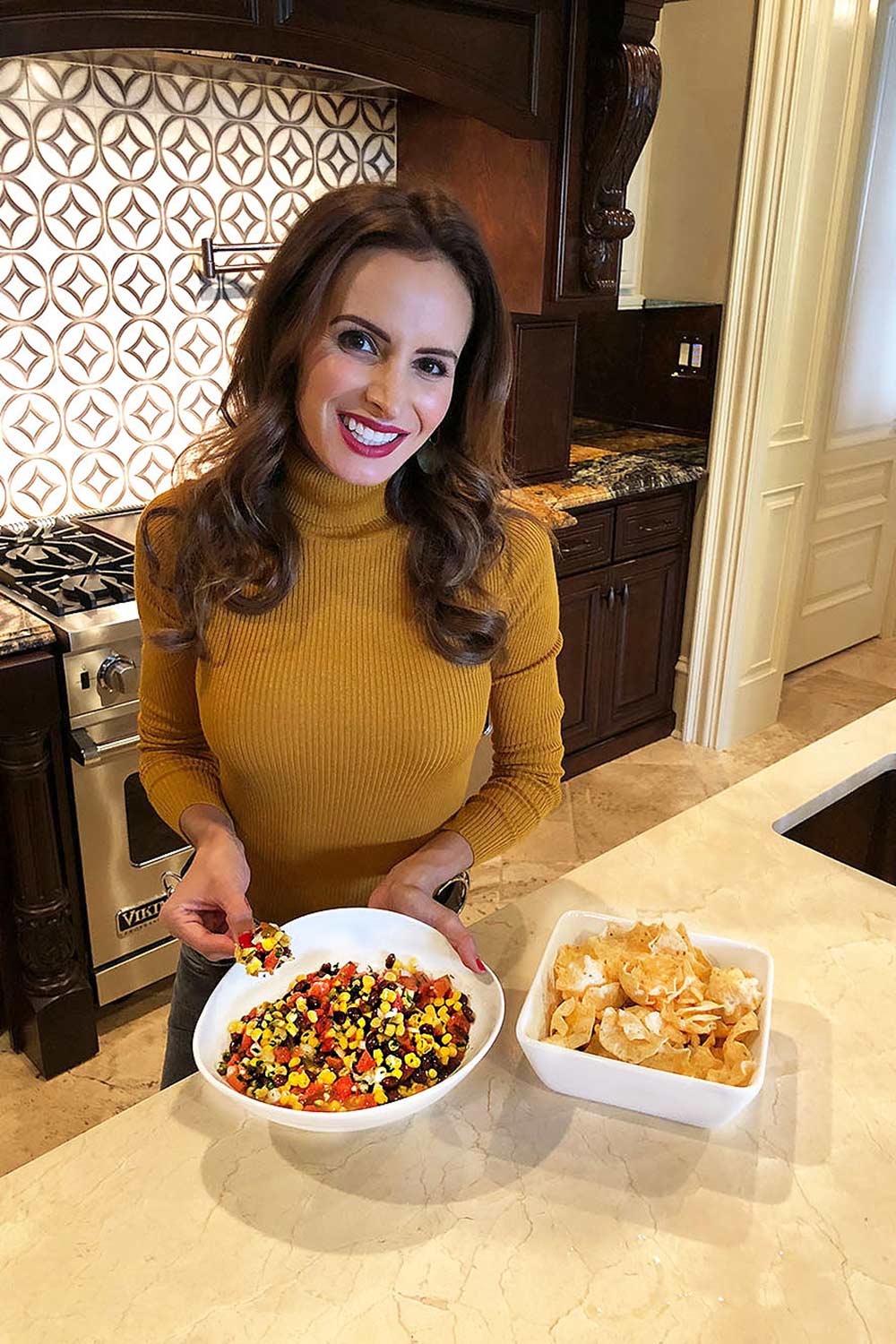 I also love it because it literally takes 5 minutes to make.  I think it takes longer to walk through the grocery store to find the ingredients than it does to actually make it.  Everything comes from a can or is pre-chopped (you know my motto) and requires no stove top or oven.  So you can whip this up at the last minute before company shows up and they will never know.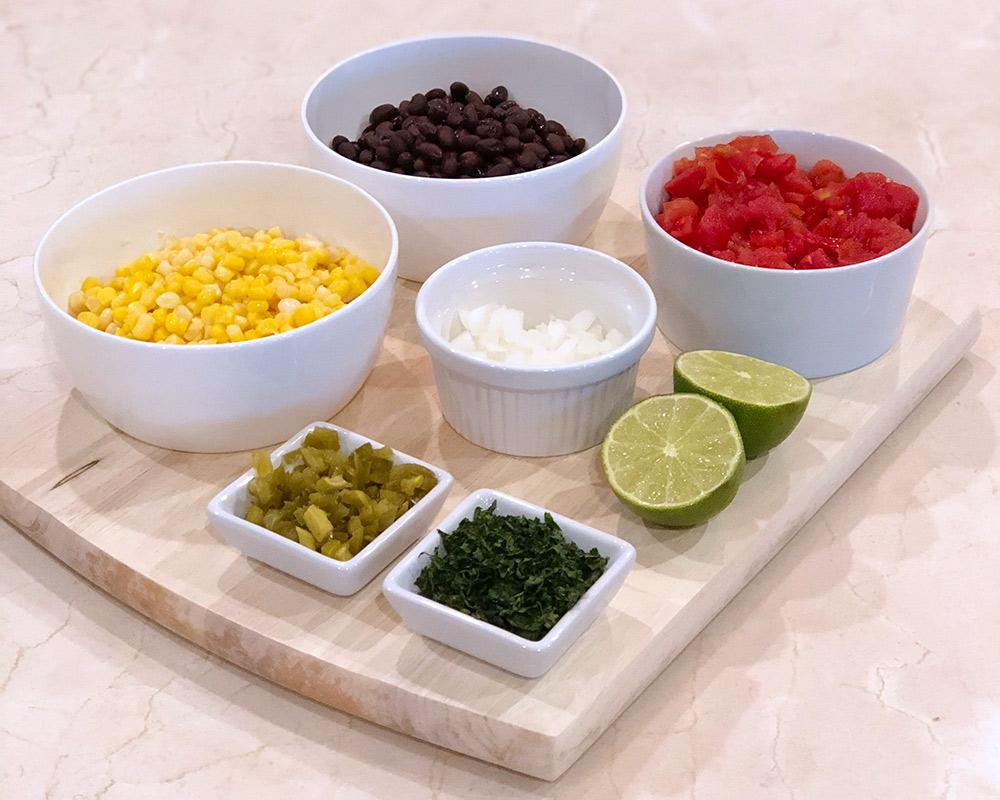 Shopping List
1 can black beans
1 can corn
1 can Ro-tel
¼ cup chopped onion
3 tablespoons chopped cilantro
1 lime 
Diced jalapenos 
Tortilla chips 
Instructions
1.  Strain the black beans and rinse off excess juice. Add to mixing bowl.
2.  Strain the corn to drain off excess water. Mix into bowl with black beans.
3.  Stir in can of Ro-tel.
4.  Add onions and cilantro.
5 . Add jalapeno to your taste.
6.  Add lime juice to your taste.
7.  Mix everything really well and refrigerate at least 30 minutes or until ready to serve.
8.  Serve with tortilla chips.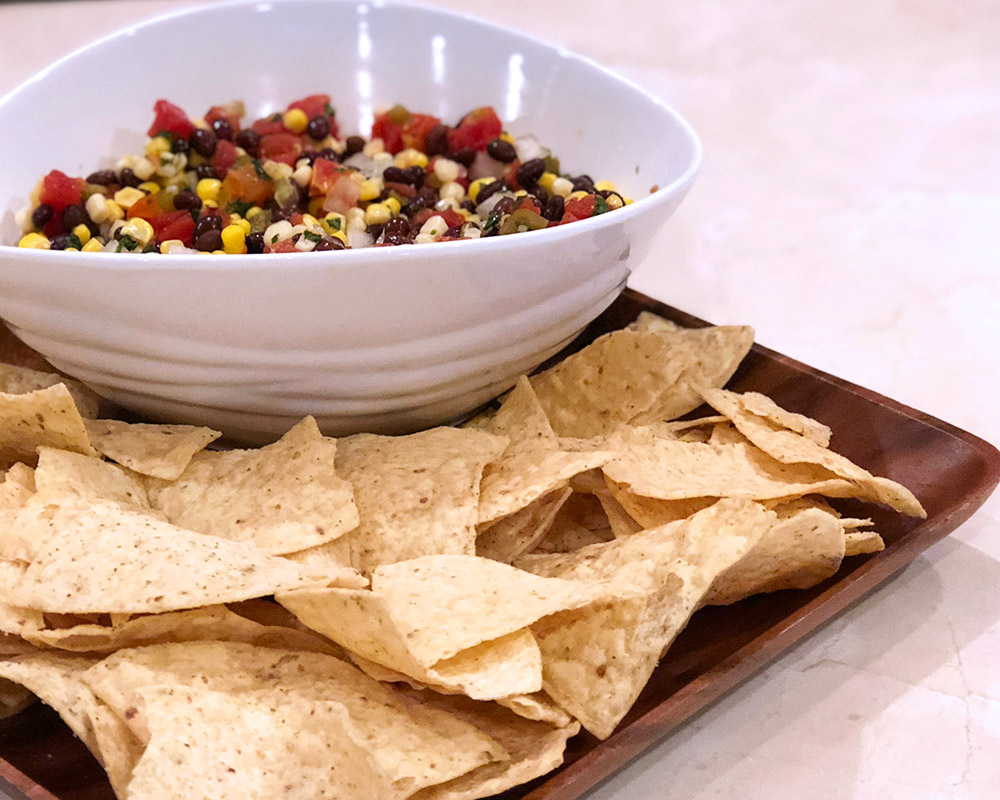 The recipe is pretty straight forward but I have a couple secrets I wanted to share with you …  
The corn can be anything you prefer (yellow, white or a mix).  I prefer the mix of yellow and white just for presentation. 
If you are REALLY in a hurry, you can buy Ro-Tel with lime juice and cilantro ALREADY IN THE CAN.  It literally knocks out two ingredients and some prep work.  Fresh is better when you have time … but seriously. 
I buy the onions pre-chopped from our local grocery store.  It costs a little more but it's nice to not smell like onion or make your mascara run. 
In our house, we like our food pretty spicy, so I added jalapenos for an extra kick. But if you prefer a milder taste, feel free to leave them out.   I buy the diced jalapenos in the jar to save myself time and headache of chopping a fresh jalapeno.  Just be careful if you go the fresh route because they are so much hotter than the canned version. 
That's it!  It's super easy, tastes delicious and can be served so many different ways.  Enjoy!