Wow where do I even begin? This year has been filled with ups and downs for sure, but God made us stronger throughout it all and has blessed us with the greatest gift of all, our son Brexton.  Sitting in the hospital room in February, listening to Kyle's machines beeping as he was sleeping I wondered if he was ever going to be the same.  I can confidently say he isn't the same, he is better than ever.  What he endured both mentally and physically have made him the man he is today and I truly believe he is a better person and racer.  It still feels like a dream that he is the 2015 NASCAR CHAMPION and I couldn't be more proud of him!
If our life hasn't been a whirlwind enough with Kyle going back racing on May 16, Brex being born on May 18th and really not stopping since, I wanted to invite you all into a little behind the scenes look at what our week in Vegas was like! It was beyond awesome and we can't thank NASCAR, our sponsors and of course you all for making it so special! So let's take a look at our craziness!
We finished up all the photos and media at the track in Homestead around 2am and then went to hang out with the team guys at Adam's (Stevens, crew chief) bus till 4am.  That seemed like a great idea at the time until Kyle's call time to go to New York was at 6:45am! He did media all over including my favorite "Live with Kelly and Michael!"
While he was off in NYC, Brex and I went to Fort Lauderdale for the Camping World Truck Series/XFINITY banquet so that I could represent KBM since our driver Erik Jones won the Driver/Owner Championship! I found out that morning that I was going to have to do an interview and panicked even more when I saw the big step I had to get down in heels in front of everyone! I was so nervous but hey, I didn't fall and though it started off a bit shaky, I think all in all the major points got across. Erik is a true talent who we are so proud of, and our amazing employees at KBM are the reason we are successful. We also can't thank our sponsors enough, especially Toyota, for their support not only this year, but from the start. We wouldn't be here without them.
We all got home Tuesday, grocery shopped and prepped Wednesday and then had about 30 people over for Thanksgiving on Thursday!
Friday and Saturday were spent shopping for the Champ's clothes which he was none too happy about.
We left Sunday for a quick stop in Los Angeles for Kyle to do another media tour and then Tuesday afternoon we were off to Vegas!!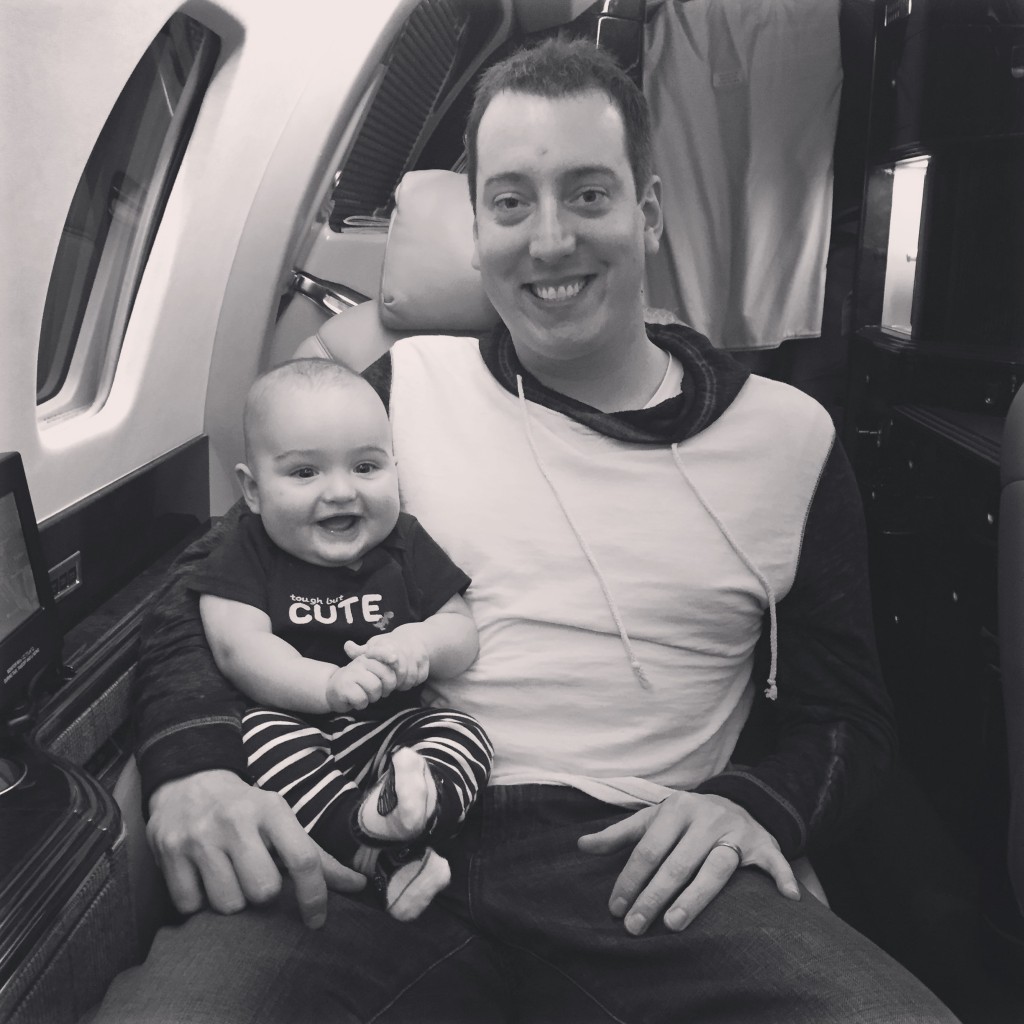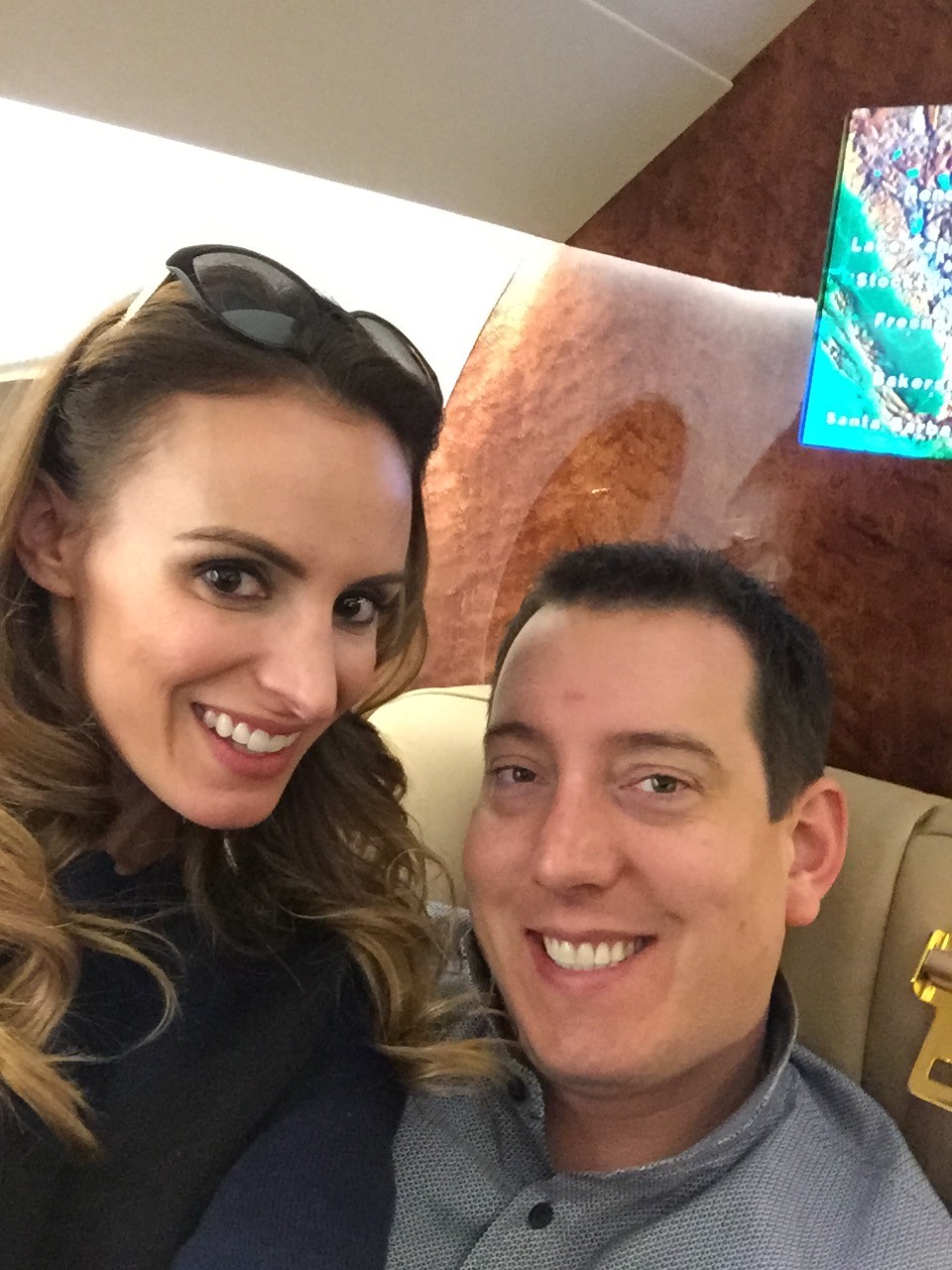 We arrived in Las Vegas to this!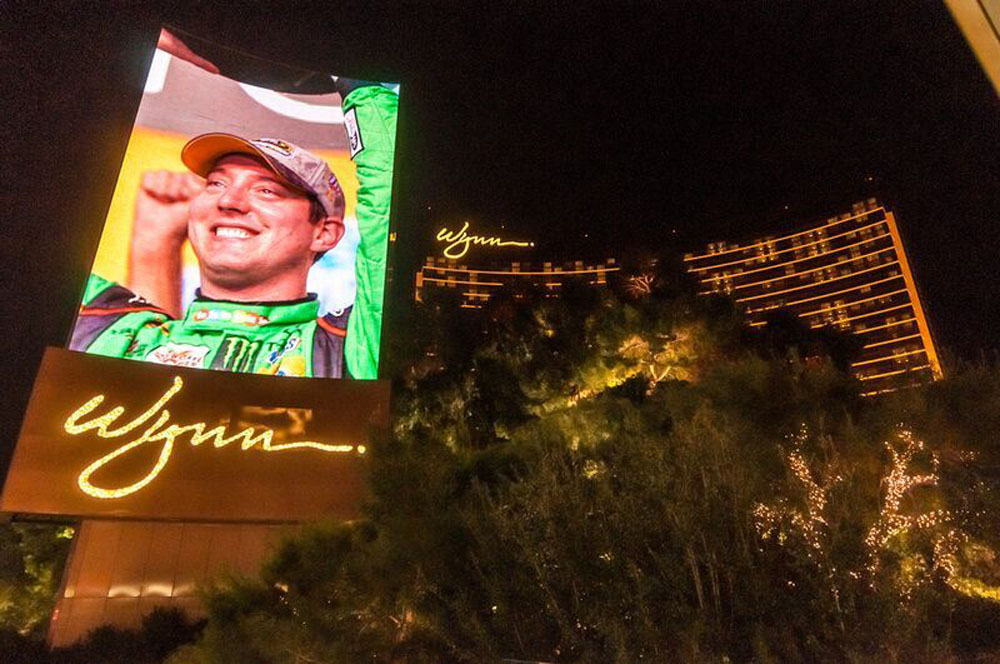 Tuesday morning started with pics at the famous Las Vegas sign! I have never actually been to the sign before so it was awesome and the day was so beautiful with crisp, clear and the brightest blue sky! From there we went over to the Linq and did more photos and Brexton was able to see Kyle in a huge picture! It was so amazing to see the hometown boy's pictures and congrats all over town!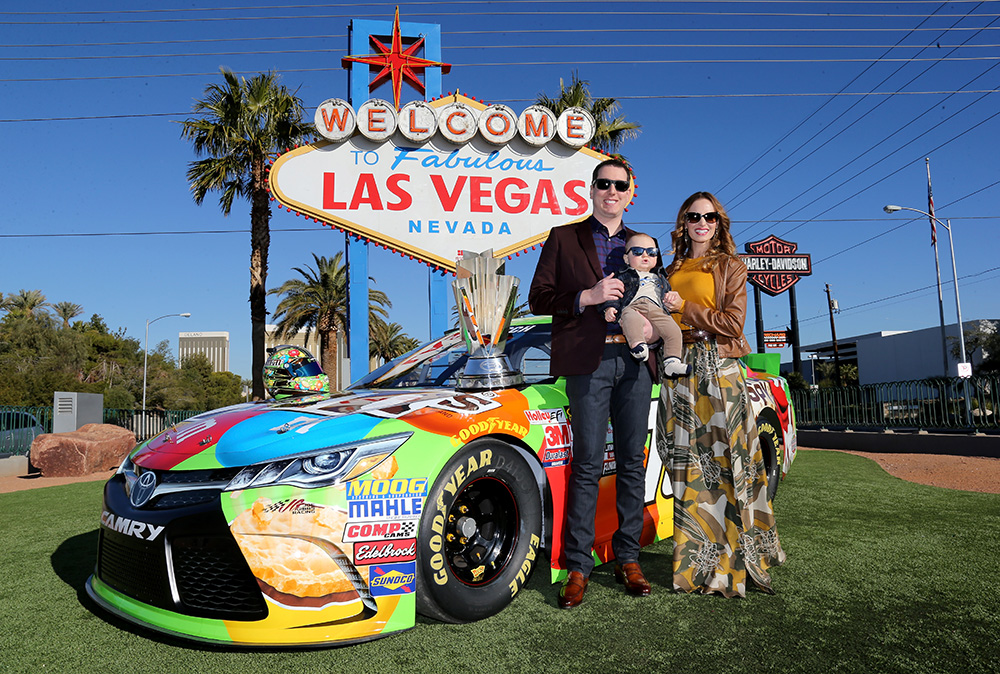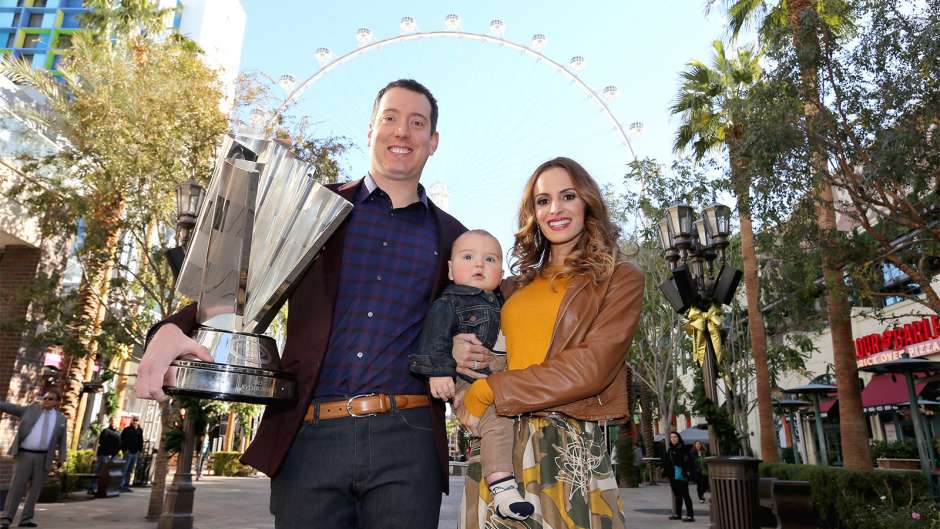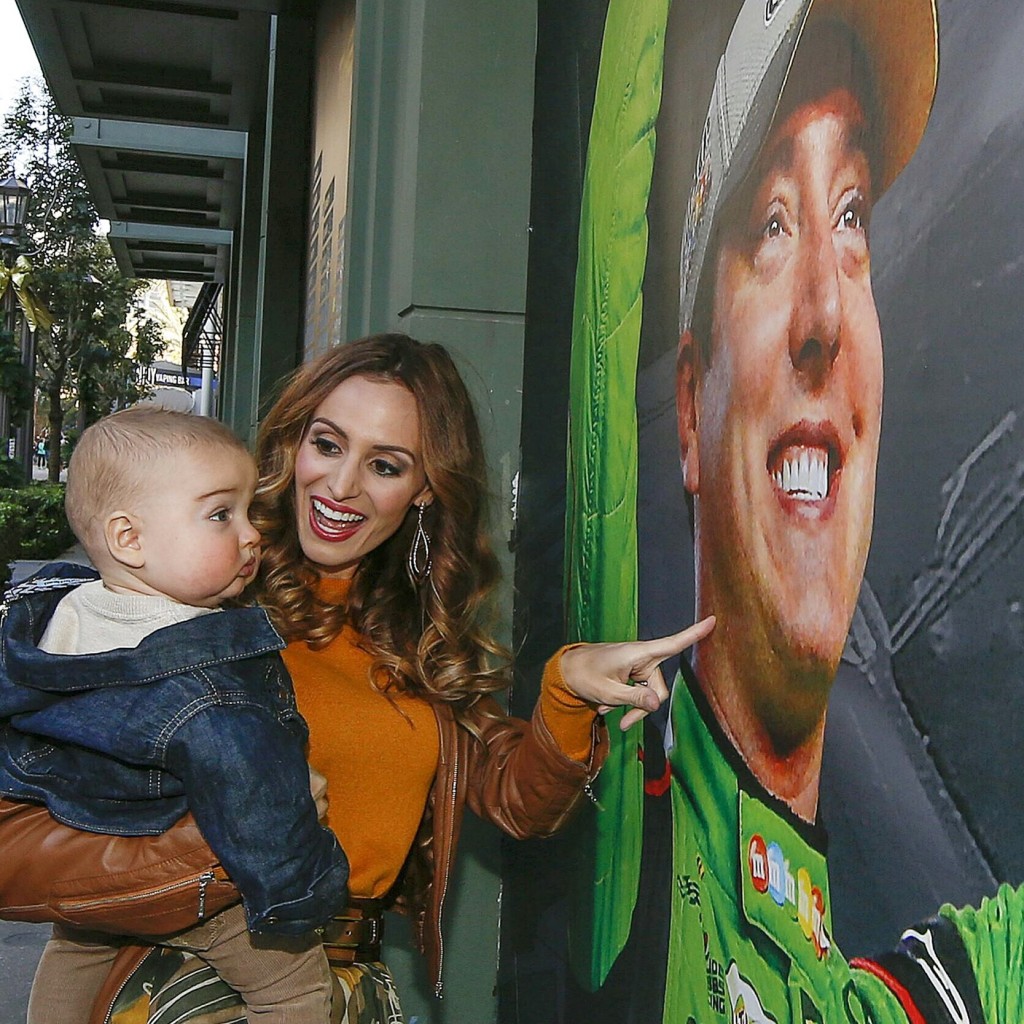 Outfit details: I found this skirt years ago on eBay and loved it! I really like wearing maxi skirts in the winter paired with over-the-knee boots.  I read a great piece of advice in a magazine that said treat over-the-knee boots like tights in the cooler weather in order to know how to wear them.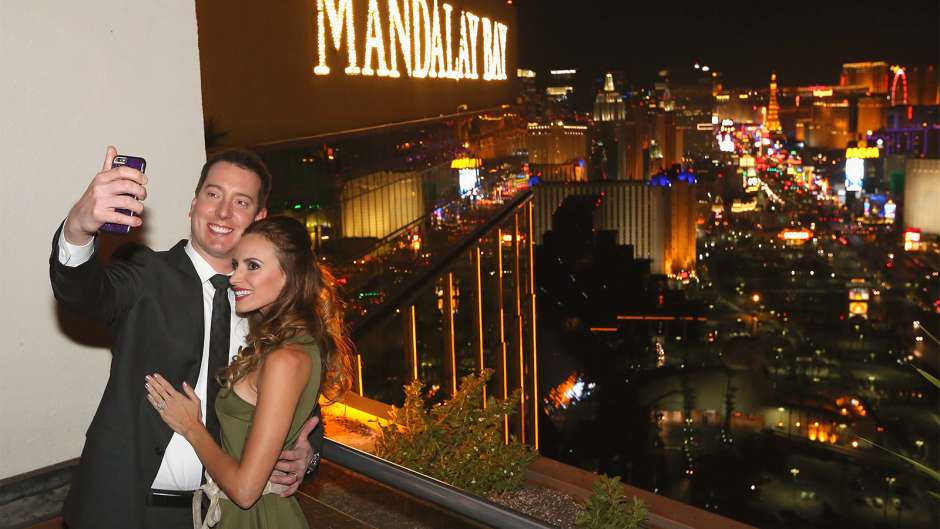 That evening we went to the top of Mandalay Bay to the Foundation Room.  Talk about the best view of The Strip! It was so gorgeous! Let's talk about this dress for a minute because I am in love with it! An olive green wrap dress that I purchased off Want My Look for only $50 (normally $60 but they run sales all the time!). Though it can be a statement on its own, I added a gold belt and a big necklace because hey, its Vegas!) We then had a lovely dinner with some wonderful folks from NASCAR and even got to meet Roma Downey (disregard my belt was untied in the photo grr).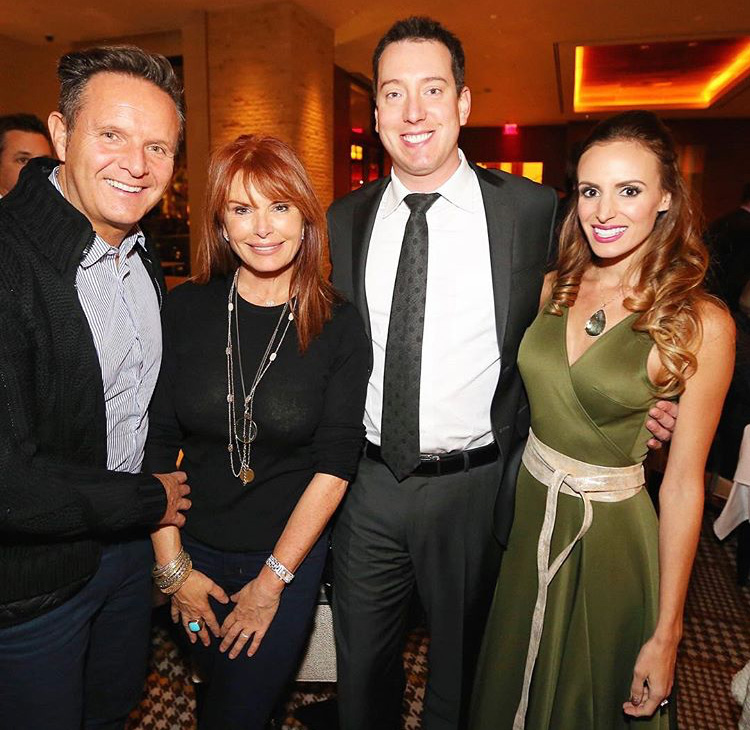 The next day as Kyle was on a whirlwind media tour, Mommy enjoyed some time with Brexton and then hit the gym! That evening we attended the Betty Jane France Humanitarian reception.  The finalists were all so inspiring and ultimately Jeff Hanson won! His work is amazing!  Read his inspirational story here or visit his site http://www.jeffreyowenhanson.com
Following that reception, we went to the NASCAR Evening Series at the Border Grill at the Forum Shops (located at Caesar's Palace).  Talk about great Mexican food (the guacamole is awesome!) and a mean margarita! We plan on visiting this place again during the Vegas race!
Yum!!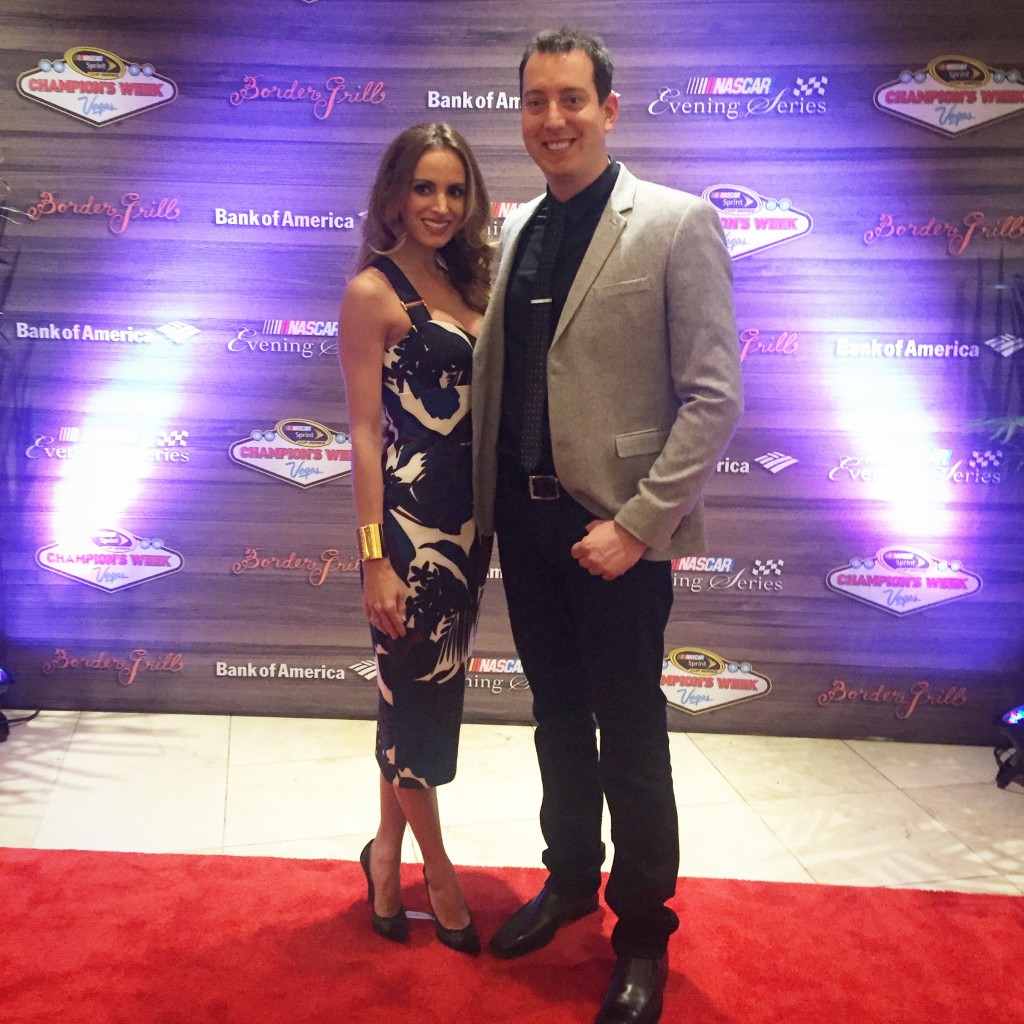 This evening I wore an amazing Ted Baker dress from Nordstrom (hello 20% off getting up for Black Friday shopping!) I loved the print and the cool buckle straps in rose gold! I paired the outfit with my favorite Schutz heels from local Huntersville, N.C., boutique Vanilla Brazil.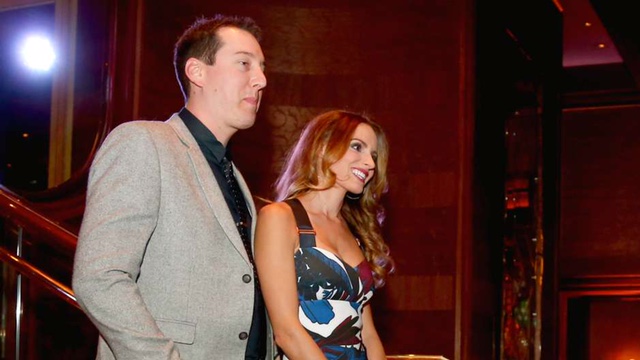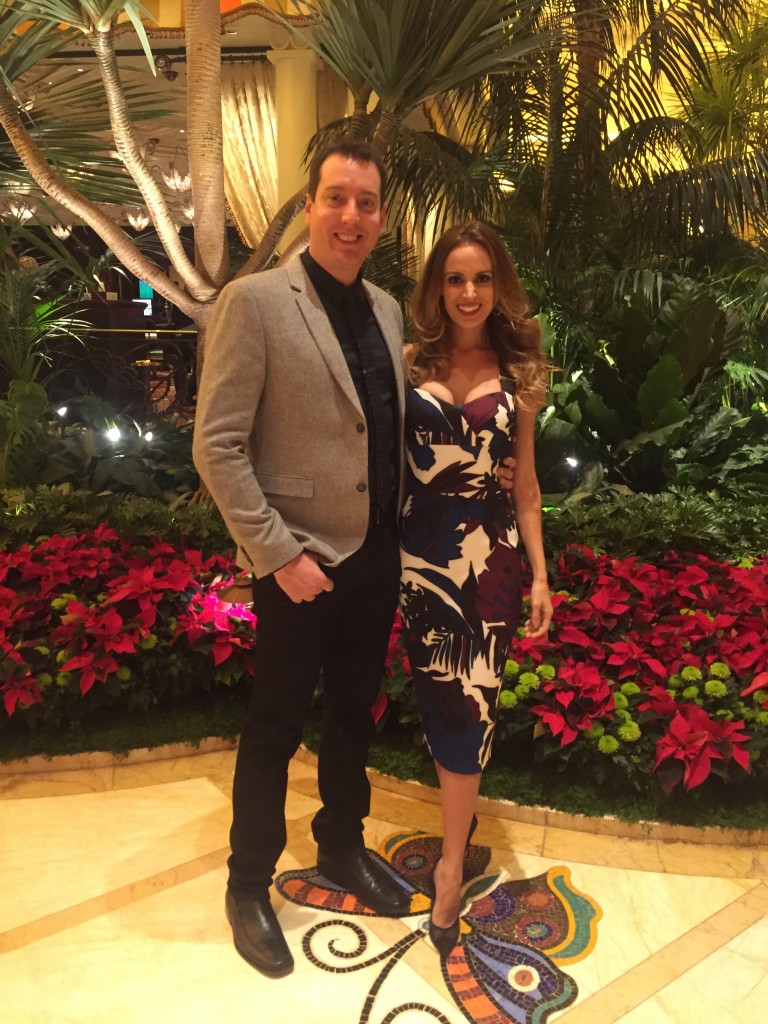 That evening we met up with friends for drinks at Andreas inside the Encore.  Just ask for a margarita fishbowl and this volcano dessert!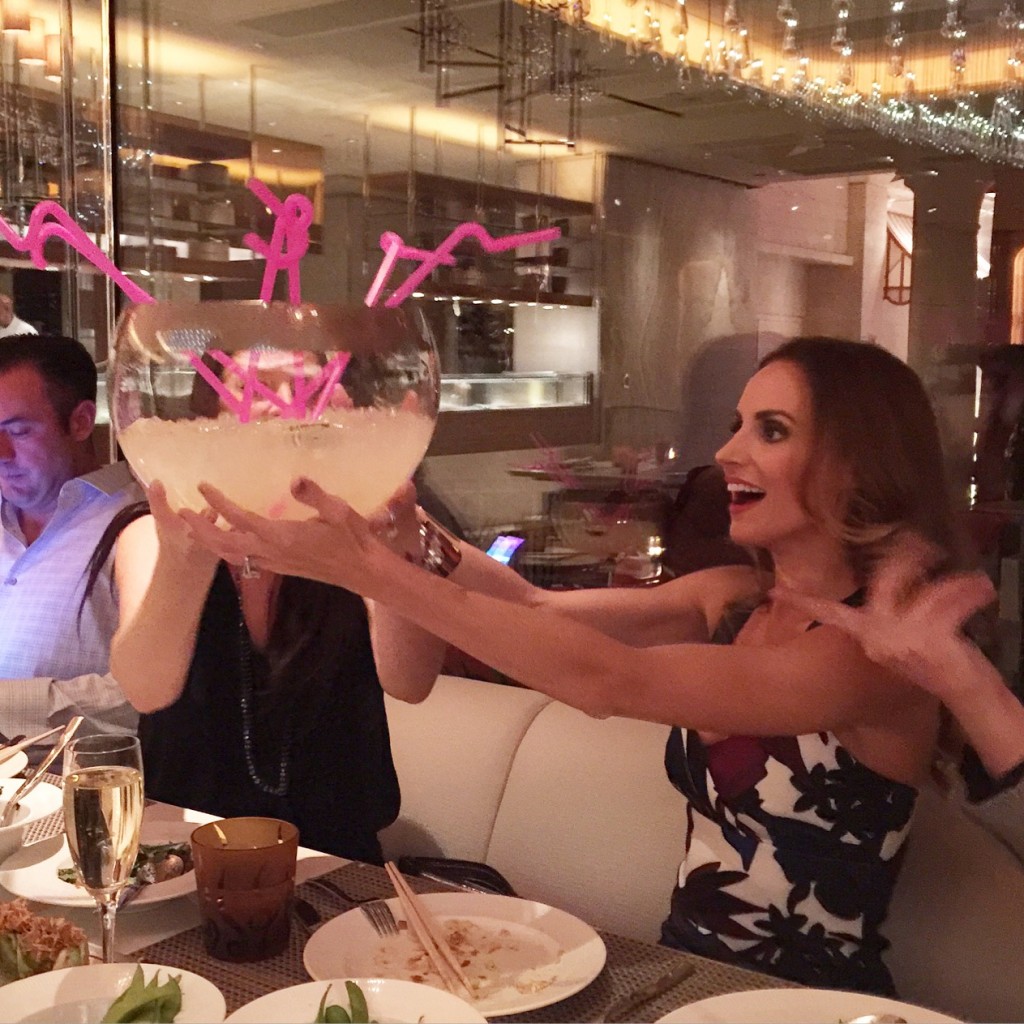 Thursday was by far the busiest day of the week! It started with the Myers Brother's Luncheon honoring many award winners throughout the year.  Here I finally saw the one thing that makes our crew chief Adam, who is cool as a cucumber in every situation (hello final call in Homestead!), at least a little on edge – a speech. In typical Adam form though he delivered it flawlessly!
For the luncheon, I chose a fun hot pink dress also by Ted Baker from the Nordstrom's Black Friday sale! I paired it with amazing Sophia Webster heels that I found in Vegas.  The heel is like a work of art!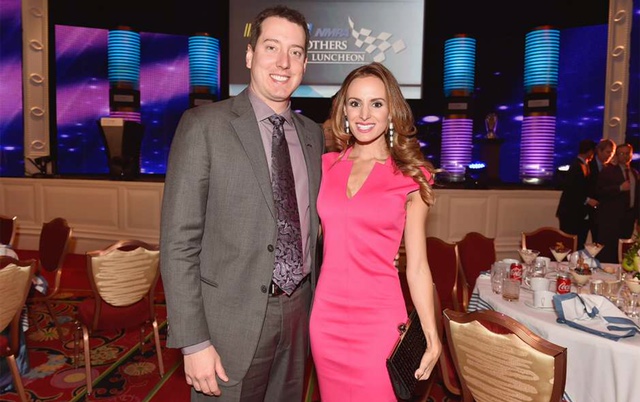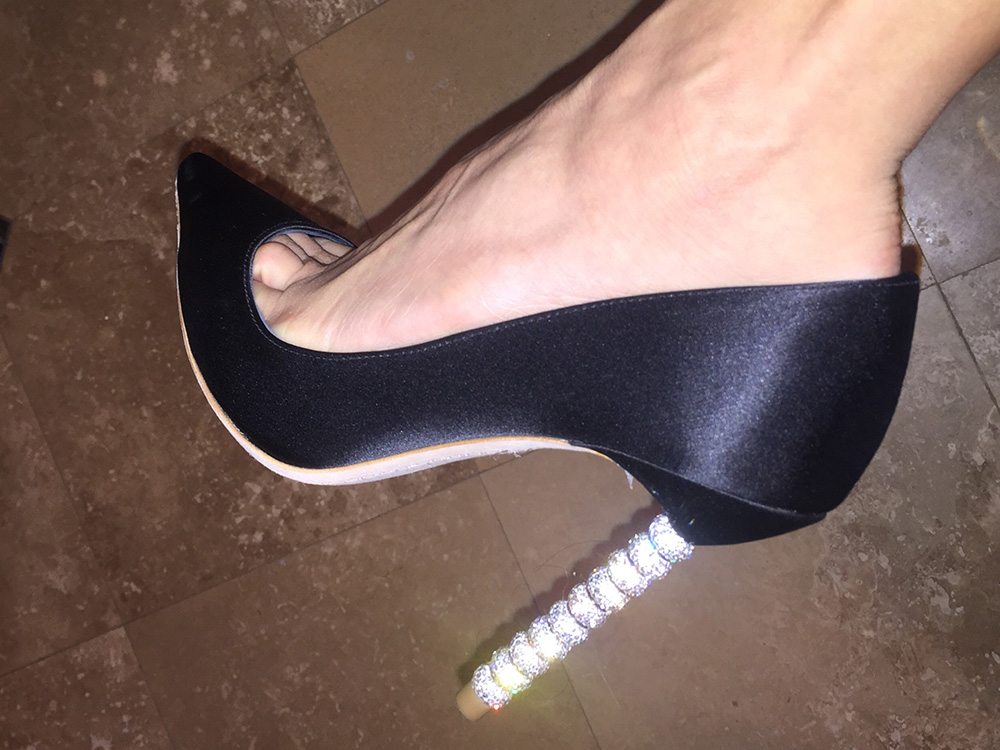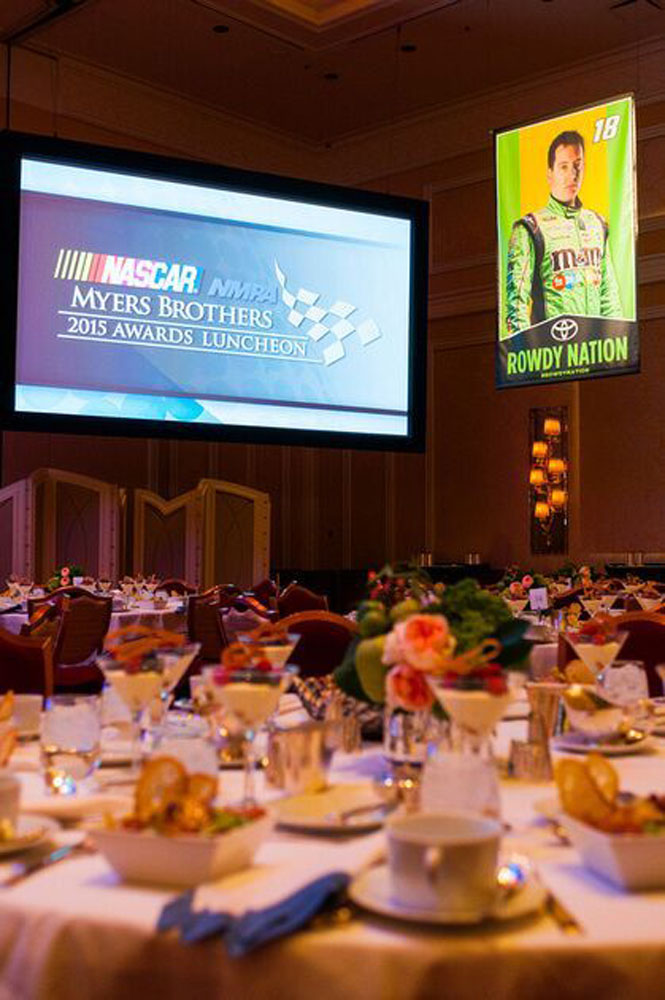 From here Kyle went to do some burnouts on The Strip! This has to be one of the coolest events of the week, even a block away inside our hotel room I could hear the engine!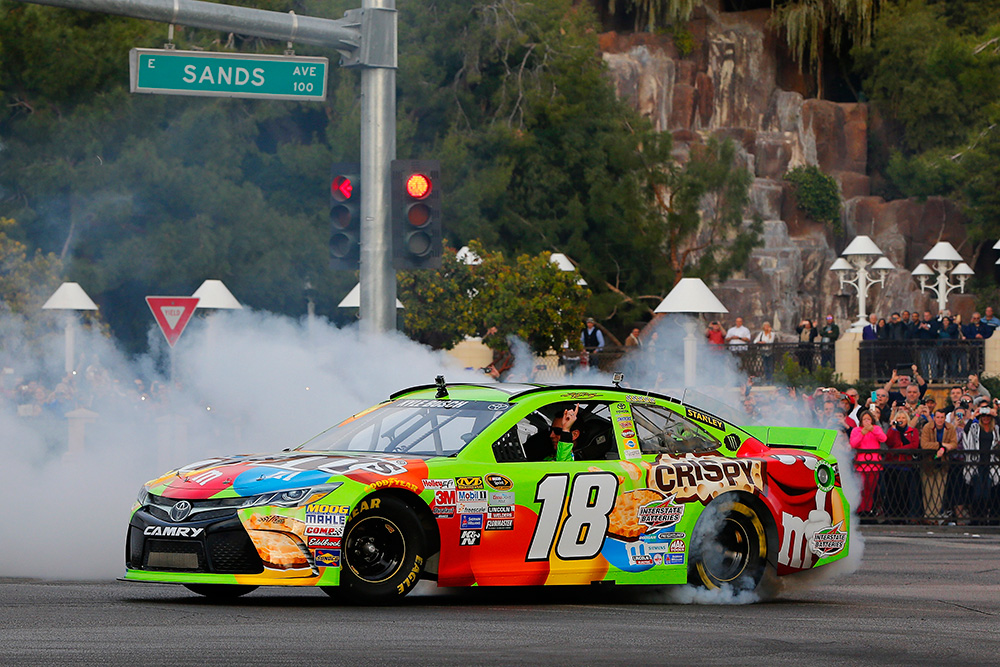 That evening all the girls went to watch "After the Lap" which is an onstage Q and A with the drivers where they really let loose! It is a fun time that the audience loves as the drivers tell personal stories, joke with one another and there are even some giveaways!
I love black, white and neon so for this event I wore some faux leather pants from TopShop and paired it with a white fringe crop top from local Charlotte boutique, Lotus.  My pop of neon was my fabulous Valentino shoes that I LOVE!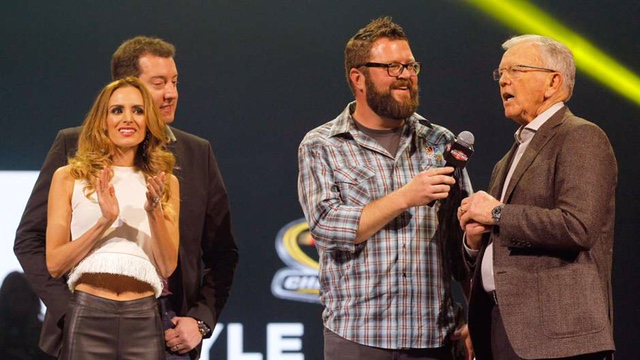 Next was the team dinner for our 18 guys and their significant others! Kyle and I cannot say enough about how amazing this group is and we are honored and blessed to have each one of them as part of our team! We took them to a delicious dinner at Sinatra's inside the Encore for some Italian food!
The night concluded with the Coors Light Silver Bullet Bash.  It was a great time celebrating with our team and industry folks! I have to talk about my jumpsuit for a second here because it looked like high-end designer (people kept stopping me in the casino to ask who it was by) and it was from H&M for $79.99! The bottom is even lined with shorts and it has an awesome tassel tie!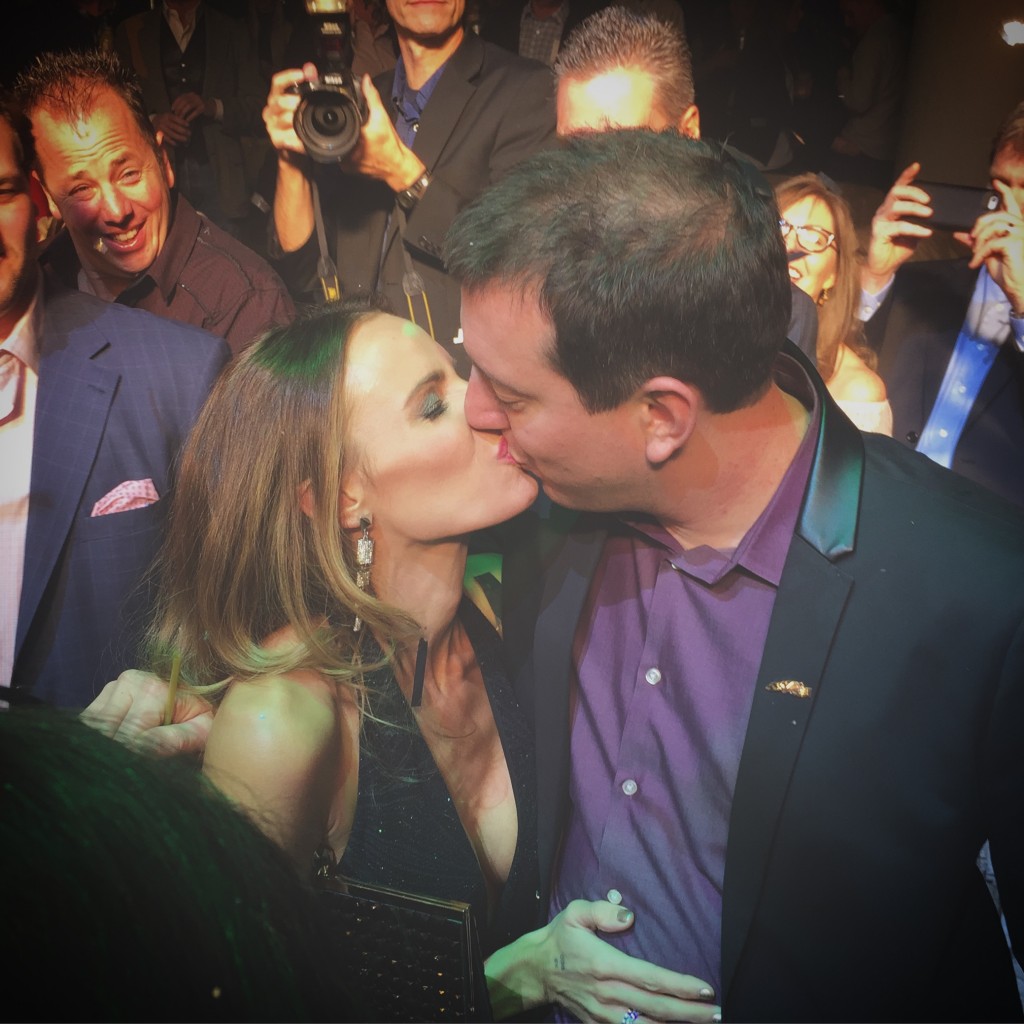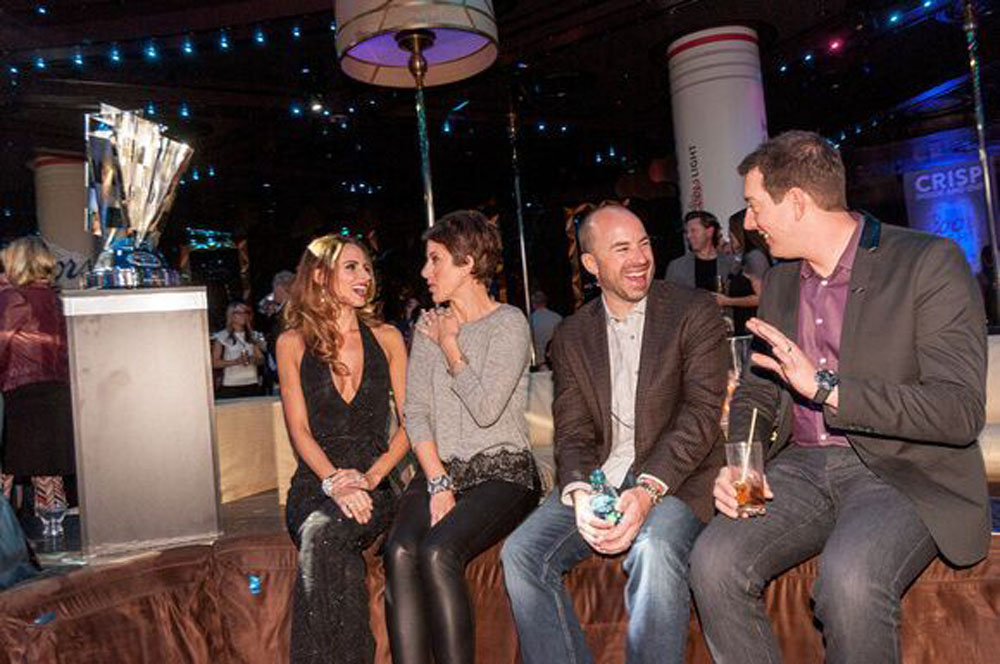 Friday!!! It was banquet day and though it didn't start until 5pm, we had lots of pictures to get ready for.  First my hubby gave me free reign to dress him well for all the days but I was especially excited for the banquet! He looked so handsome in his tux with his custom bowtie! Brexton stole the show though with his mini tux (from Macy's if you guys are looking for one but FYI the pants are like a box, we had to get them altered and it would have been better if the shirt was a onesie because it didn't stay in. That was obviously my first experience with a baby tux so wanted to give you my review 🙂 His checkered flag Vans shoes and custom checkered flag bowtie which came from a great small shop, Lennon and Co (on Instagram), were beyond adorable!
Here are a few behind the scenes looks at my hair and make-up getting done and then a few pre-red carpet shots!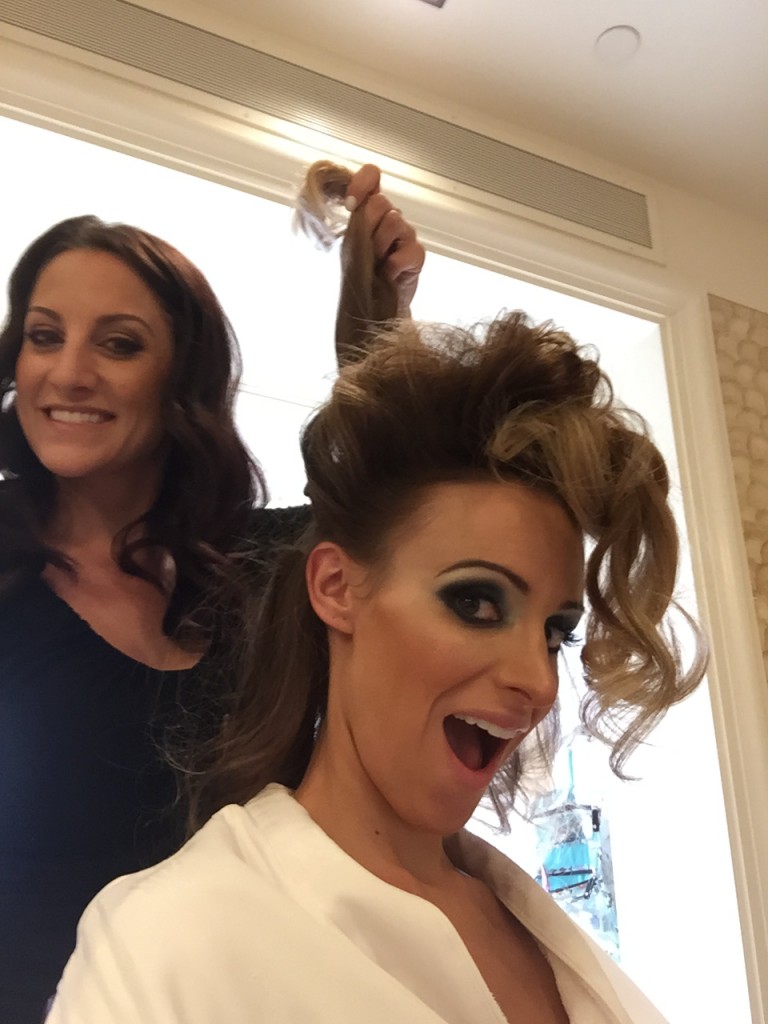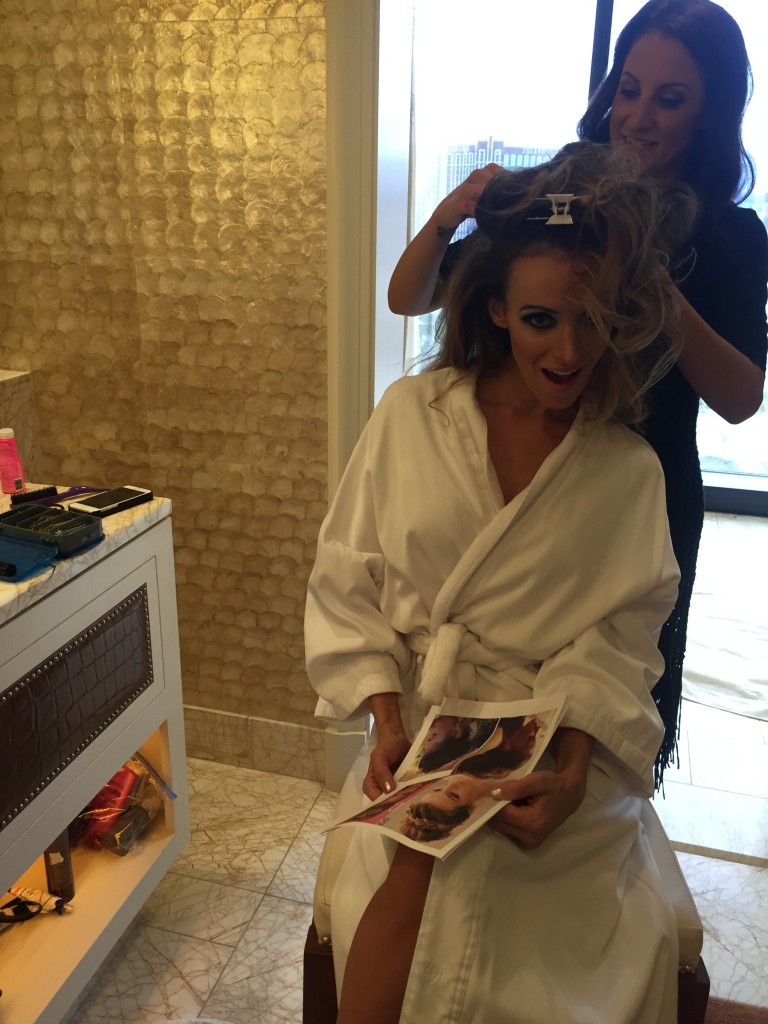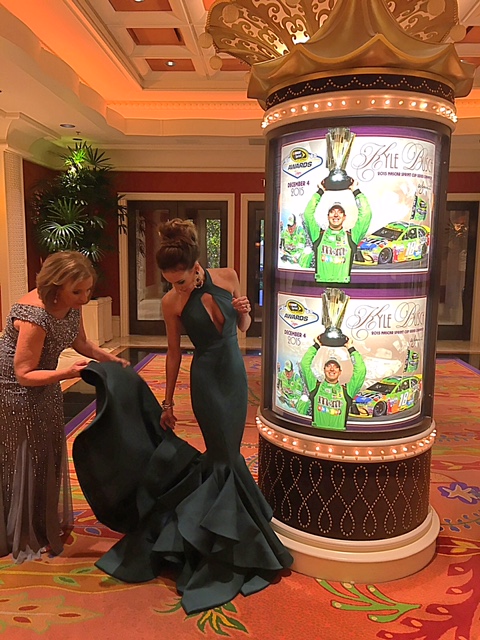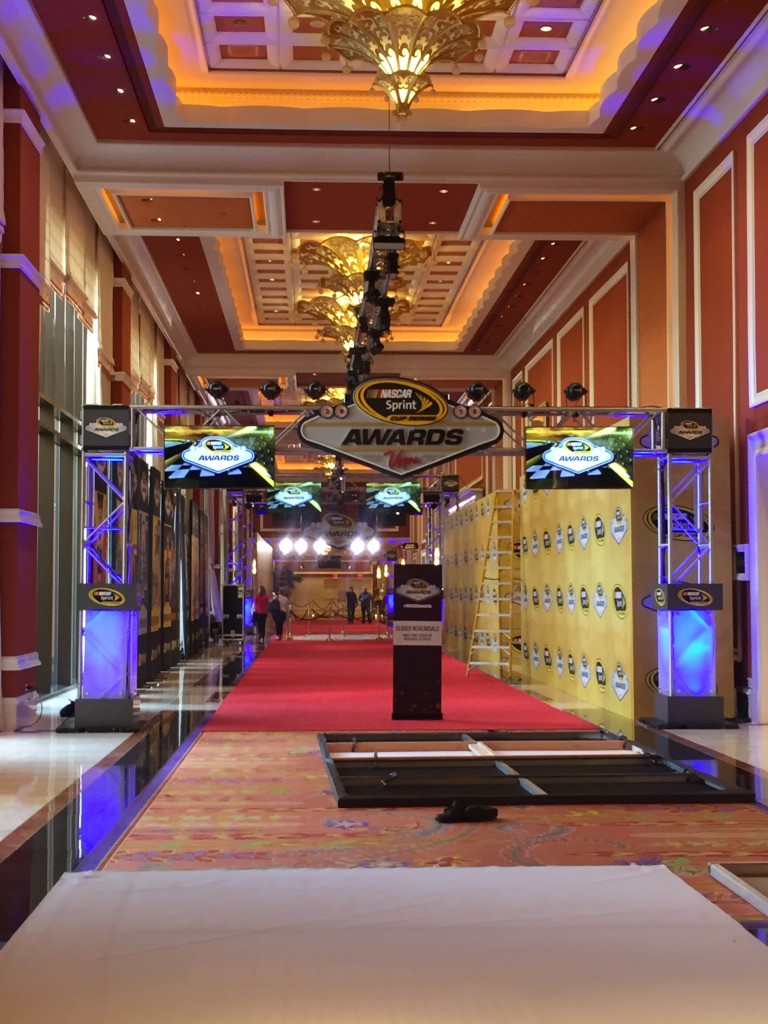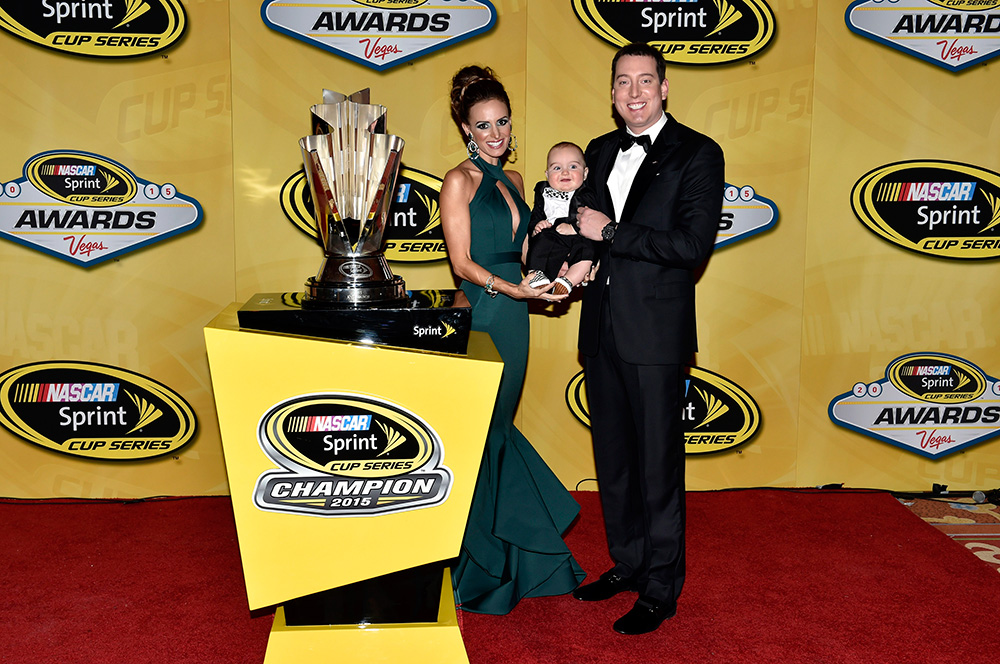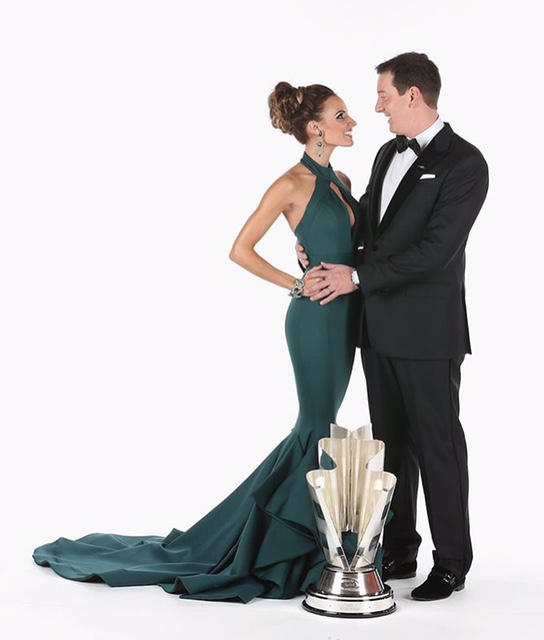 The banquet was so emotional! Seeing the highlight video of everything Kyle endured this year and then his speech, well let's just say it's a good thing I had on waterproof mascara.  They didn't have it on the television coverage, but during Rachel Platten's live performance of "Fight Song" (which now makes me tear up every time I hear it!) they had a video montage of Kyle growing up racing and then this year and Brexton, and oh boy there I go I am crying again! Also emotional was Jeff Gordon's speech.  He and Ingrid are such role models for the sport and have contributed so much on and off the track, they are true inspirations.  We are sad that he won't be racing next year but it will always be special for Kyle that he won his first NASCAR Championship racing against his idol for the title.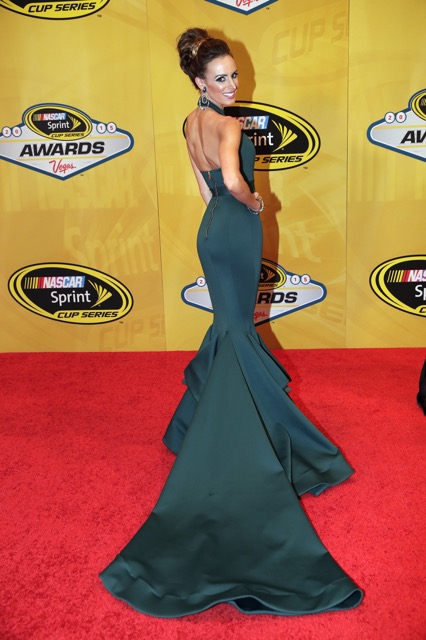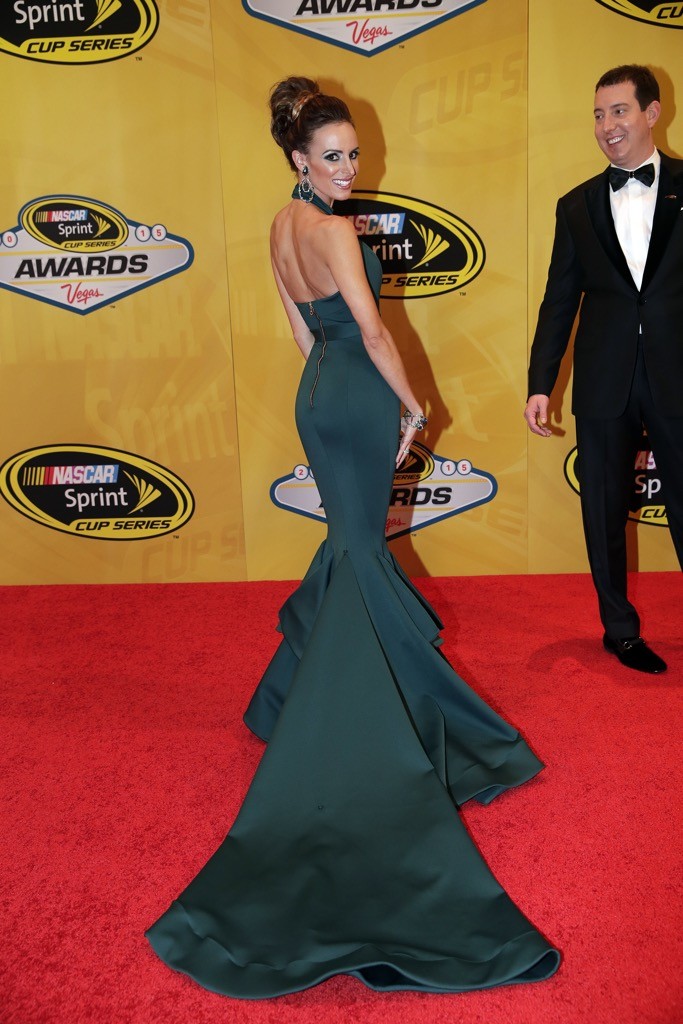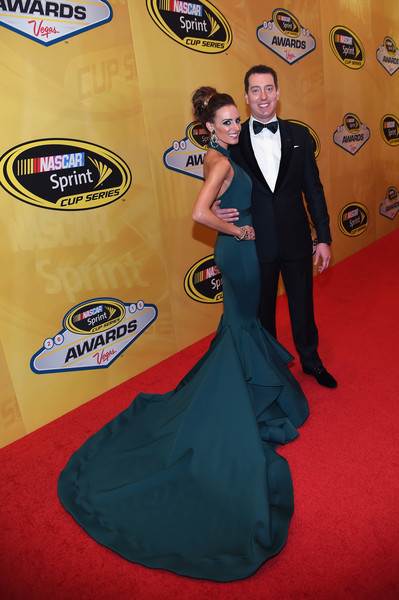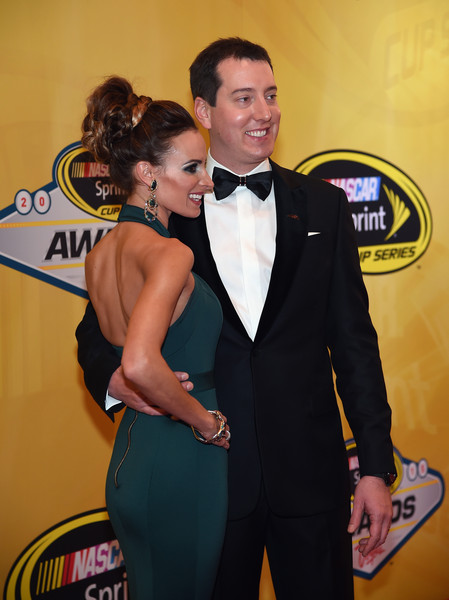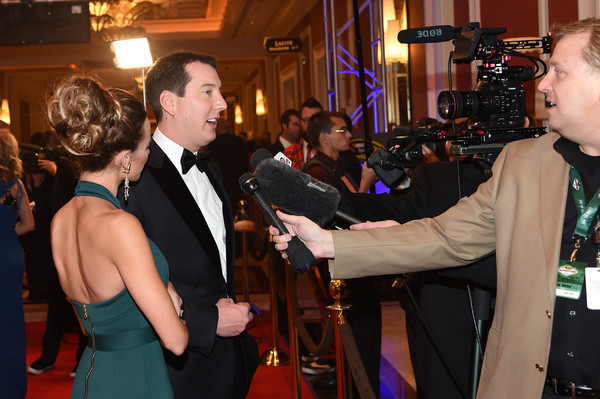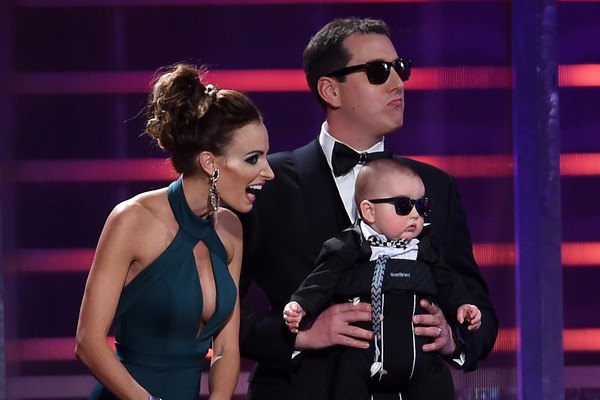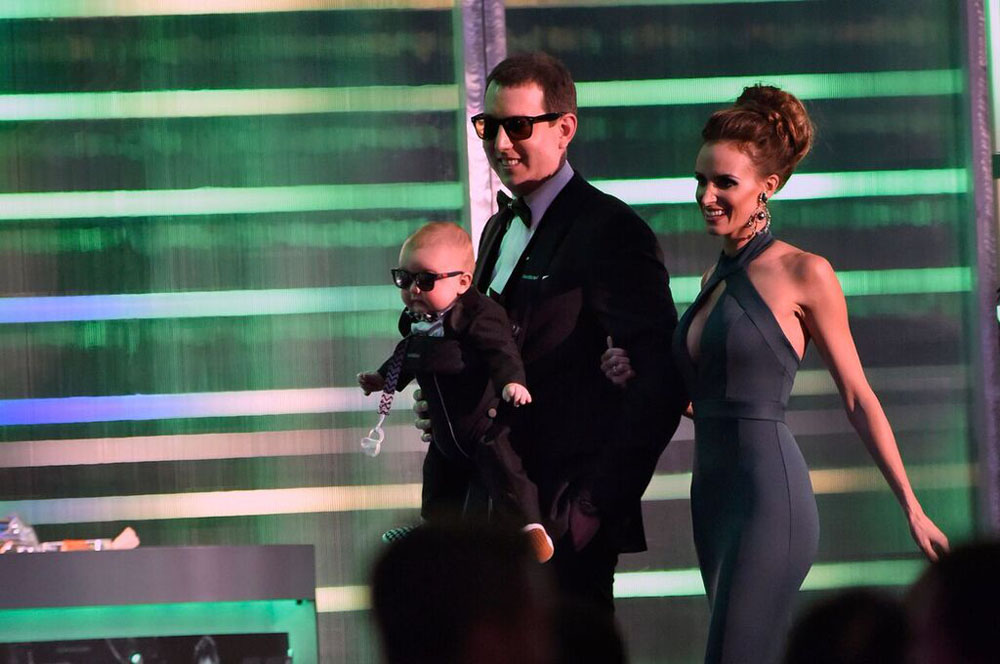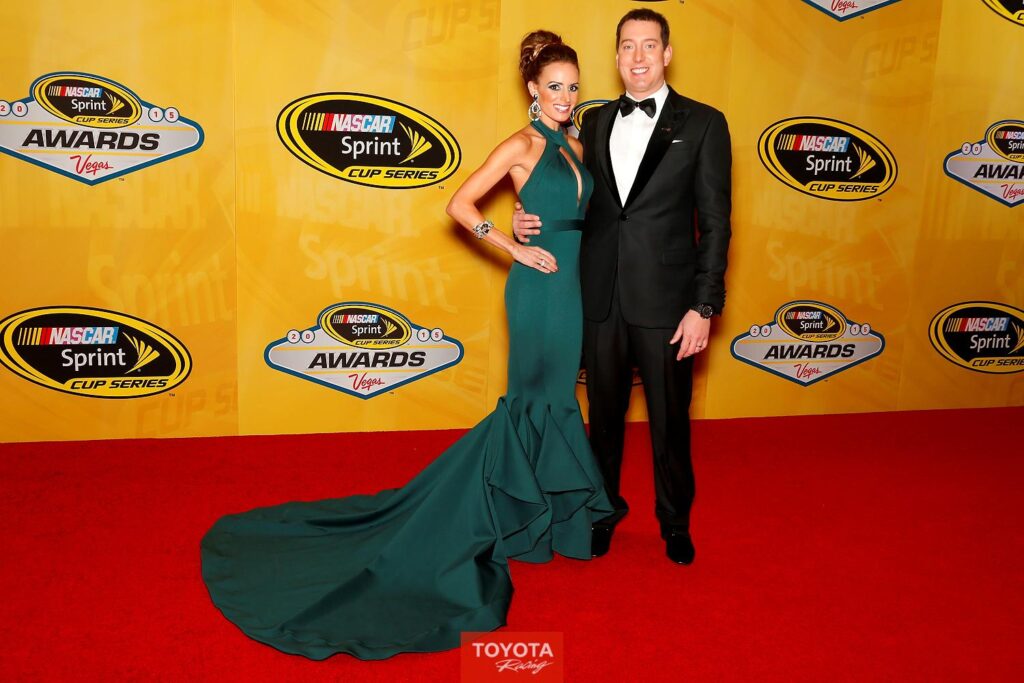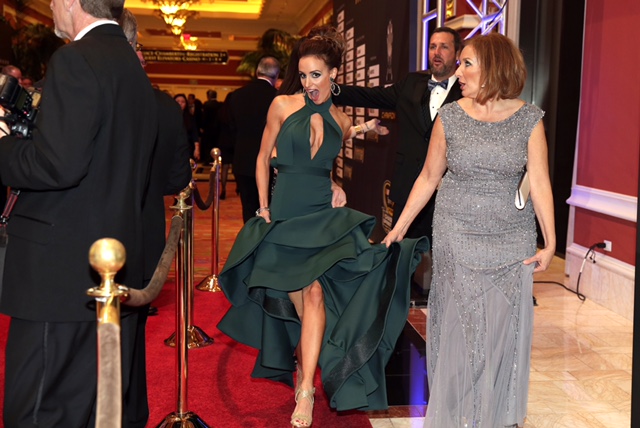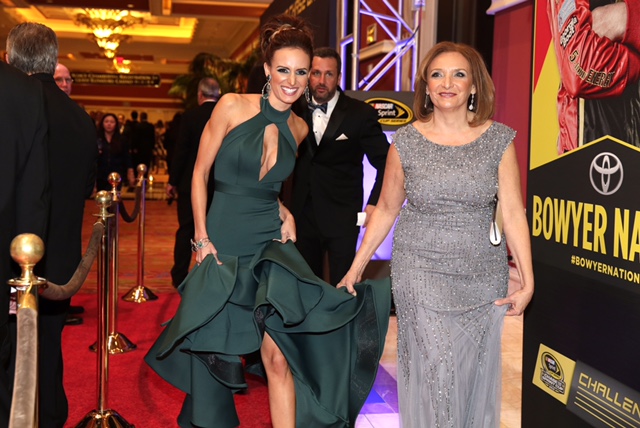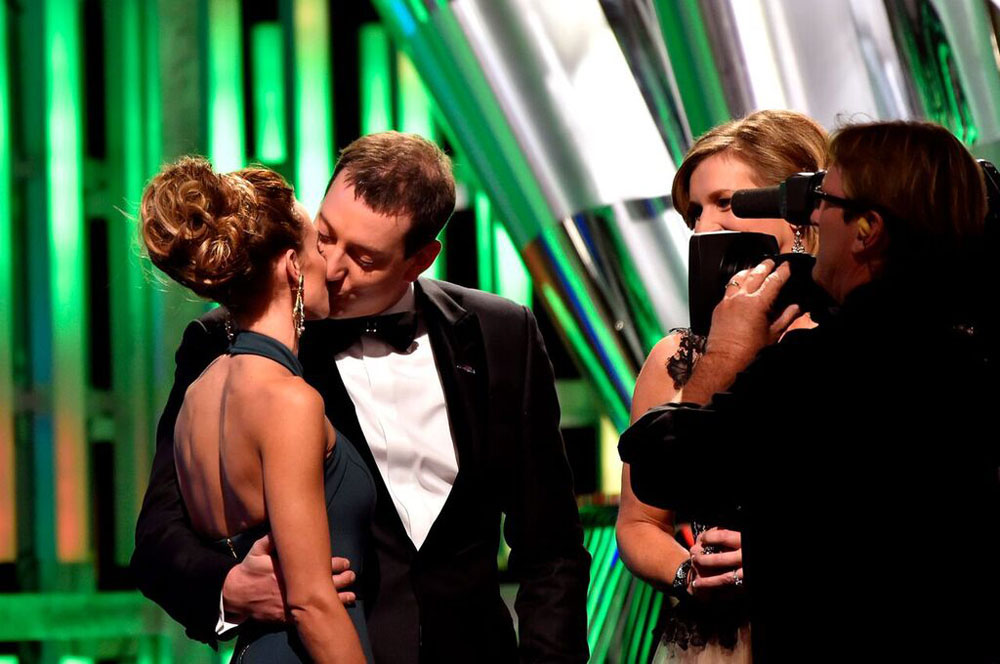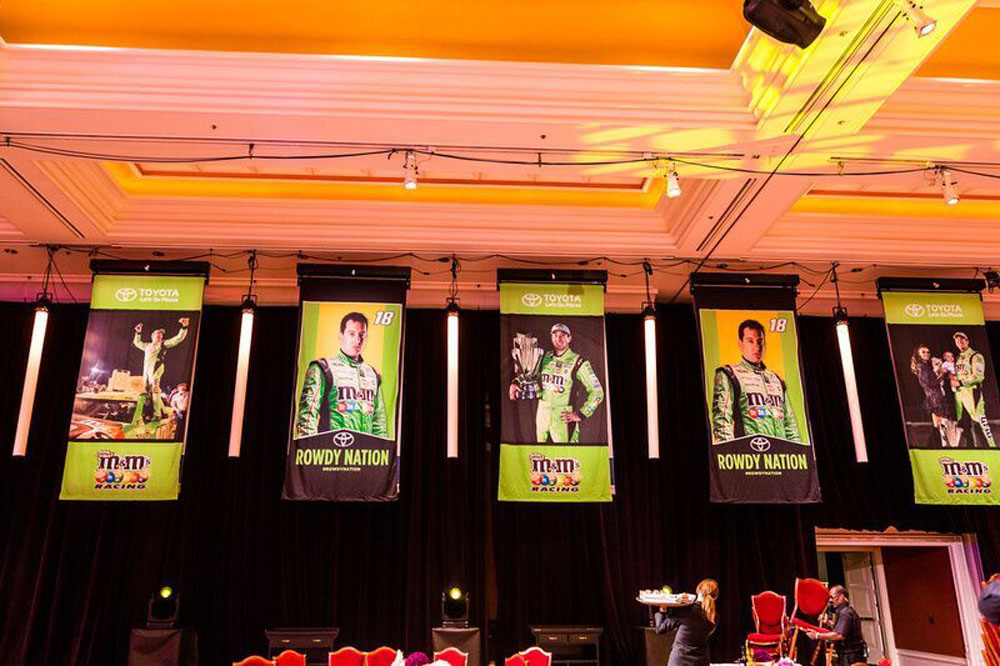 I love this series of pictures because amid all of the chaos Kyle pulled me close and simply said "We did it!"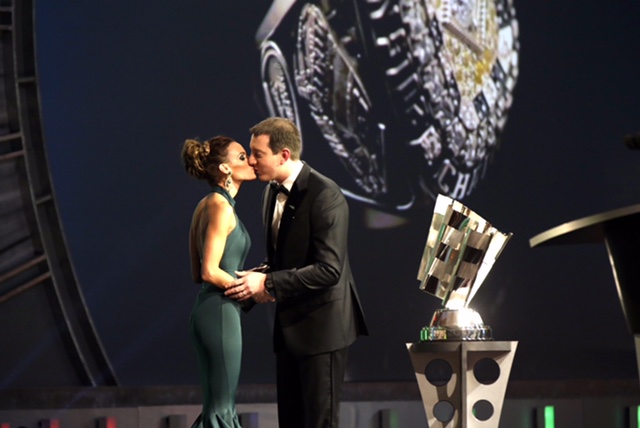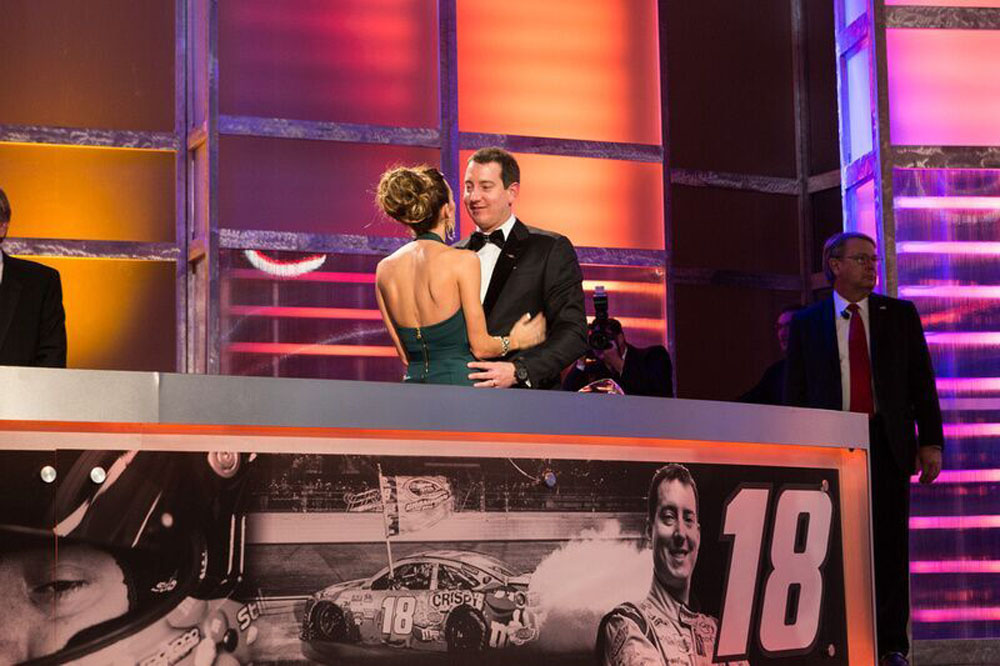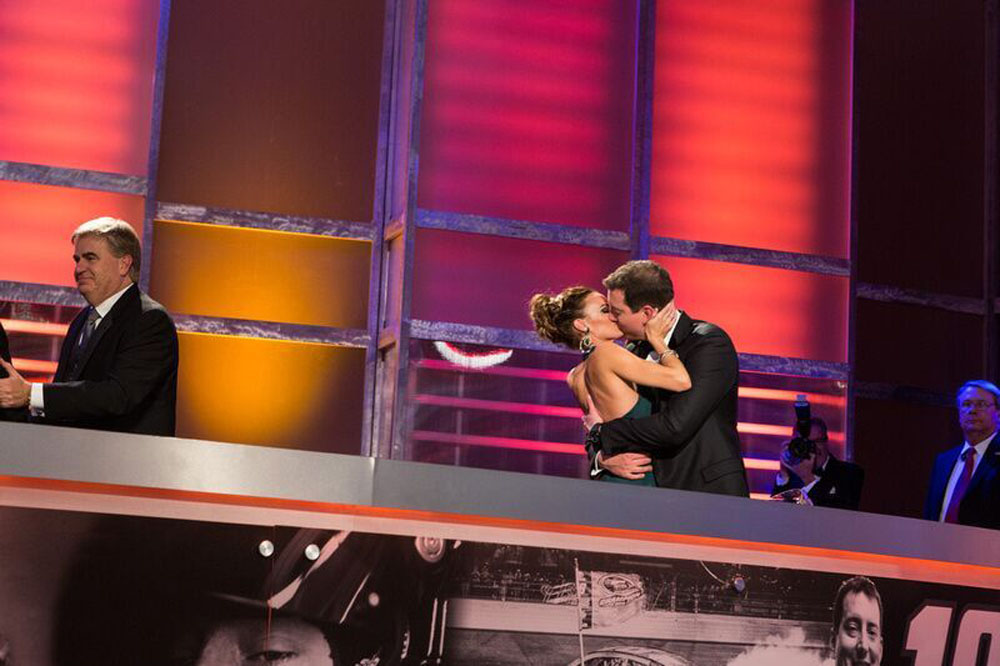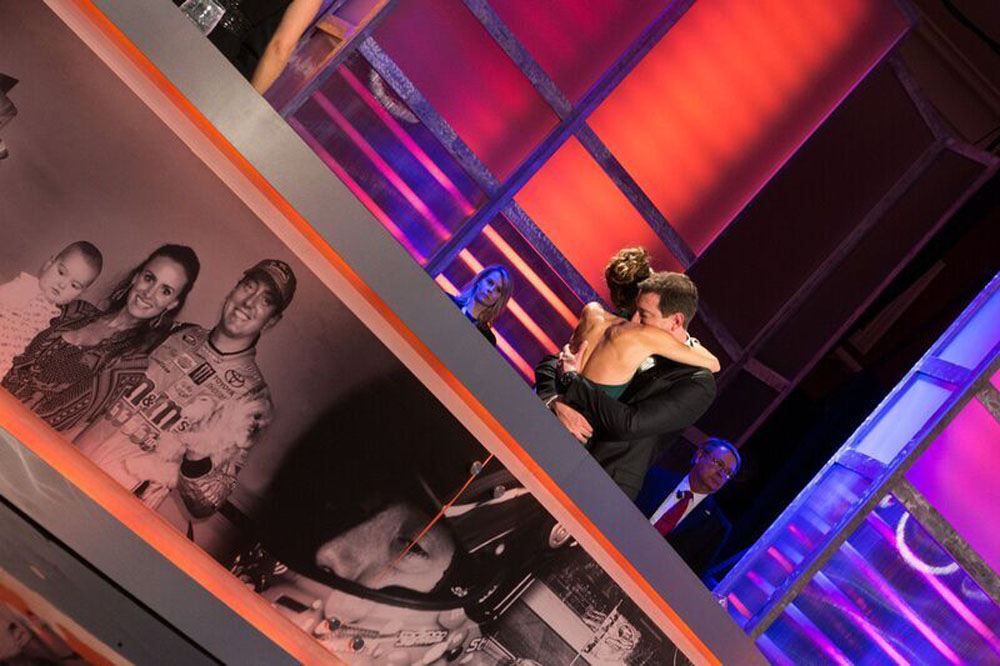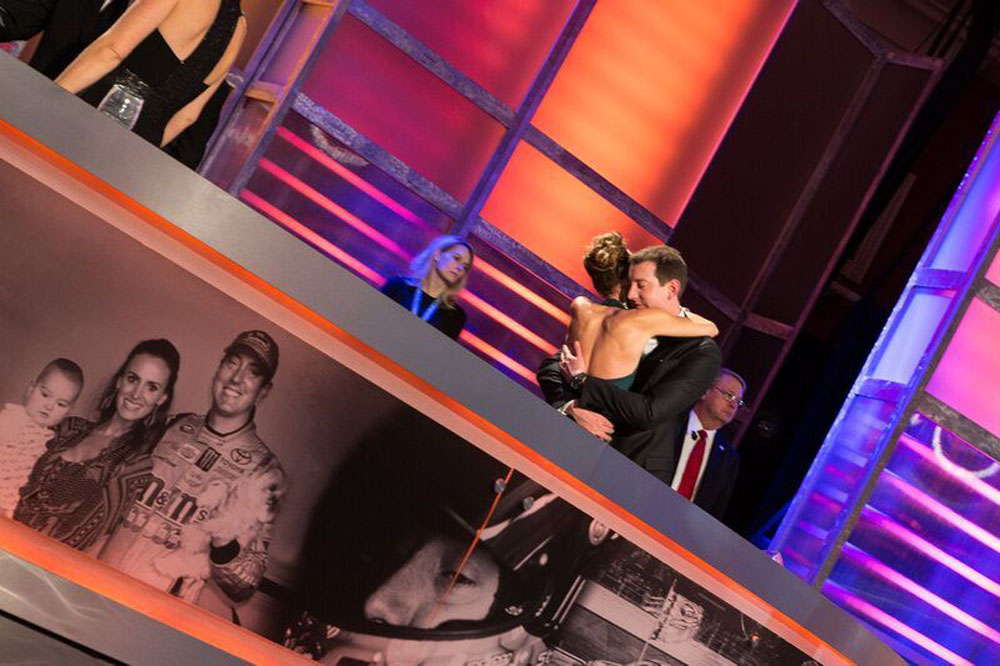 Following the banquet Mars and Toyota threw an AWESOME after party! We all had a blast dancing and there was even a surprise appearance by Big and Rich! The highlight of the night was when "We Are the Champions" was played and the whole 18 team was singing on the top of our lungs, what a blast!!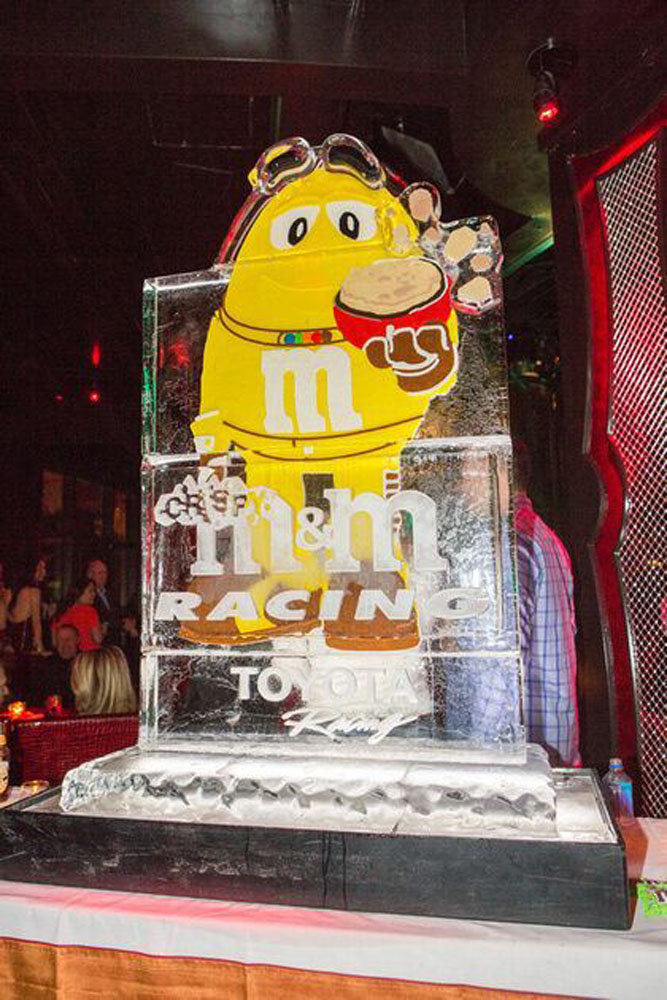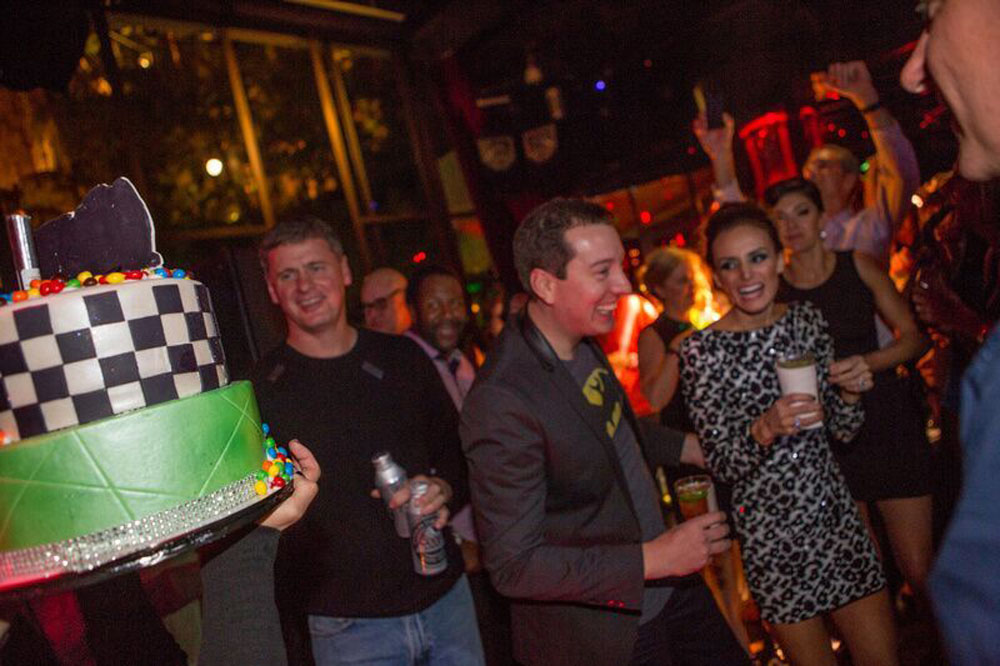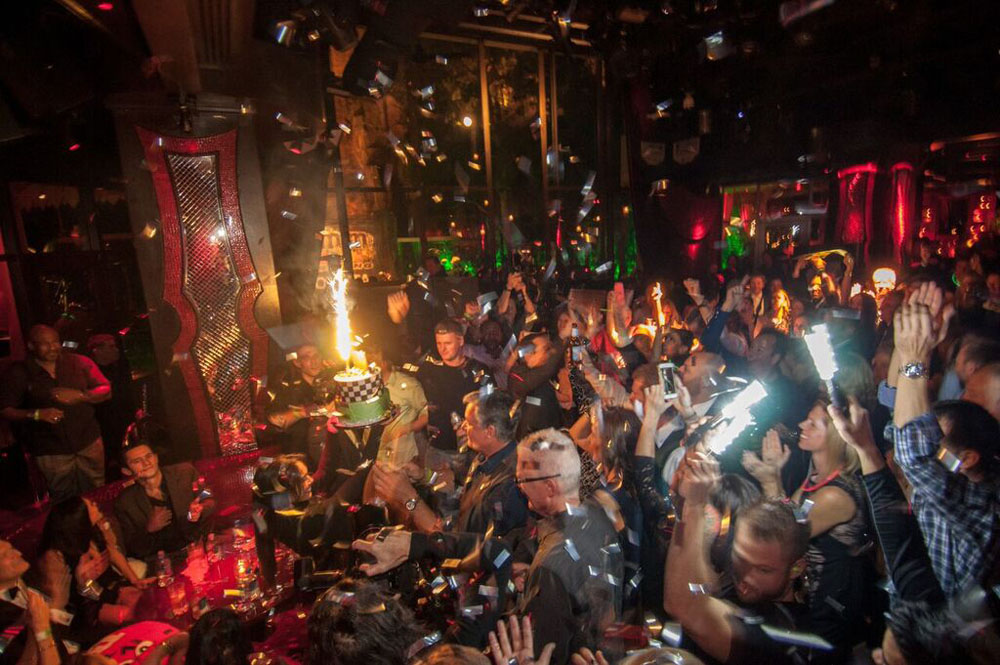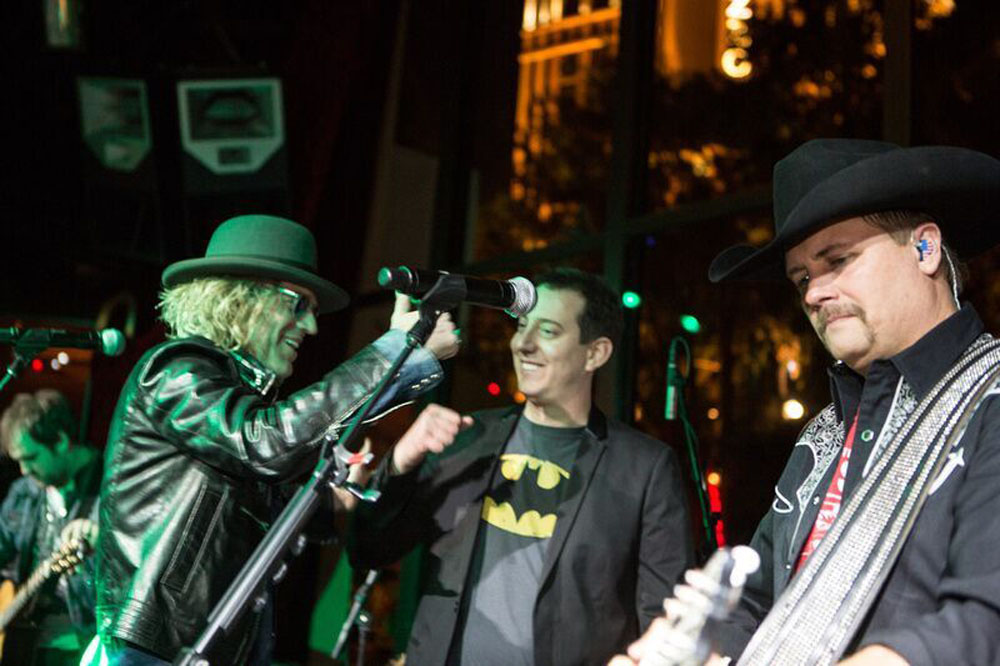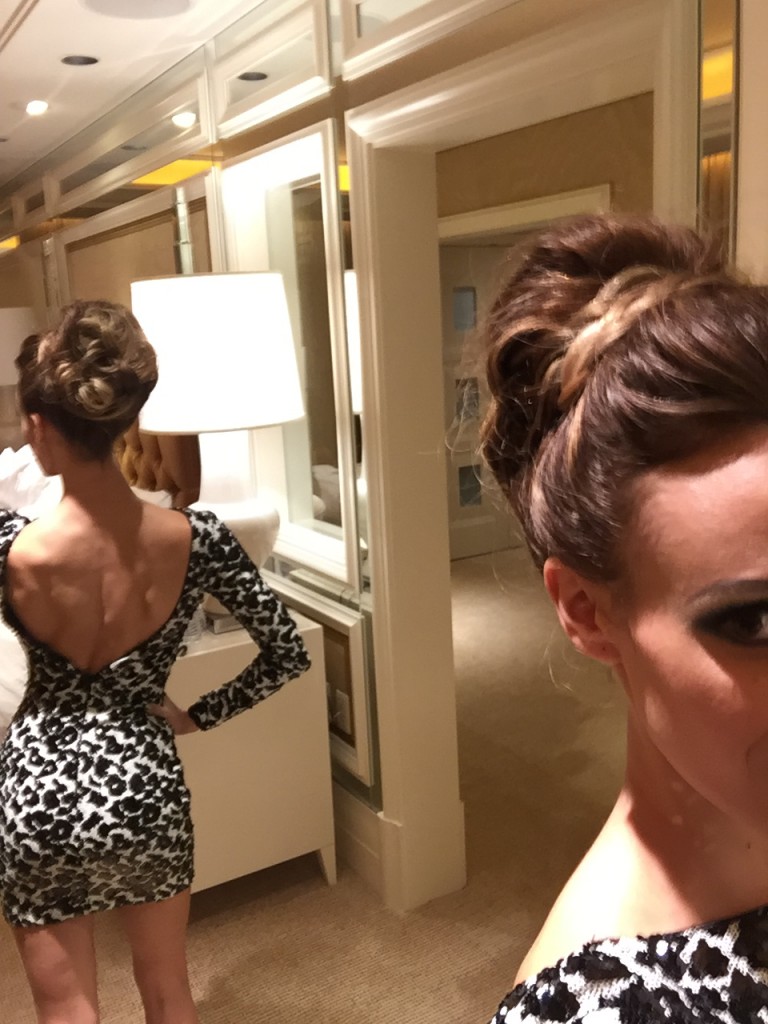 Outfit details: I am obsessed with this dress by Dress the Population, its so Vegas! You can find similar dresses by this brand at Lulus, Nordstrom and Bloomingdales
The following day Kyle, his Dad, my Dad and some of the 18 team went to the sand dunes.  My Mom and I took Brex to the Bellagio to see the amazing Christmas set up! His favorite was going thru the snow tunnel! Had to take a selfie with my adorable little man because his smile just lights up my whole world! Don't mind the no makeup look, but after a week of makeup I was over it!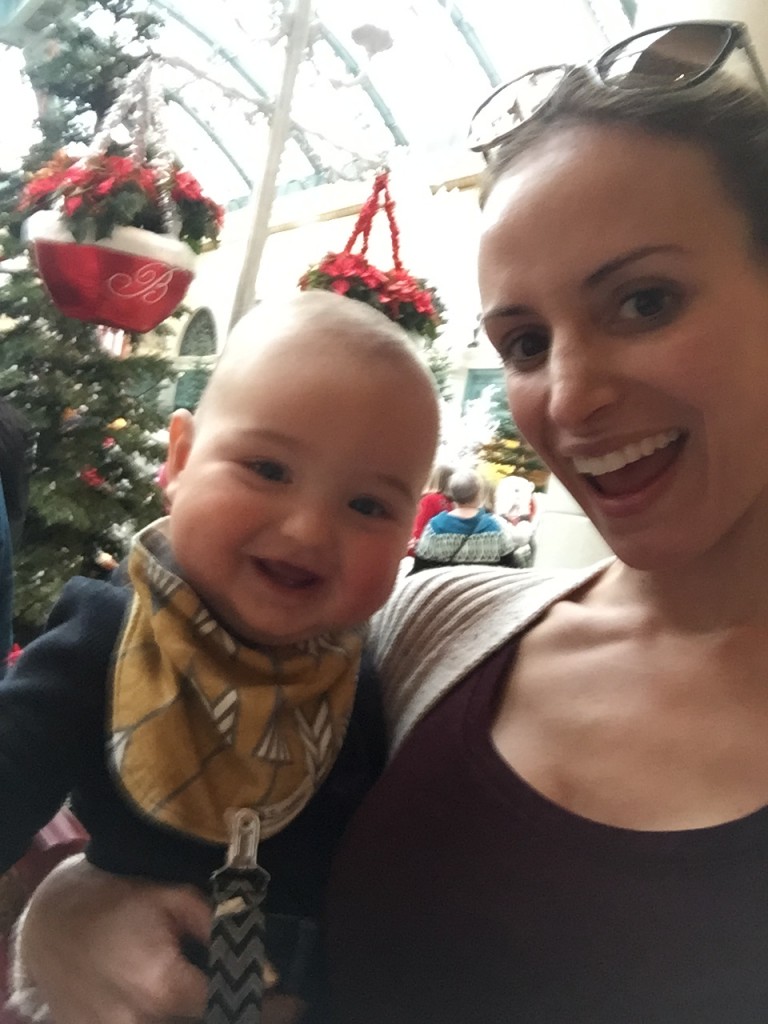 So that's our Vegas Champion's Week! It was crazy and amazing and we loved every minute of it! Thank you for checking out my blog and all of your support all year long!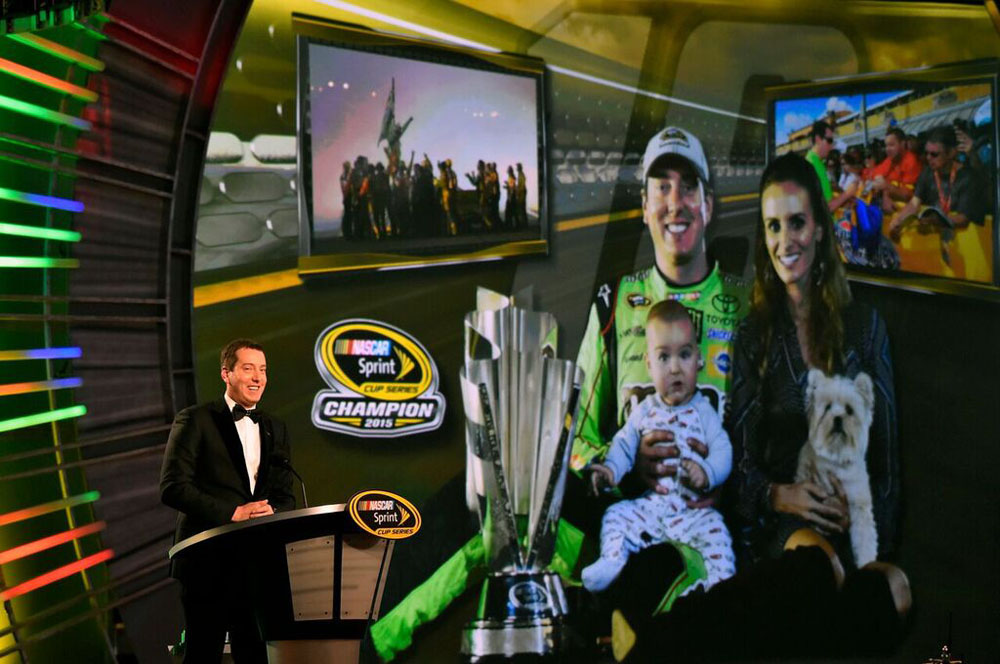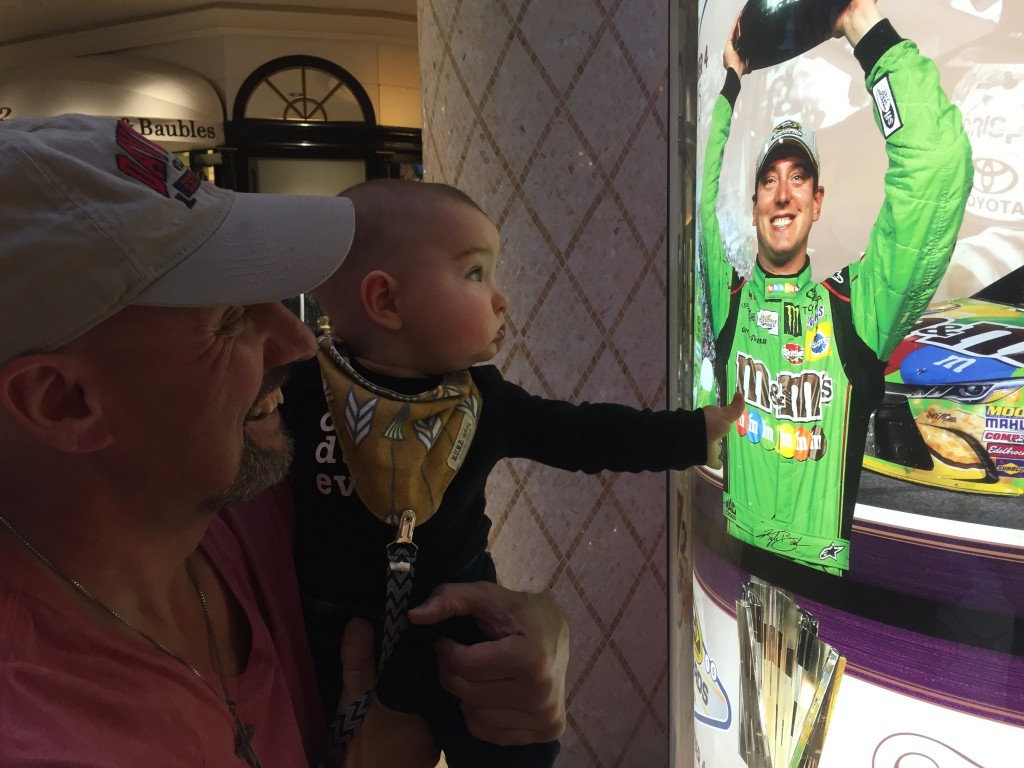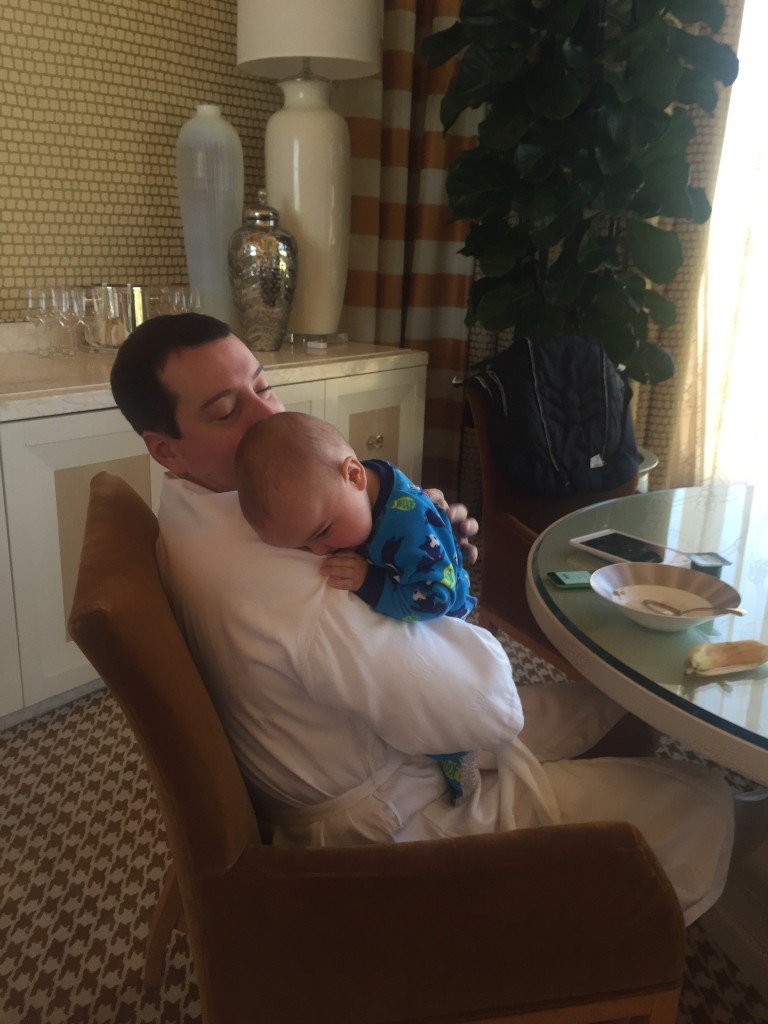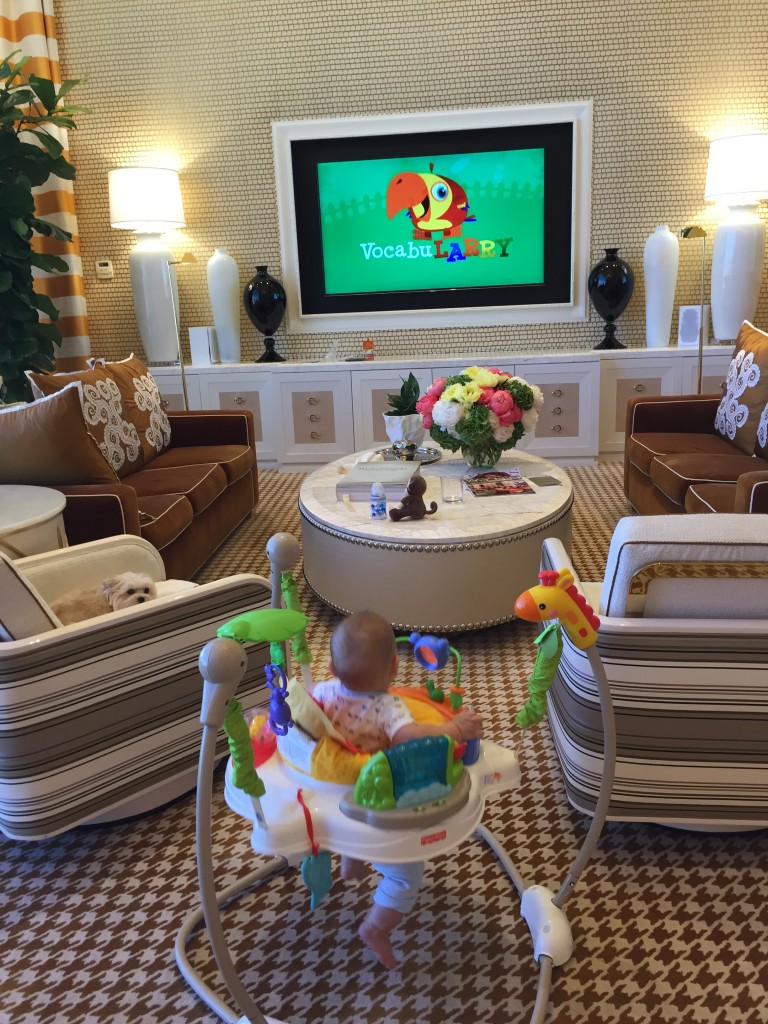 Shop some of my looks