Now is the time that everyone is talking about detoxing their bodies for their New Year's resolutions but today I'm talking about detoxing our skin from all the extra added skin stressors from the holidays.  (You know what I'm talking about: wearing more makeup than usual to all the parties you attended, adding more alcohol and sugar into your diet thanks to tasty Christmas cookies and spiked egg nog, and dealing with all the stress and late nights wrapping presents and making sure everything was perfect for everyone!)
I recently had the pleasure of meeting a local business owner named Karen Clark who creates amazing natural skin care products, right here in North Carolina.  She has a little Etsy shop called Southwind Essentials and I was able to try out her line. I have been using everything for about two weeks now and I am very impressed with how my skin feels…fresh, clean and invigorated! I am also blown away by how affordable the line is (everything is between $12 and $18)!  Because this line has worked so well for me, I wanted to share my review of all her products I am currently using.
The Peppermint Tea Facial Cleanser really starts my day off right. It is so cool and invigorating! Per the description on her website, the wash is "a lotion-based mixture and is all-natural and vegan with 87% organic content plus it is filled with powerful skin protection. Aloe, green tea, white tea, and rooibos tea are excellent antioxidants and have a soothing effect on skin. Organic Peppermint Essential Oil has a wonderful cooling sensation that is anti-inflammatory and relieves stress."
To get a more effective and deeper clean, I use my super high-tech and portable Luna Mini by Foreo. I'm basically obsessed with this portable facial cleansing brush and here's why.  First off, instead of bristles, this advanced facial cleaner uses ultra-hygienic silicone which is non-porous. That means no icky build-up of grime and bacteria.  It's also ultra-gentle on my skin and really helps to get at those impurities. You know those little white heads you get in your nasal folds? This has helped to effectively clean them out while also helping to eliminate all those stubborn blackheads on your nose! Along with its mini but powerful size, I really like that after one full charge you can use it up to 300 times! It's perfect for traveling. With 8000 sonic pulses per minute, this cleansing device has really given me more radiant and clearer skin.  Plus, they come in the cutest colors! I'm so in love with this thing that I am really considering asking Kyle for the toothbrush in their line because these products are awesome! Get Free Shipping on any order at FOREO.com. Use code: SHIP00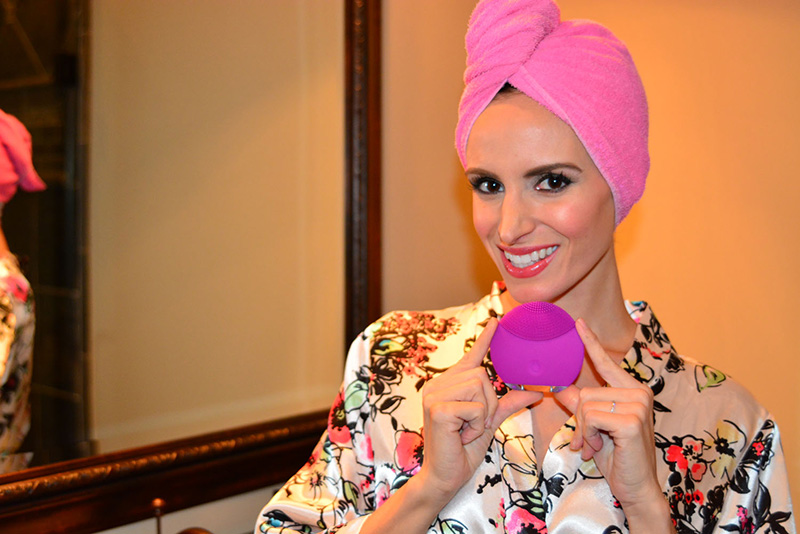 Ok, back to the facial cleanser routine! Though most people don't see the importance of a toner, it is a really important step not to be skipped. Karen's description is perfect for what her Organic Peppermint Toner does: "A toner is meant to bring balance back into the skin by hydrating and soothing the acid mantel which is the protective layer we have on the top of our skin. It preps the skin for any serum or moisturizer you will be using."
For day time, I next apply a small pump of the Botanical Facial Serum which helps to plump up fine lines and make my skin look more refreshed.  I have naturally oily skin and this product works really well to help balance it out.  At night, I alternate between a few other products that are a little more aggressive and the Facial Oil in this line.
Finally, I top it off with a small amount of the Lemon Lavender All Natural Facial Lotion. Just reading the ingredients you know this is amazing for sensitive skin. Check out the ingredients list: Purified Water, Organic Herbal Extracts of Chamomile, Calendula, and Comfrey, Vegetable Glycerin, Shea Butter, Coconut Butter, Soy Extract, Vitamin A, Vitamin C, Vitamin E, Phenoxytol (green tea), Grapefruit Seed Extract, Organic Lavender Essential Oil, Organic Lemon Essential Oil.  Considering this whole big bottle is only $12, I'm not going to lie, I have been using it as an all-over body lotion too. The scent and feel of it are great!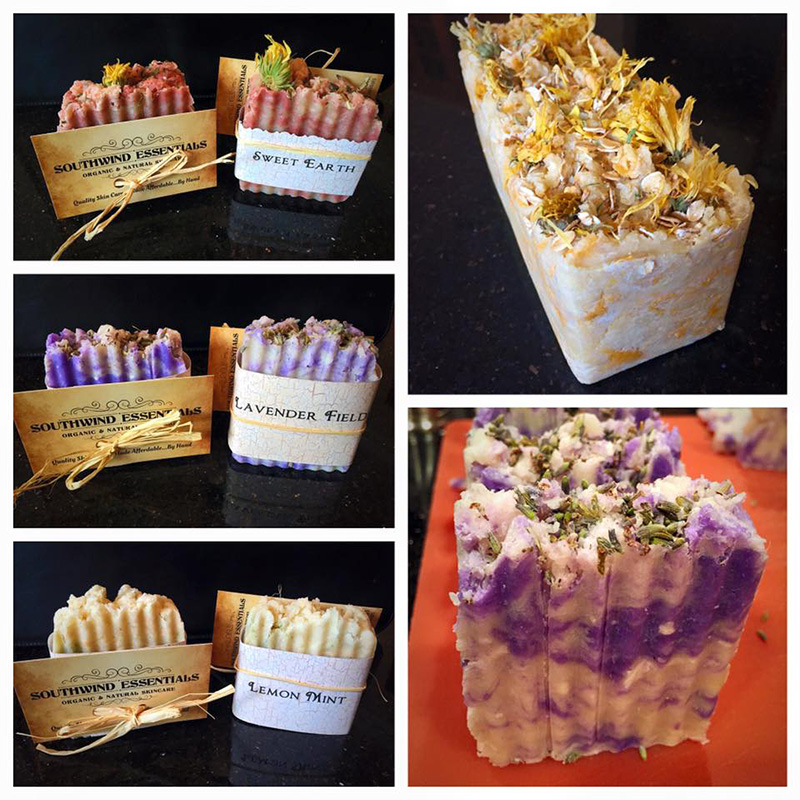 Other amazing products from Karen are the Peppermint Skin Polish (which I use everywhere!) because it exfoliates the top layer of dead skin but doesn't do it harshly.  Lastly, umm, can we talk about these handcrafted soaps? They are seriously like little works of art and are so great for your skin.
It seems everyone is into harsh treatments to strip and scrub your skin off but this skincare line, along with the Luna Mini facial cleanser device, takes a different route, using a more natural and less abrasive approach.  I am very impressed with how, over the past few weeks, my skin has changed for the better!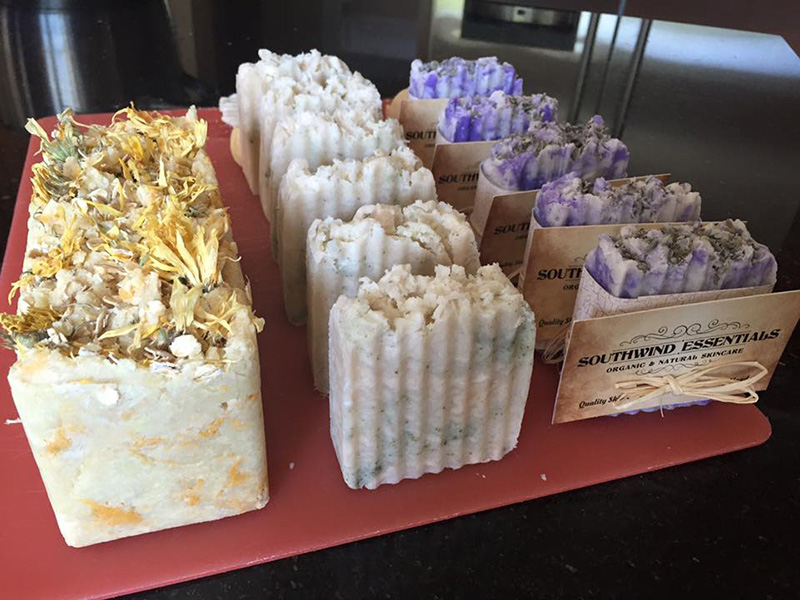 Shop now and get a 10% discount on her skin care line at checkout using code SBB10!
Shop for these items: Southwind Essentials | Luna Mini