We're here on the West Coast in California, so I thought this would be the perfect time to share my Extra Healthy, Extra Spicy Buffalo Cauliflower "Wings". Cauliflower is being used to substitute basically anything and everything now a days. I love to use it in my stir frys instead of rice and in various other dishes. However, convincing my boys to love it is another story. Kyle, like all guys in the world, loves chicken wings. I thought if I could do a version of this with cauliflower this may just do the trick! There were lots of recipes but most I found for Buffalo Cauliflower Wings included lots of butter and a ton of other ingredients that in my eyes, almost defeated the purpose of eating the cauliflower. So, I put my own spin on it and this is what I came up with. PS. It's only 5 ingredients!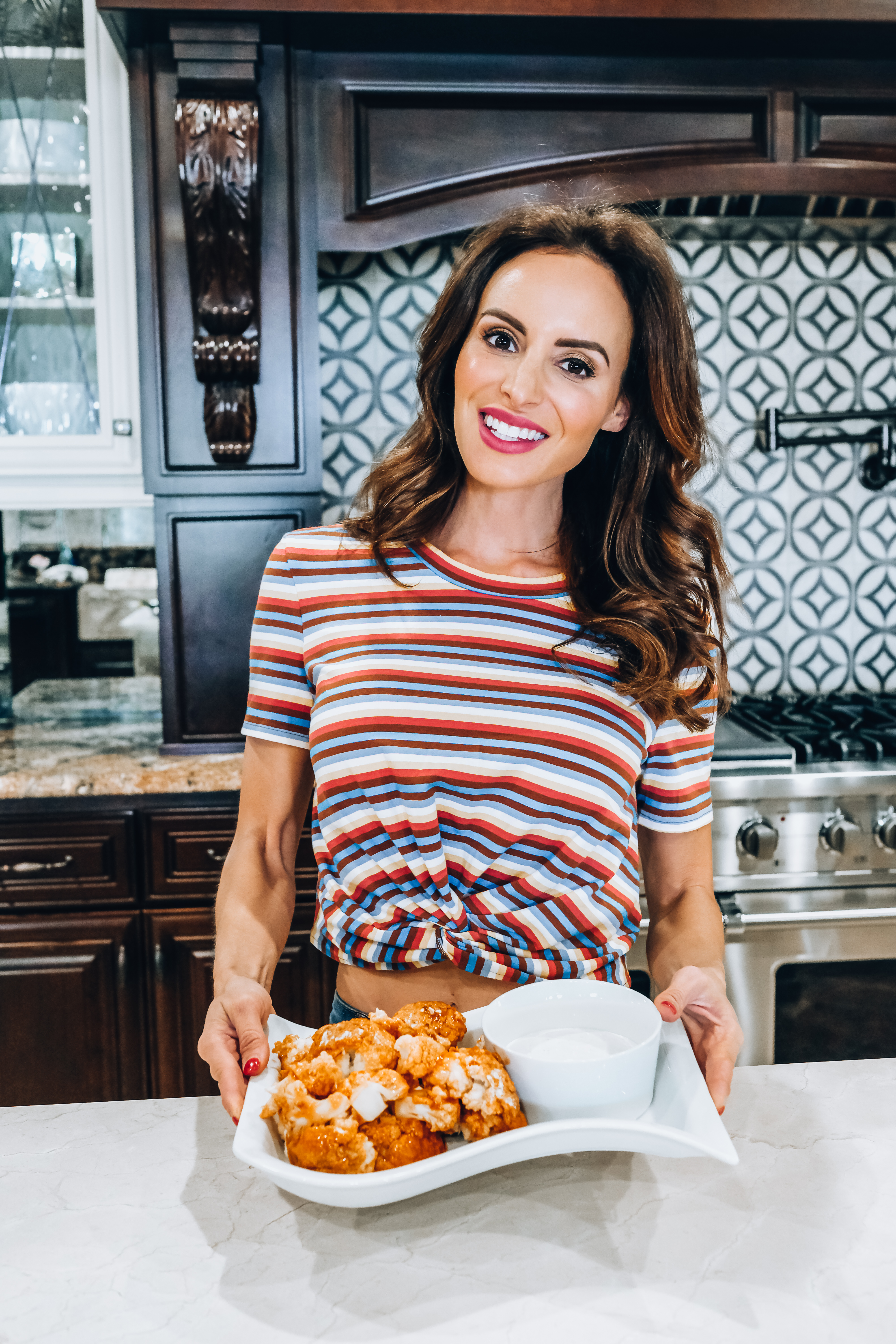 So, part of the recipe was actually inspired by Kyle too. He always puts pepperoncini on his hot wings so I thought hmmm… why don't I add it to the cauliflower wings? Wow, am I so glad that I did. I know it sounds a little weird, but I promise you- it's delicious and adds a good kick! You all know I love to add some protein in anywhere I can, plus I wanted to add a little texture to the cauliflower so I used some Arrowhead Mills Protein Flour that I had in my pantry. You can find this at any grocery store. This recipe makes the perfect appetizer and everyone will love it. Best part? It's completely vegan!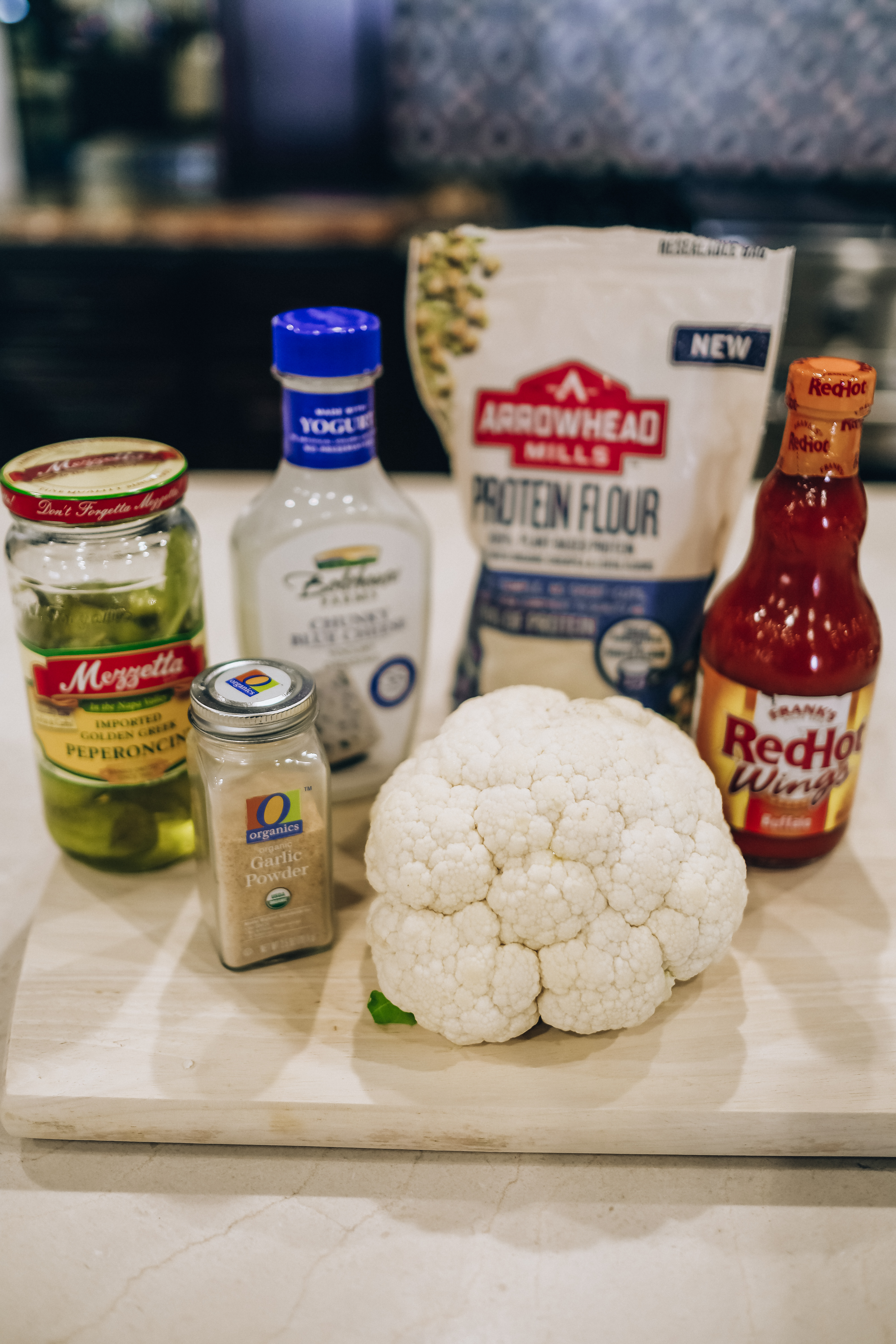 Ingredients:
 One head of Cauliflower
 Franks Red Hot Sauce
 Pepperoncini
 Garlic Powder
 Protein Flour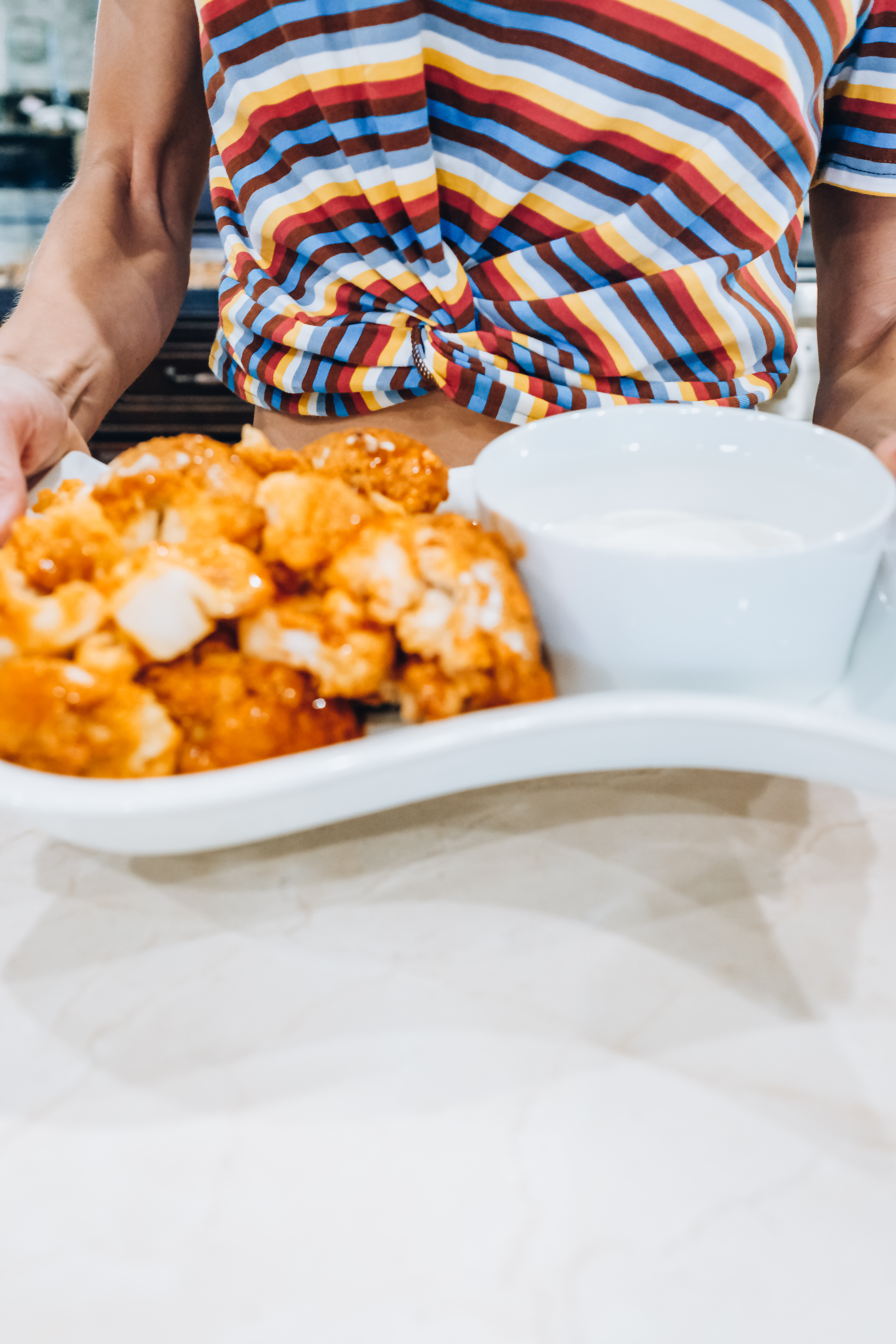 Directions:
First, peel all of the leaves off the head of cauliflower but leave the head of cauliflower whole. Place the cauliflower in a large freezer bag and dump the bottle of hot sauce in the bag. Dice the pepperoncini (about 4-5) and throw into bag with hot sauce and cauliflower, also add a little juice from the jar. Seal the big tight and shake around until the cauliflower is completely coated in sauce. Let this sit in the fridge for a few hours or overnight-whichever you prefer. Pre-heat the oven to 425. While the oven is preheating, spread the protein flour and garlic powder onto a large pan. Remove the bag of cauliflower from the fridge and place onto the pan with protein flour and garlic powder. Pour any excess hot sauce onto the cauliflower. Roll the head of cauliflower around the pan until it is completely coated with flour. Once coated, place onto baking pan and put into oven for about 40 minutes. Please check it often I feel like everyone's oven is a bit different. After the 40 minutes is up, take it out of the oven. The head of cauliflower should be very soft. Pour any extra sauce you have from bag on top. Use a knife to cut into little bite size pieces. Place onto plate and serve with your choice of bleu cheese or ranch (these are not vegan). My favorite to use is the Bolthouse Farms Chunky Blue Cheese Yogurt Dressing! If you want the recipe to remain vegan, skip this part or use a vegan dressing – I know there are tons of them out there.