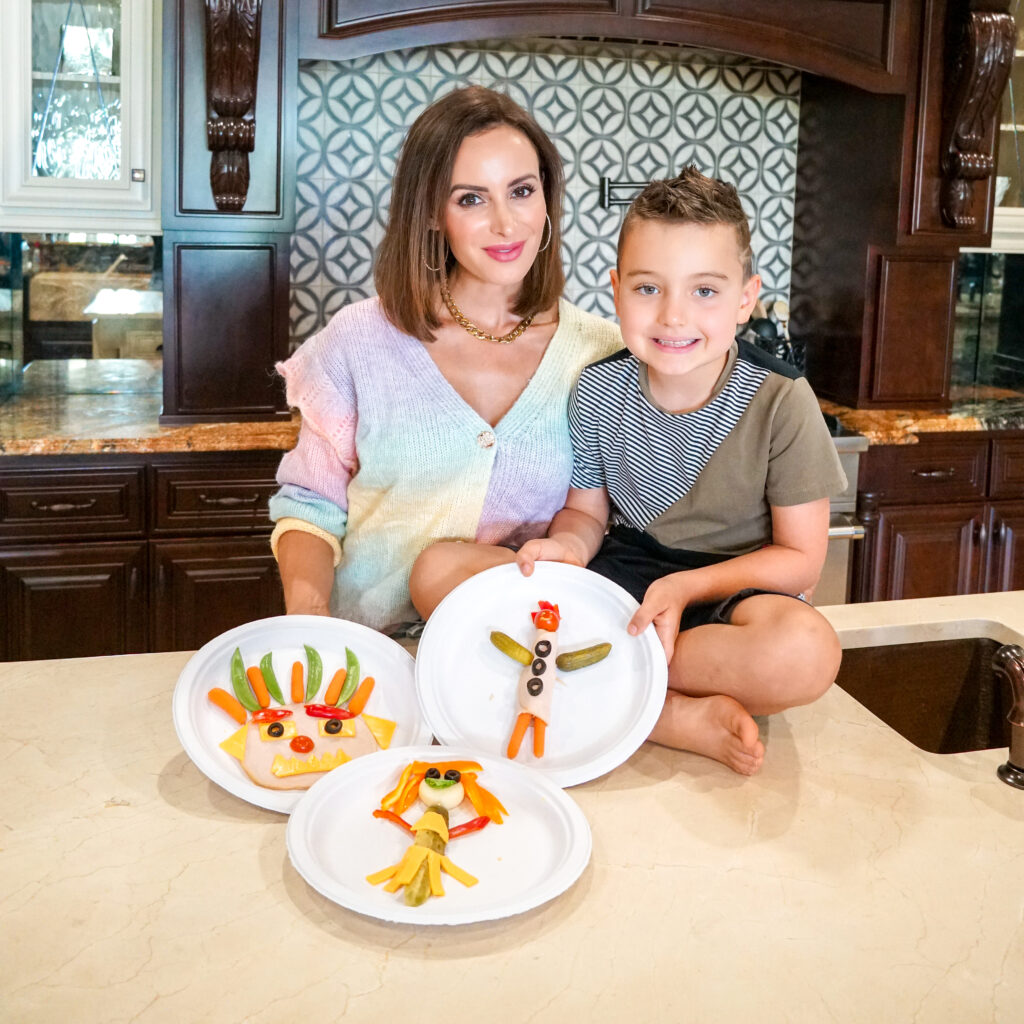 We are always looking for fun, creative lunches and snacks for Brexton because let's be honest- what six year old doesn't love to play with their food before they eat it? These food art lunches are a great way to get your kids excited to eat a healthy lunch and have some fun while helping you prepare it!

These faces and people were super easy to make- and they have tons of veggies and protein with the lunch meat and cheese- plus they have Brexton's favorite ingredient- pickles!
INGREDIENTS
Lunch meat of your choice (we used cheese and turkey)
Babybel Cheese
Pickles
Baby Bell Peppers
Olives
Grape Tomatoes
Carrots
Snap Peas
Mustard and any other condiments you may like
Toothpicks (optional)
---
HOW WE MADE THEM

We used pickles, peppers, olives, tomatoes, and carrots to make these faces and put them on top of lunch meat!

First, we cut eyes out of cheese- and I cut my eyes into squares because let's be honest, I'm not talented enough to make circle eyes. We put olives in the square eyes and used peppers for eyebrows! We cut the cheese indifferent shapes to make a mouth and ears! Then we gave it a cute little tomato nose.
We then used carrots and snap peas to make some wild hair! Make a note to have extra veggies around so your kid can snack as they work!

Next, we made some turkey and cheese rollups.You might need some toothpicks to make sure these ones stick together. The turkey roll will serve as a body, and we used a baby tomato for the head! We used pickles for the arms and carrots for the legs. We put a little bit of mustard for the eyes, and added some extra veggies for decor.

Finally we made my favorite, the hula girl! We used Babybel cheese for the head and a pickle body! We then used some veggies for the arms and legs and made a super fun cheese skirt (although it was a semi-pinterest mom fail for me yet again!)

These are a great way to get your kids involved in making a healthy snack or lunch, and can be customized to make any face or person you want!