I've always loved to incorporate bold colors into my wardrobe. From hot pinks to lime greens, bright pops of color create standout looks! Don't get me wrong, there's always a time and stick with more neutral vibes (hello LBD!) but when I have the opportunity to brighten things up, you can always catch me doing so.
The thing with bold colors is that they can be scary — especially if you're someone who is just getting started incorporating them into your closet — but they don't have to be! Today, I'm going to share some of my favorite ways to mix in bold colors that will instantly elevate your outfits, especially for the spring!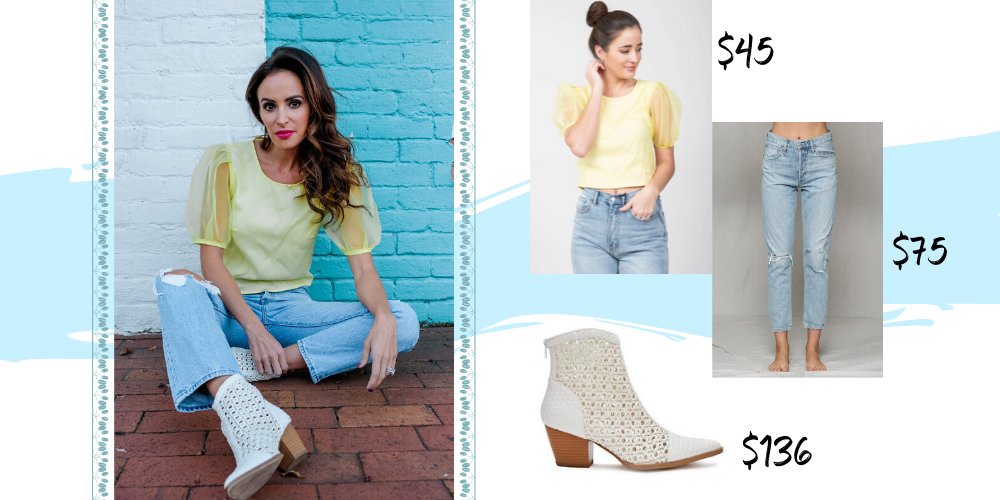 Start off Simple
When you're first starting off wearing a more bold color, don't feel like you have to go from 0 to 100. The best way to start off on your color journey, in my opinion, is to start with something simple, like this lime top.
When you first see a lime green puff-sleeve top you might be scared off by the color looking similar to the bright highlighters you used in college, but trust me when I say this color is totally wearable — just look at how I styled it here!
The secret is to keep things simple. Instead of pairing this bright top with another bright color or even a busy pattern, I opted for more neutrals with a light wash denim and simple pointed-toe white booties. What do you guys think?!
Sheer Sunshine Top ($45) | Rancher Booties ($136) | Hey Girlfriend Jeans ($75)
One Bold Piece
When you've mastered slowly incorporating brighter tones into your closet, then it may be time to move onto something a bit more eye-catching and daring — one major statement piece in a brighter color. I always love rocking the trend this way with dresses. Especially as the temperatures are rising, it just feels right to toss on a bright colored dress and rock it.
When opting for a serious statement piece like this lime dress from Avanti the Label, it's important to keep your accessories more on the simple side if you don't want to be too over-the-top (we're not against being extra, but there's a specific time and place for a look like that!). For this spring-ready look, I opted for our Margarita dress paired with nude heels (a white pair like the ones pictured above would be awesome too!).
Because I love to spice things up with my makeup, I thought a fun berry lip that has a bit more color than your typical nude would be fun. Adding in a bolder lip color with more unique colors like I did here is one of my favorite things to do during warmer months!
Dainty White Sandal ($48) | Margarita Dress ($68) | Charlotte Tilbury Matte Revolution Lipstick in "Lost Cherry" ($34)

Mixing Bold Tones
After mastering the first two methods, it's time to dive in headfirst, lady! This dress is one of my favorites because of the ultra-flattering waist and funky retro vibes, but these colors truly just put all eyes on you. Whether you're headed out for date night or going out for a night on the town with your girls, you can guarantee people will be envying your confidence rocking a dress like this.
As with the other methods, sticking to neutral accessories is basically a guaranteed way to ensure you aren't going too crazy with color. I loved this dress with neutral heels and a fun pair of sunglasses (Brexton was clearly excited about them too!).
Retro Wrap Dress ($84) | Riley Sunglasses ($60) | Let's Be Clear Heels ($26)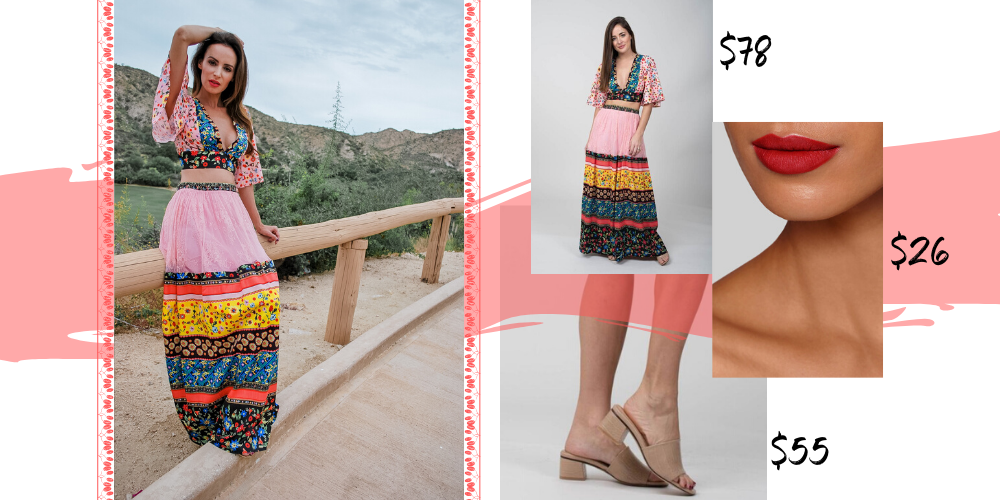 Bright & Bold Prints
After you've gone out rocking a bold colored dress like the lime one above and mixed bolds, now it's time to incorporate an even more eye-catching trend into your wardrobe: bold-colored prints. Sticking with the brighter toned solids is great and all, but nothing makes a statement in the spring and summer like a print that mixes multiple different colors in light and bright hues.
The "Take Me to Mexico" set is perfect for this trend because it has a solid chunk of pastel pink to keep things a little laid back, but then you're still left with a print that no one can miss that incorporates reds, blues, yellows, and plenty more. Somehow even though the print is incredibly busy and bold, it's not too much where it looks crazy.
Again, with something as bold as this set, I'd suggest sticking with a more natural pair of shoes so that the focus can stay on the garments, but if you're craving something more, lipstick is a great way to add in that extra burst of color.
Take Me to Mexico Set ($78) | Nude Croc Mules ($55) | NARS Lipstick in "Bad Reputation" ($26)
Which one was your favorite?! Let me know in the comments below!