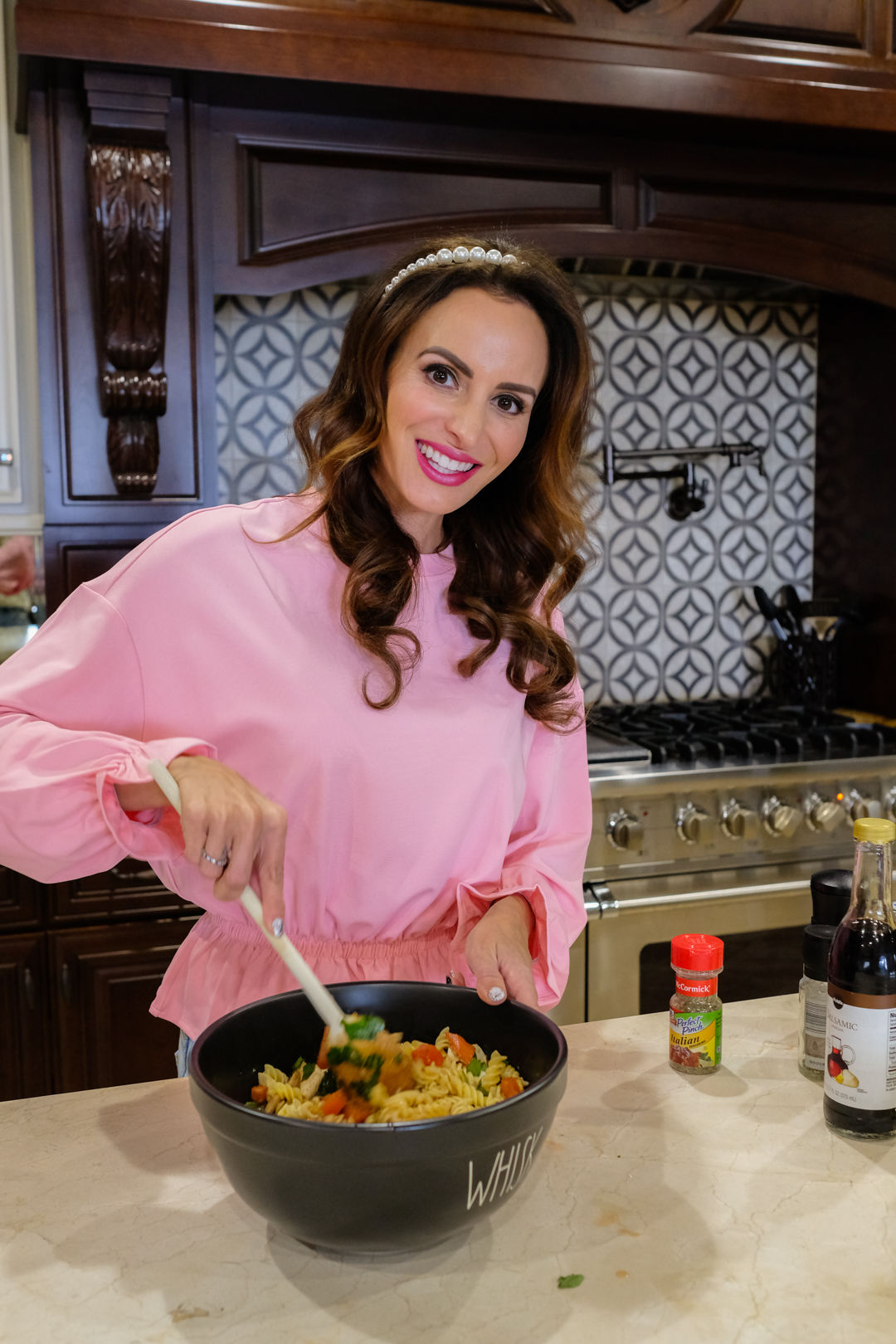 Kyle and I absolutely love entertaining! It's nice to have our friends and family over, spend quality time together, and EAT, of course! There are also times when we get invited to various different get-togethers, and instead of picking up a premade dish at the grocery store to bring, I love to whip something together at home.
A homecooked dish always tastes better, am I right? DIYing your dish is great and all, but what about those days when you're simply on a time crunch and can't spend hours slaving away in the kitchen? For these occasions, meet my favorite quick, easy, and delicious Italian Rotisserie Chicken Pasta Salad — the perfect side to bring to any party or get-together you're headed to.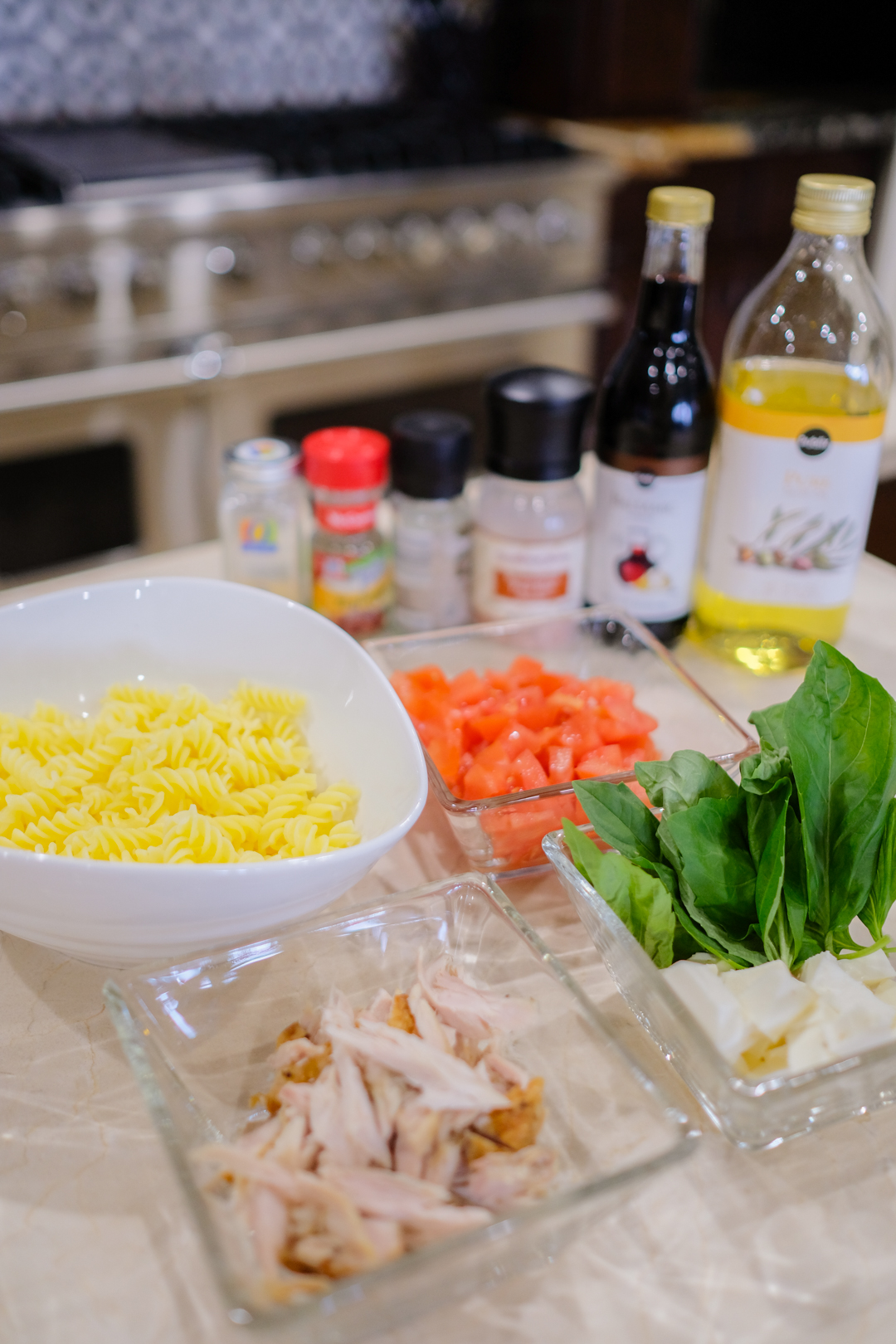 INGREDIENTS
The best part of this recipe is that it involves only a few ingredients — some that you may already have at home waiting to be used like pasta! All you'll need is:
Rotisserie Chicken

You can get a whole chicken and spend the time pulling it yourself or a pre-pulled packaged chicken works just fine too — as long as the chicken you're opting for is already cooked.

Pasta

Whichever shape and type you like best — completely up to you! You can make this a healthier dish by using a vegetable- or legume-based pasta too. If you're really crunched for time, opt for a microwavable bag of pasta that takes less than five minutes.

Tomatoes

I always use a lot of tomatoes because the boys love it (I'm not the biggest fan of them, but I take one for the team, haha!). You can add this in to your liking.

Basil

Add this in to your liking.

Cheese

It's completely up to you which type and shape of cheese you opt for. I like to grab chunkier pieces of cheese so that you can really taste that cheesy goodness when it's in a fork full. My favorite type for this dish? Mozzarella, of course!

Garlic Powder
Italian Seasoning
Salt + Pepper
Balsamic Vinegar
Pure Olive Oil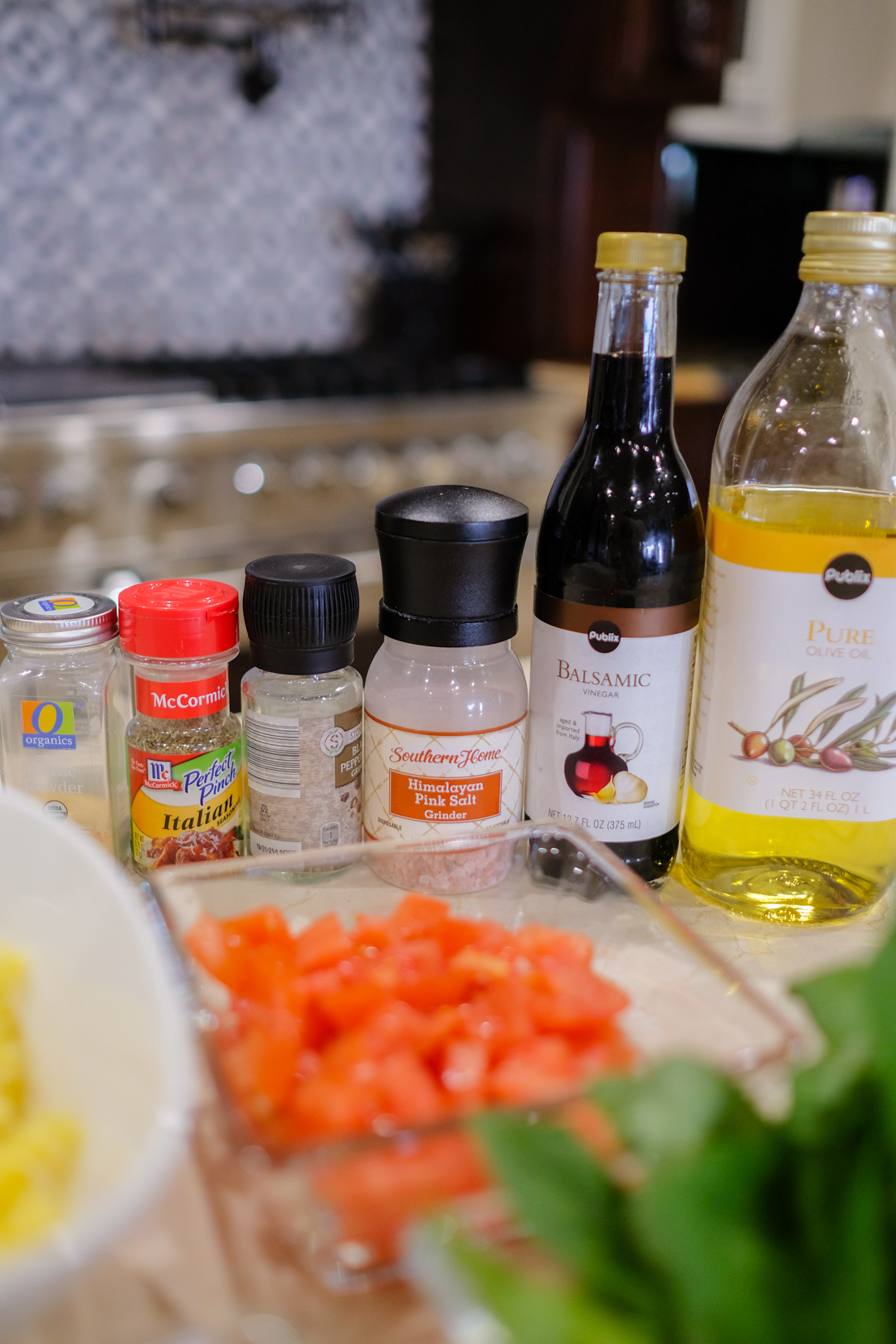 THE PROCESS
Start off by prepping all the ingredients. This is truly why this recipe is so EASY! First, get your pasta cooking on the stove. Prep it as you normally would prep any pasta for a dish. While that's boiling, start to pull your chicken (or if it's already pre-pulled, this step is done!). Once your chicken is prepped, you can move onto the tomatoes. Cut up those beauties to a size of your liking. I usually opt for cube-sized so that they're not too small or too large — a nice in-between. You can also dice the basil into smaller pieces so that it doesn't feel too much like an actual salad. If your cheese isn't already cut up, use your knife to size them down to where you prefer.
Once your pasta is cooked/cooled and the rest of the ingredients are prepared, grab a large mixing bowl, and begin to mix together all the ingredients besides the seasoning and dressings.
Lastly, you can add in the seasonings and dressing. To be honest, I usually eyeball everything — a true Italian for ya! If you're not sure used eyeballing measurements, put in a small amount, give it a taste and judge by that to see if you need to add more seasoning/dressing or not. Mix it all together, and guess what? You are FINISHED.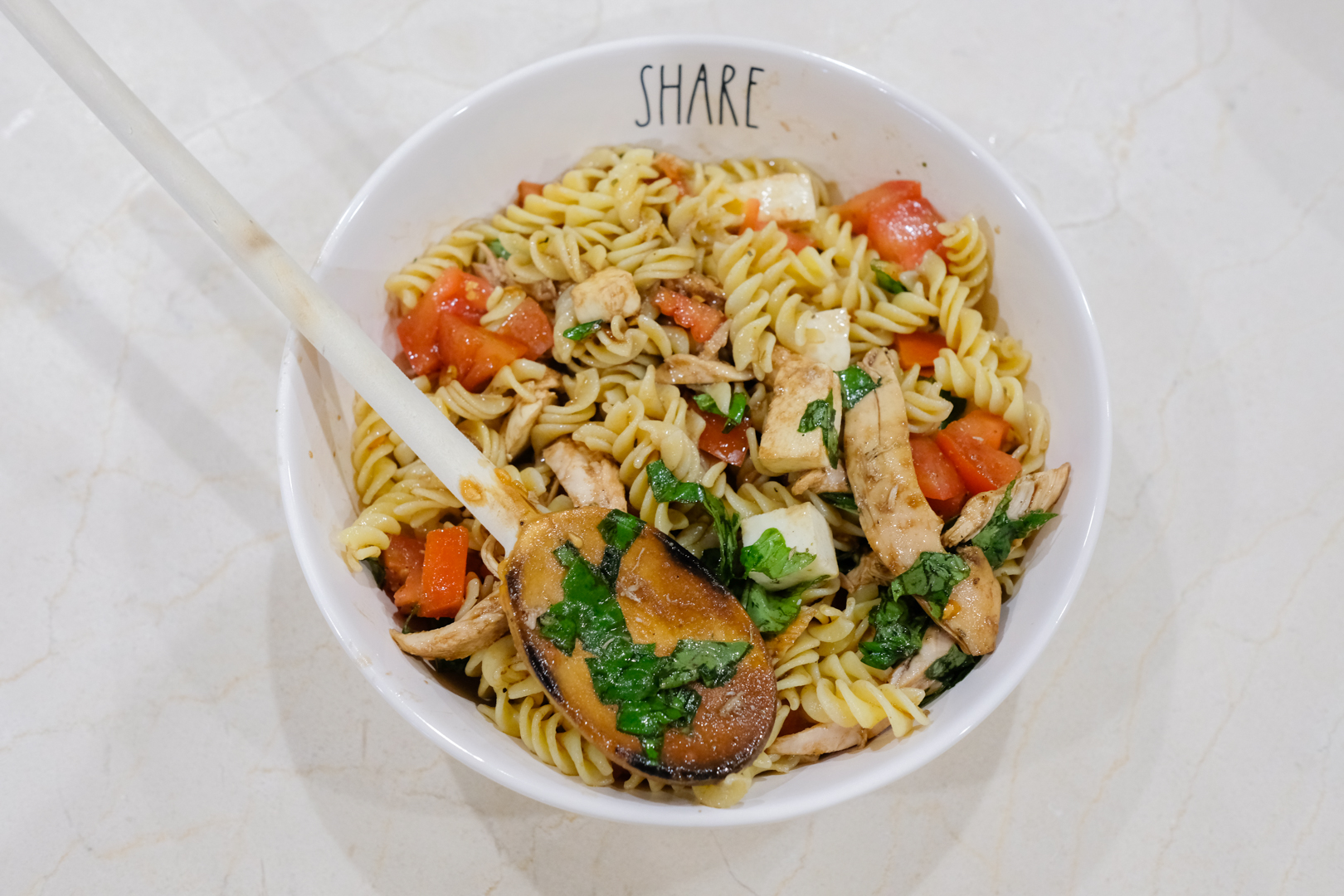 See?! How simple was that?! Obviously, I'd love to have a Paula Dean moment and spend my day in the kitchen prepping for a dinner at a friend's house, but in reality, time is just too precious. I'd rather be spending some quality time with Kyle or playing hide & seek with Brex around the house!
At the end of the day, this recipe tastes amazing, can be healthy with just a few alterations, and is truly a staple for any get-together — which is why I find myself making it all the time! You can even pop the top onto your mixing bowl and eat this as a side throughout the week! Voila!