I can't tell you how excited I am to launch the Need For Speed Collection from Murph Boutique! Obviously, I spend 38 weekends out of the year at a race track and it's time to bring some fun, edgy, hot race-inspired pieces to my store.
We have done race tees in the past, but this is so much more. I wanted to build a full collection from top to bottom so that you could mix and match pieces and wear them to places other than the track.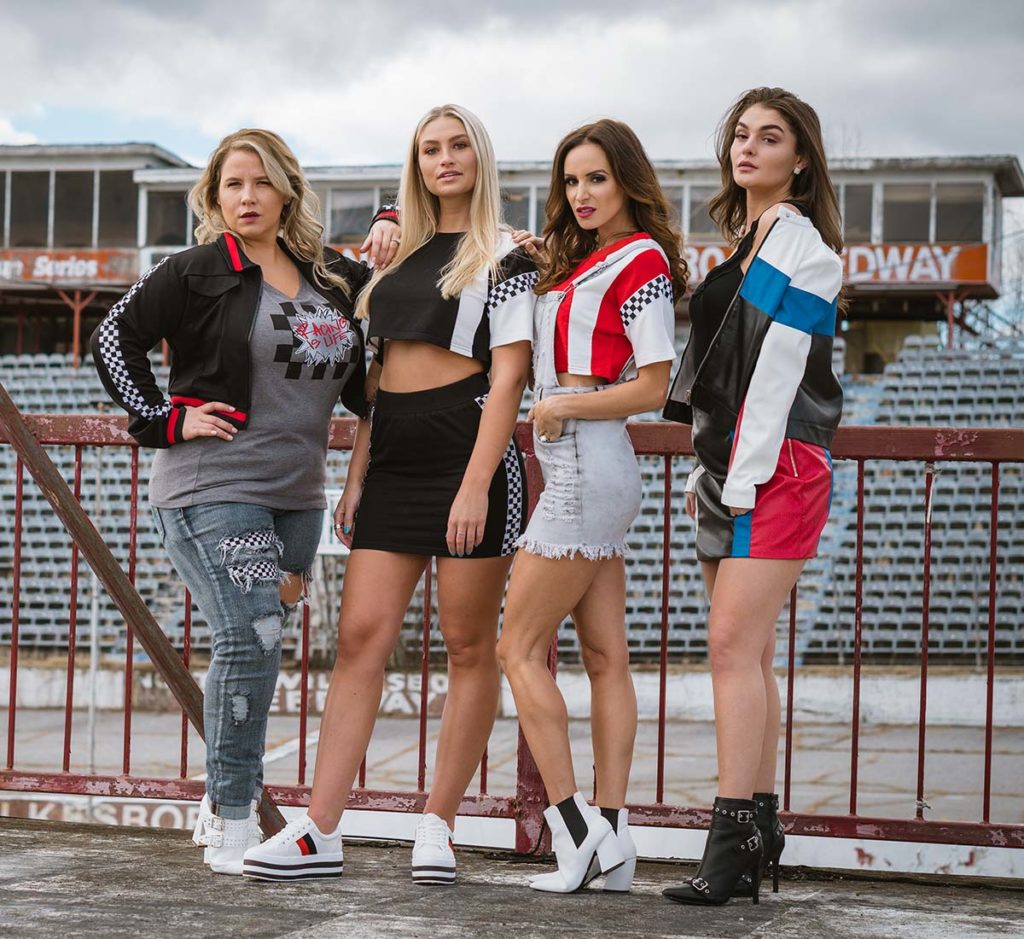 At the center of this collection are the race tees and custom jacket designed by myself and the amazingly talented Lucy Parker.  Lucy hand draws every design so it is completely custom – there's nothing else like it out there.  She totally understood the vibe I was going for and was able to bring my creations to life. I knew I wanted three shirts each with a different vibe.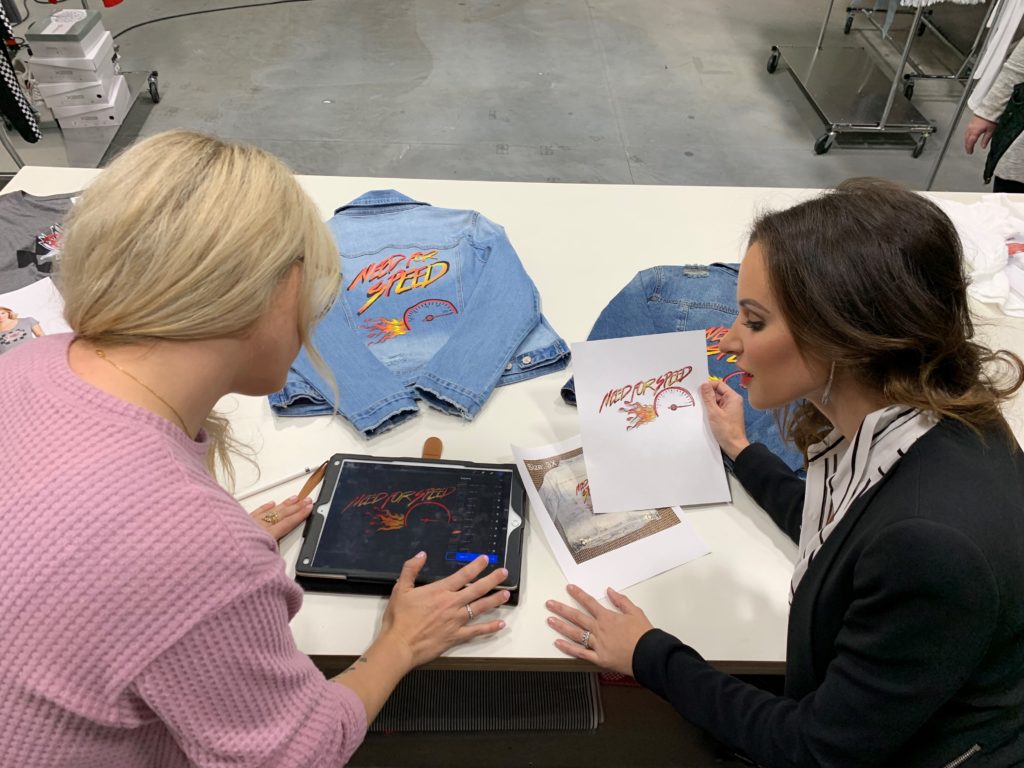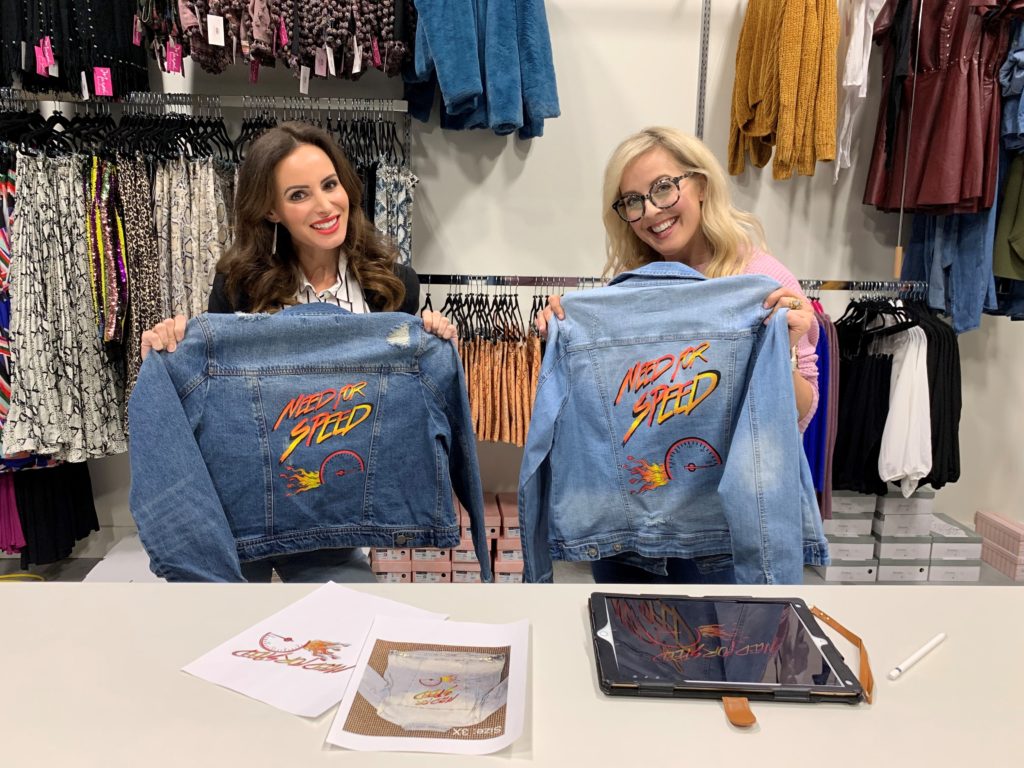 The "Eat My Dust" shirt I envisioned a vintage 70's feel from the colors to the lettering.  I think this is a great throwback tee. I chose a cropped, super soft tee so that it could be paired with all of your favorite high waisted jeans. My personal fav is to wear it with our new Everyday Jeans, which I like to call the updated mom jean but unlike jeans of the 90's, these are super flattering. The tee is the high waisted cropped style work so they well together. Just pop on our White Noise Booties for a killer look.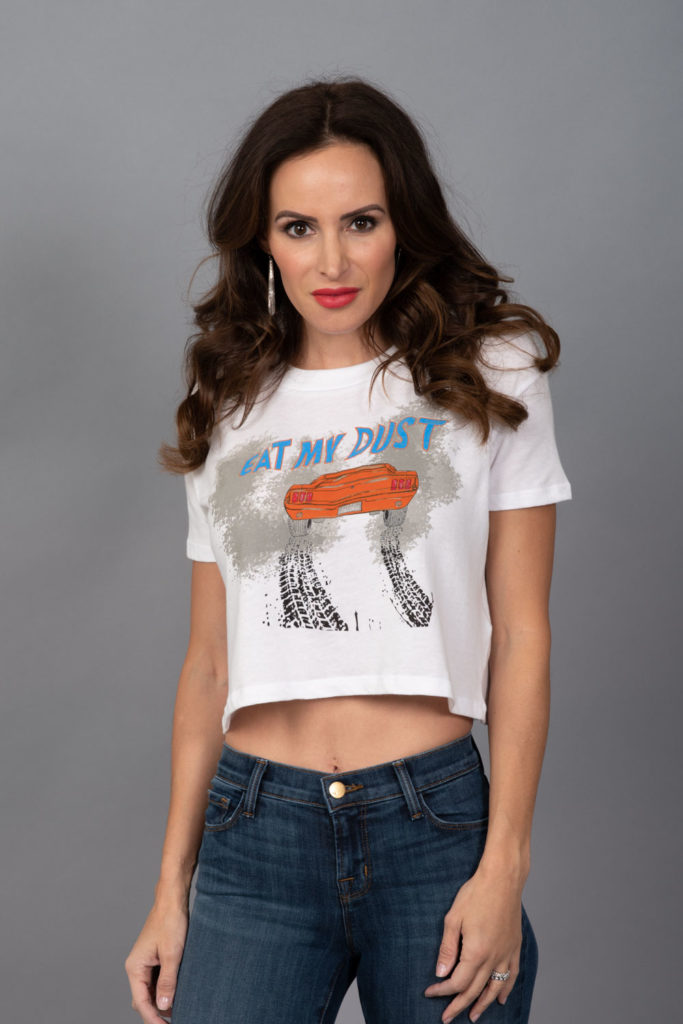 The "Catch Me If You Can" tee has all the Saved By The Bell 90's vibes and we can't get enough of it!  From bright colors to pops of fun 90's iconic patterns, this tee looks great paired with one of our hot new skirts or cutoffs, just don't forget to add the fanny pack!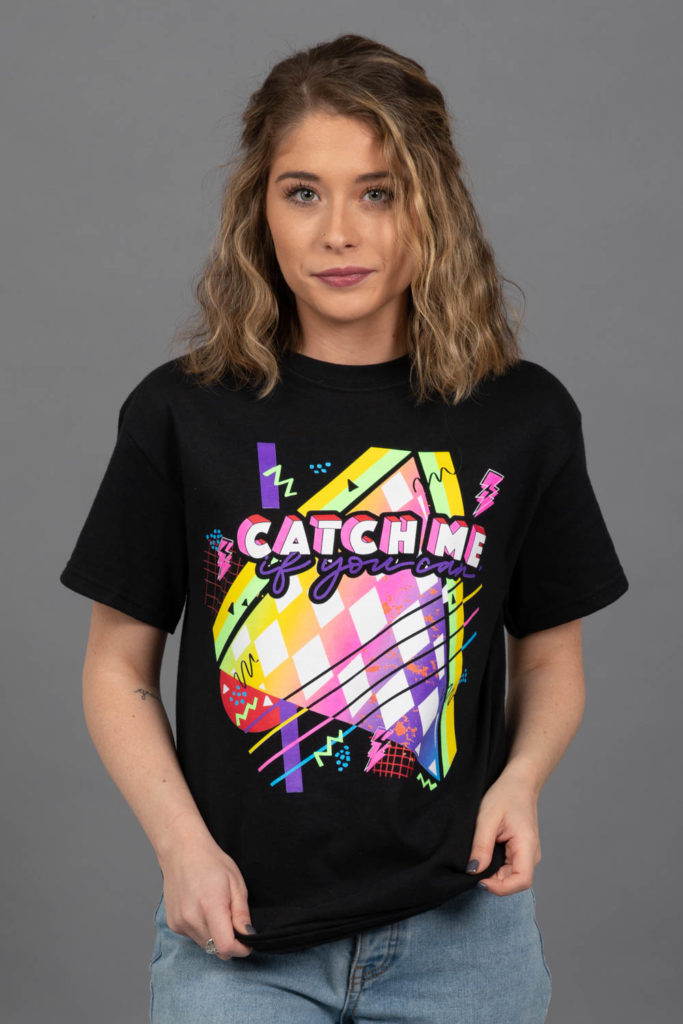 I wanted to create a really racy tee that just screams I want to be at the track! I chose the saying "Racing is Life" and Lucy created it to look like it was ripping through a checkered flag for something unique and different! Pair this tee with our new custom Get Rowdy Distressed Jeans, throw on our Podium Finish Sneakers and you have one comfy and stylish look.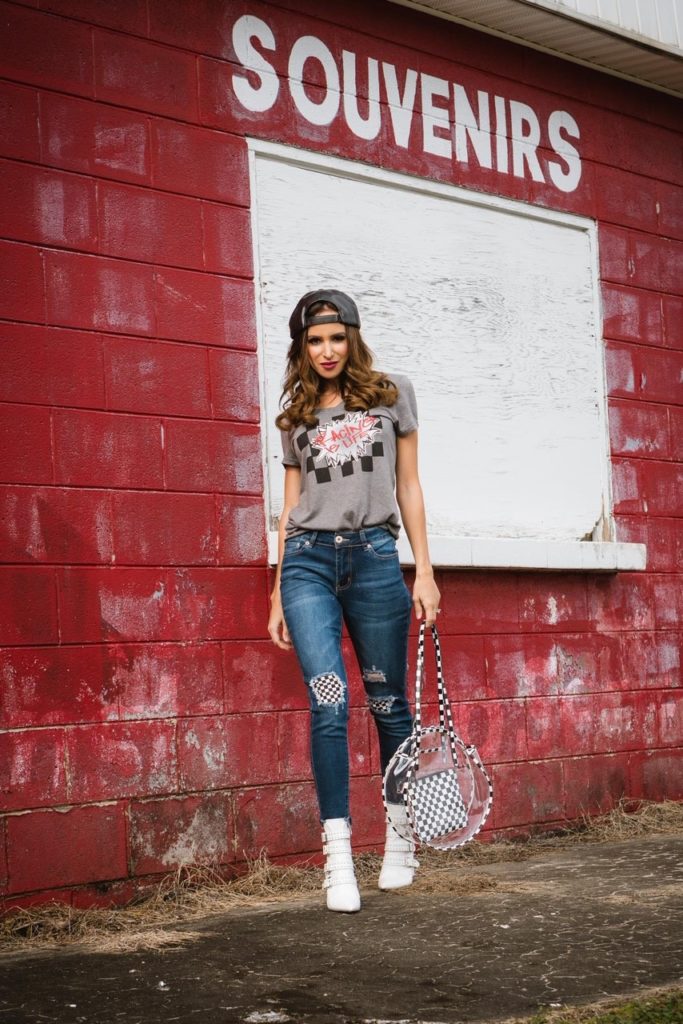 Finally, the custom denim jackets, which are the absolute highlight of the collection! We did the collection name on the back "Need For Speed" and then jazzed up the front by putting on a checkered flag patch and a vintage pin! I really love this jacket paired with our new In The Fast Lane Skirt with the checkered pattern down the sides! For a day of running around with the girls or the track, I recommend throwing on our new Podium Finish Sneakers, a basic tee and the Need For Speed Jacket. If you are going out to bars later at night, swap out the sneakers for our amazing White Noise Booties and add a bodysuit for one sexy as hell look!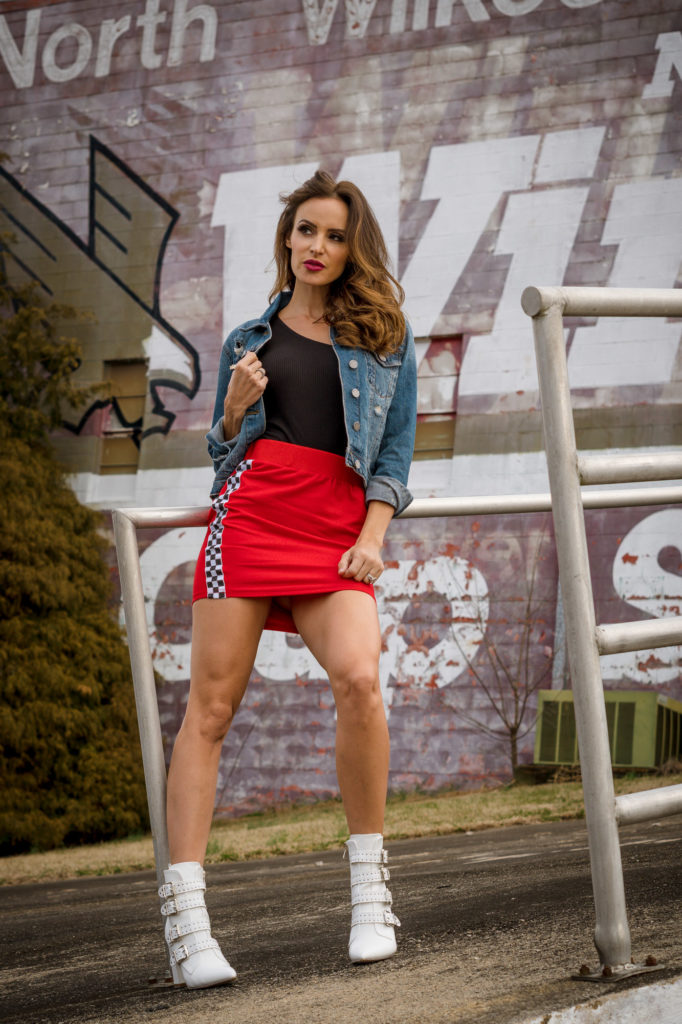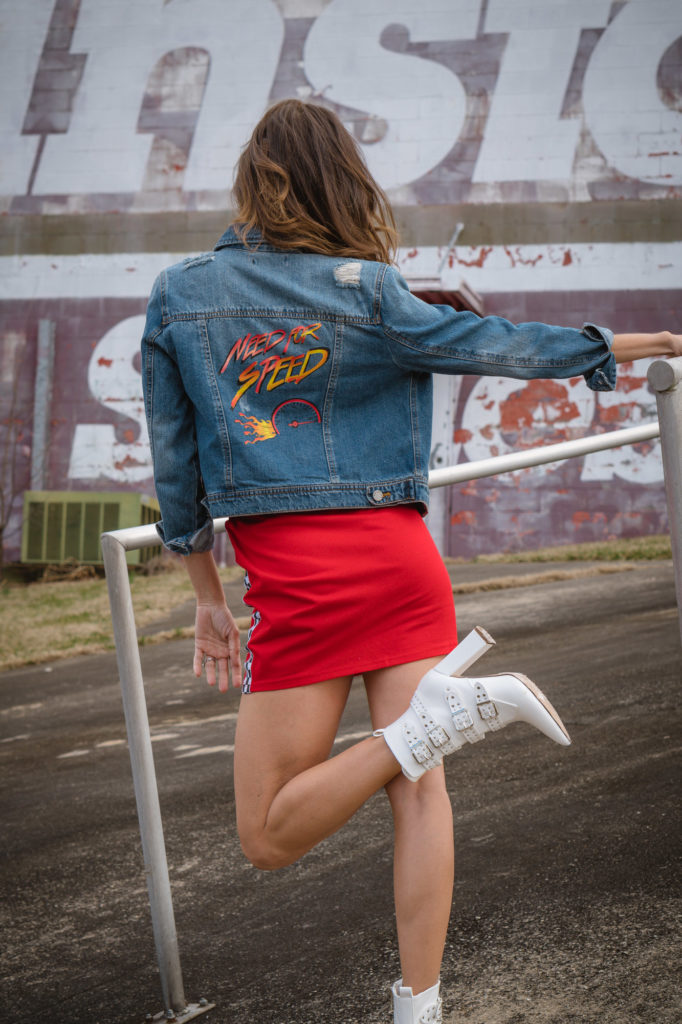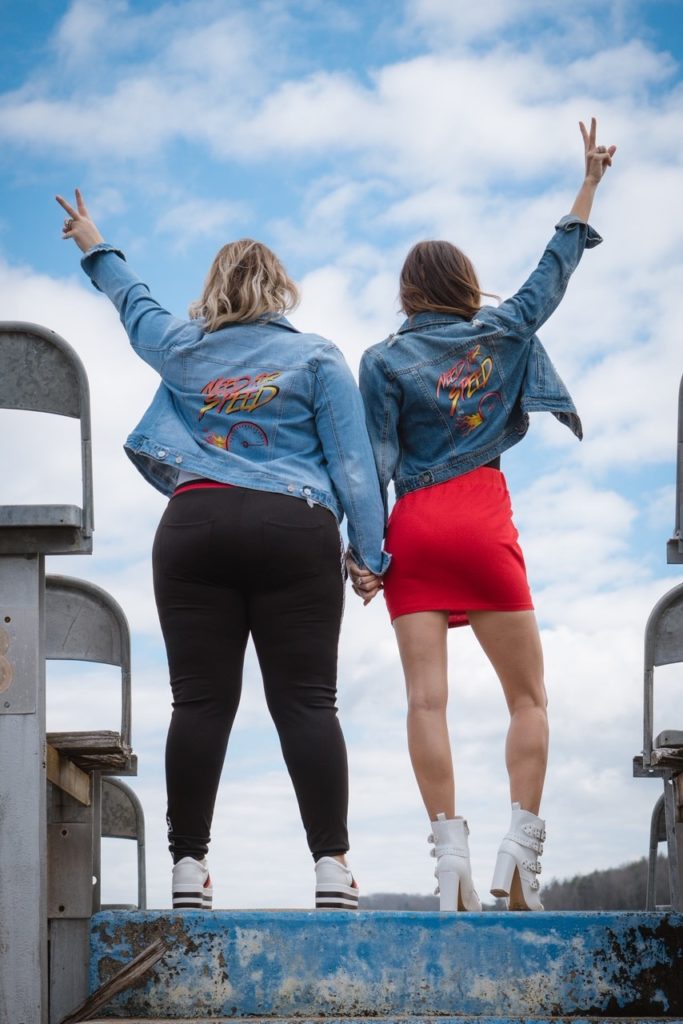 I also added in the Fast Lane Jeans, a pair of black jeans with cut out grommets up the sides because they had the edgy, tough feel and were cool as hell. I would throw on the Racing Is Life tee, grab our fun Check Me Out Backpack and hit the track.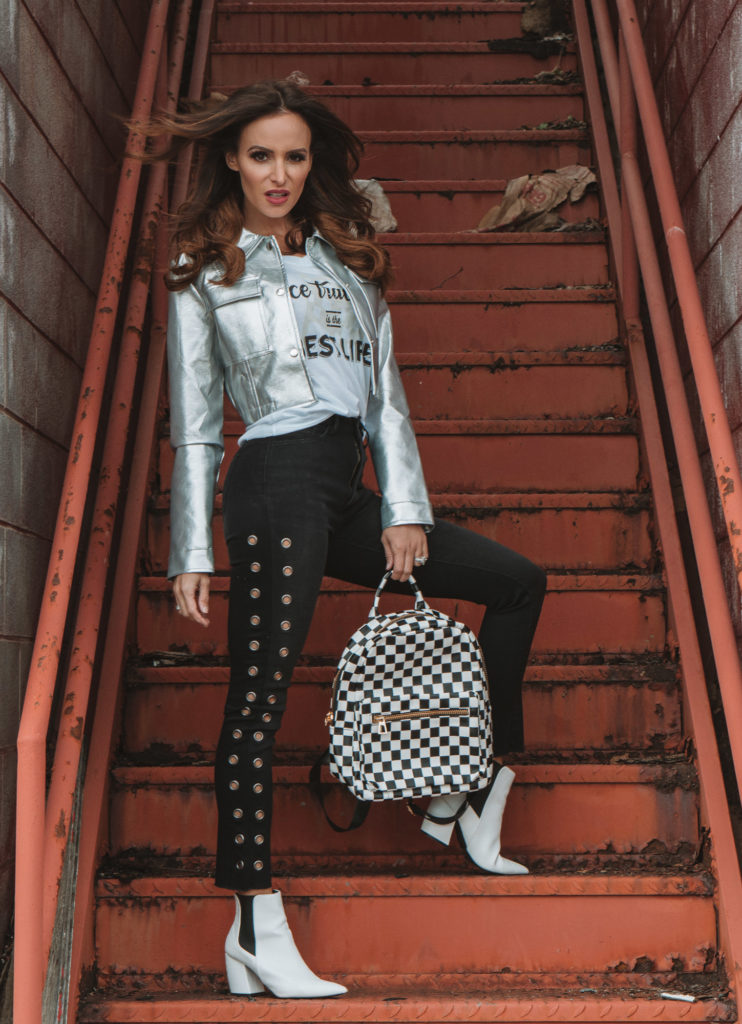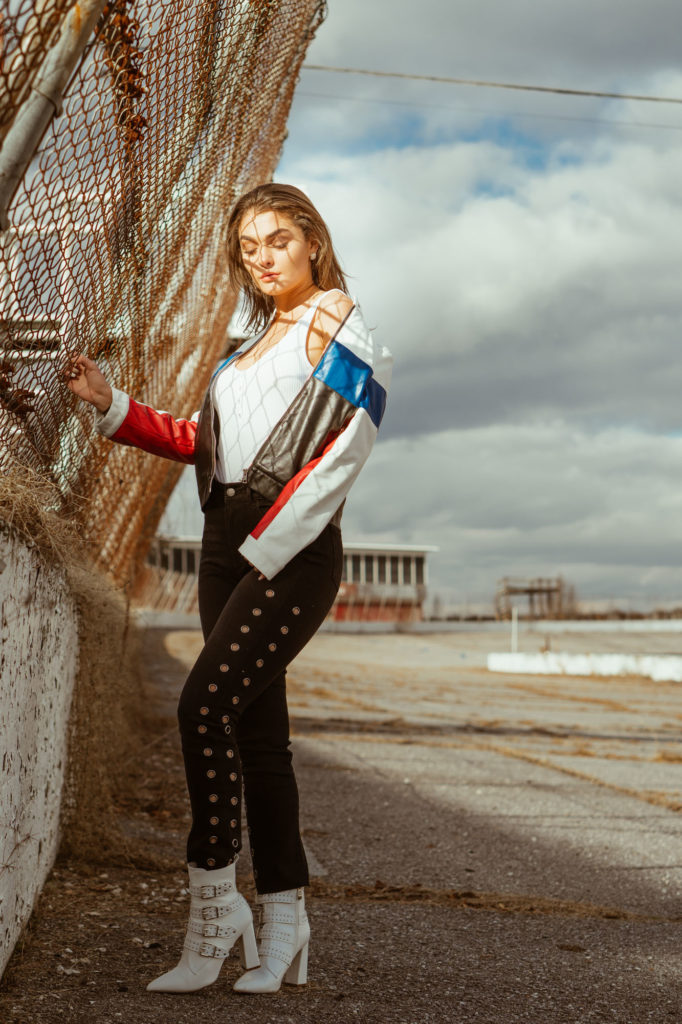 What I also love about all of these new pieces is they work so well for the transitional style season we are in. Throw on a new Ignite A Fire Denim Jacket with our Let It Be Skirt, a cool race tee and some over-the-knee boots. You can also opt for our amazing Steal The Thunder Jacket with a pair of jeans or over a cute simple dress. I tired really hard to find pieces that mixed and matched together really well so that you could get more styles out of less pieces!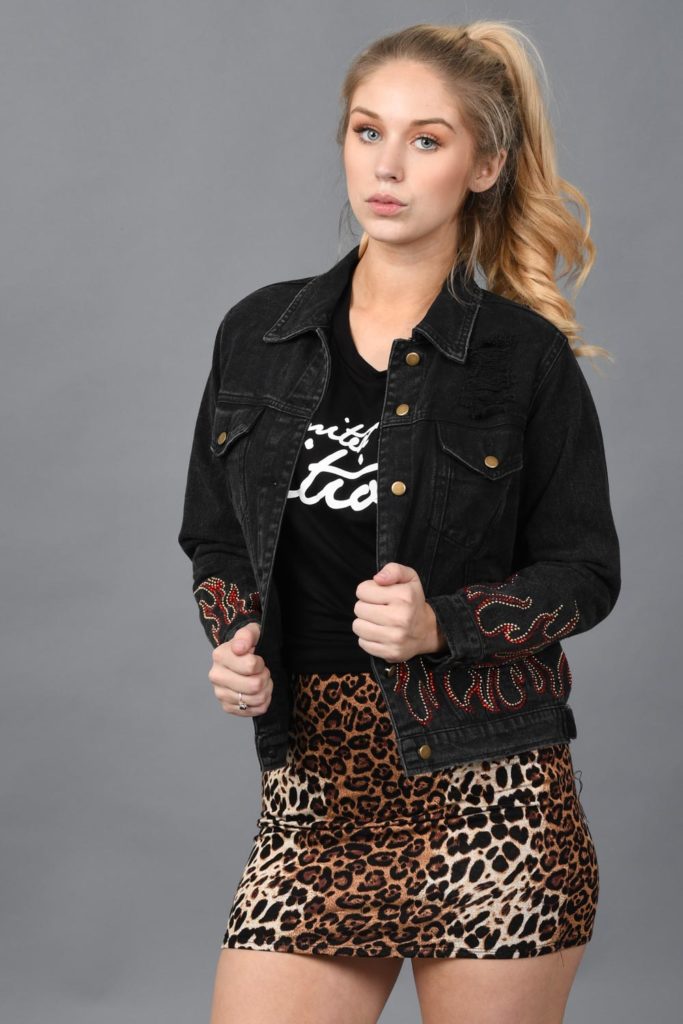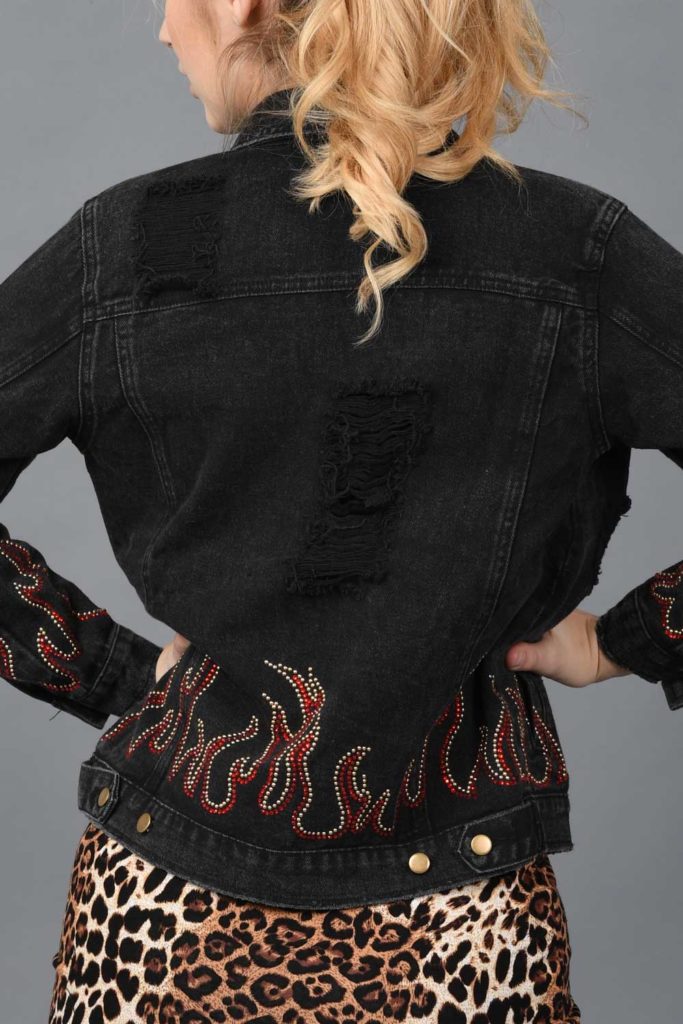 Lets talk accessories!  My theory is that a girl can never have too many purses or shoes and I had a great time finding these gems. First, as I mentioned before, our White Noise Booties go with absolutely everything. They have such a cool vibe and the chunkier heel makes them easy to move around in.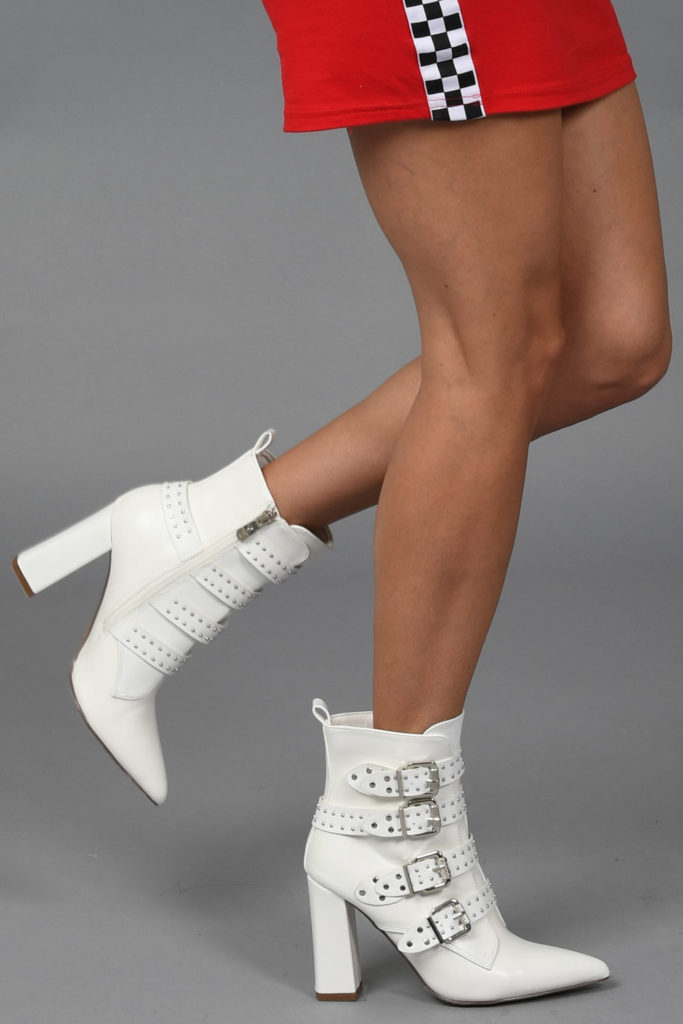 I also wanted to find a bag that was great for sporting events, which is why I opted for the clear Put You In Check Bag and the bonus clutch in there was too cute. Practical and fashionable!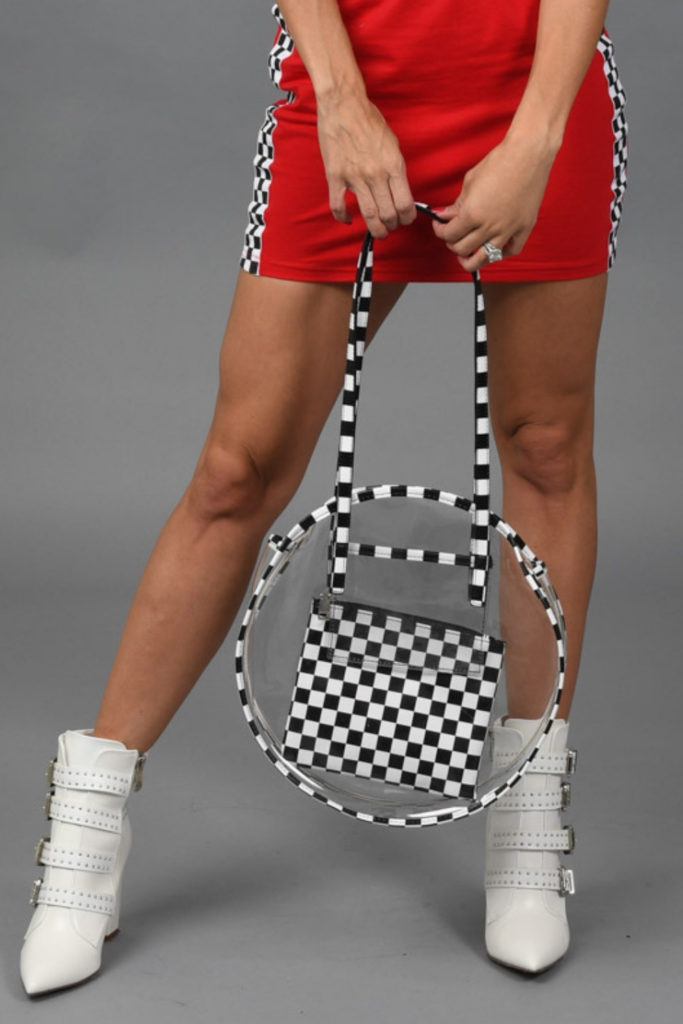 Then I had to get these Overdrive Fanny Packs. Never in my life did I think these would come back but like everything else they sure did. I chose these fun iridescent colors and I have to admit my mom was right, they really do come in handy not having to carry a bag! Plus with the looks we put together they give off all sorts of Kendall Jenner vibes!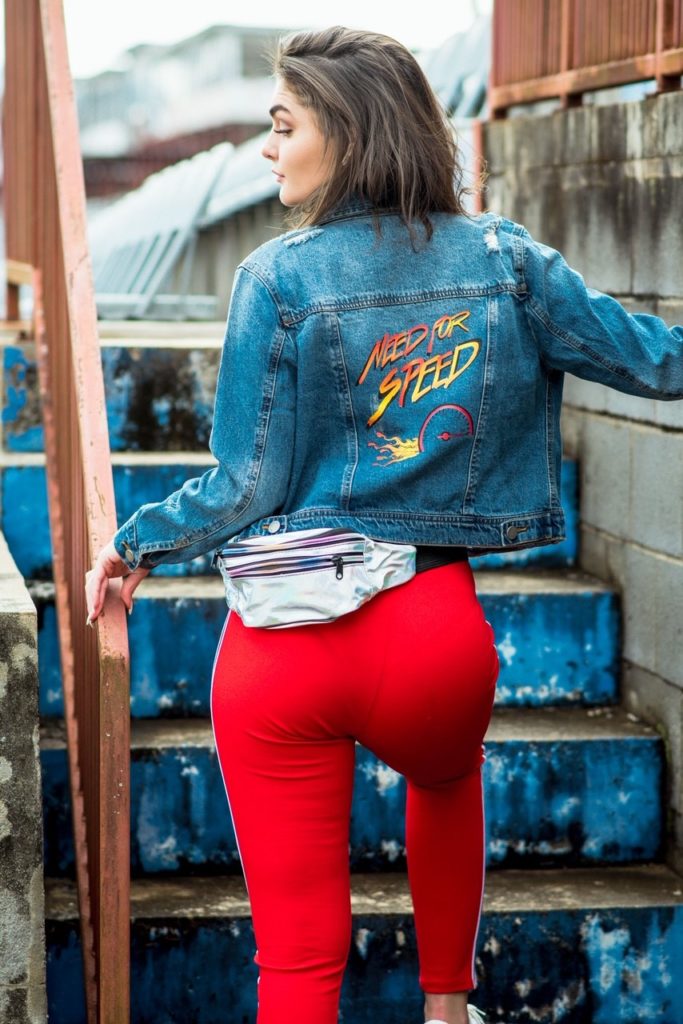 I'm also excited to announce the Need For Speed Collection will be at the Toyota Outfitters inside the Toyota Pit Pass area in the fan zone all Daytona 500 weekend!  Stop by and check it out and be sure to post photos in your new Need For Speed looks!