With fashion being something that is truly so important and enjoyable to me, I've learned plenty of tips and tricks along the way as a boutique owner that can easily elevate your style. And you guys, they're SOOO easy! That's one thing that's really SO cool about fashion: One or two small, unique touches can easily take your outfit from basic to jaw-dropping within seconds! 
We all have those few pieces that we always gravitate towards — for me, it's my ripped jeans and a fun tee — and even when we wear them time after time, believe it or not, you can change up your accessories to give the items a different vibe or look every time you wear them!
Even though we're quarantined, and you're likely putting together fewer outfits than you typically would, this is truly the perfect time to experiment! If you have some extra time (and don't we all right now!?), it's time to face your closet and get creative with what you have — and accessories can easily be the key to making that happen.
Try different combinations, post them to the 'gram, send them to your friends, get some opinions, and then you'll be able to plan a fashionable entrance back into the world post-quarantine! From adding a hat or using a belt to accentuate your waist, see below for five of my simple, go-to tips for spicing up any outfit. Bonus: All the items are available at avantithelabel.com!!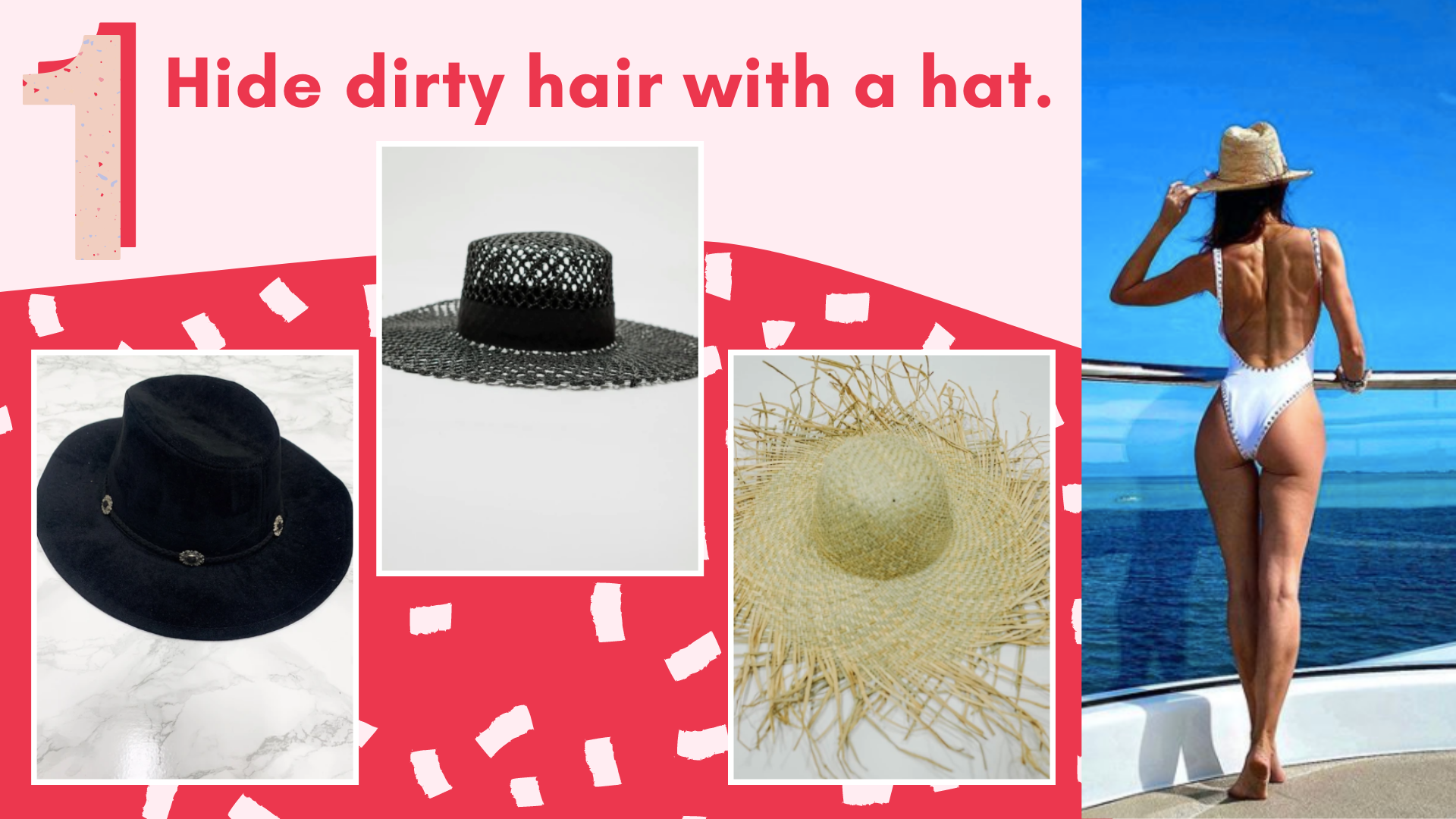 Especially during quarantine, washing my hair is usually further down towards the end of my to-do list. To be honest, it's just too much work to wash, blowdry, put in hair product, etc., so it's nice when I can avoid that however possible. One of my favorite ways? Using a hat!
If I pop on my favorite hat, it's almost like I re-winded back to wash day because I'm hiding my dirty looks and only showing the locks that aren't yet visibly dirty!  Plus, hats can add an unexpected, fun, and bold twist to any look making it the ultimate win-win.
For some, hats can be intimidating. Most of the time, they're big. They come in SO many different styles. How do you know which one to pick and how to wear it? Consider your face shape when choosing a hat. Typically, a wide-brimmed hat with a rounded crown looks great for those with a wider, square jawline as it helps to soften that. To elongate the bottom half of your race, it's best to pick out a hat that settles higher on your forehead. Whenever possible, it's best to wear your hats on an angle whether it's tilting your hat onto the back half of your head to reveal the front of your hair, tilting it to one side, or wearing it at a straight across angle for a more powerful, bold look.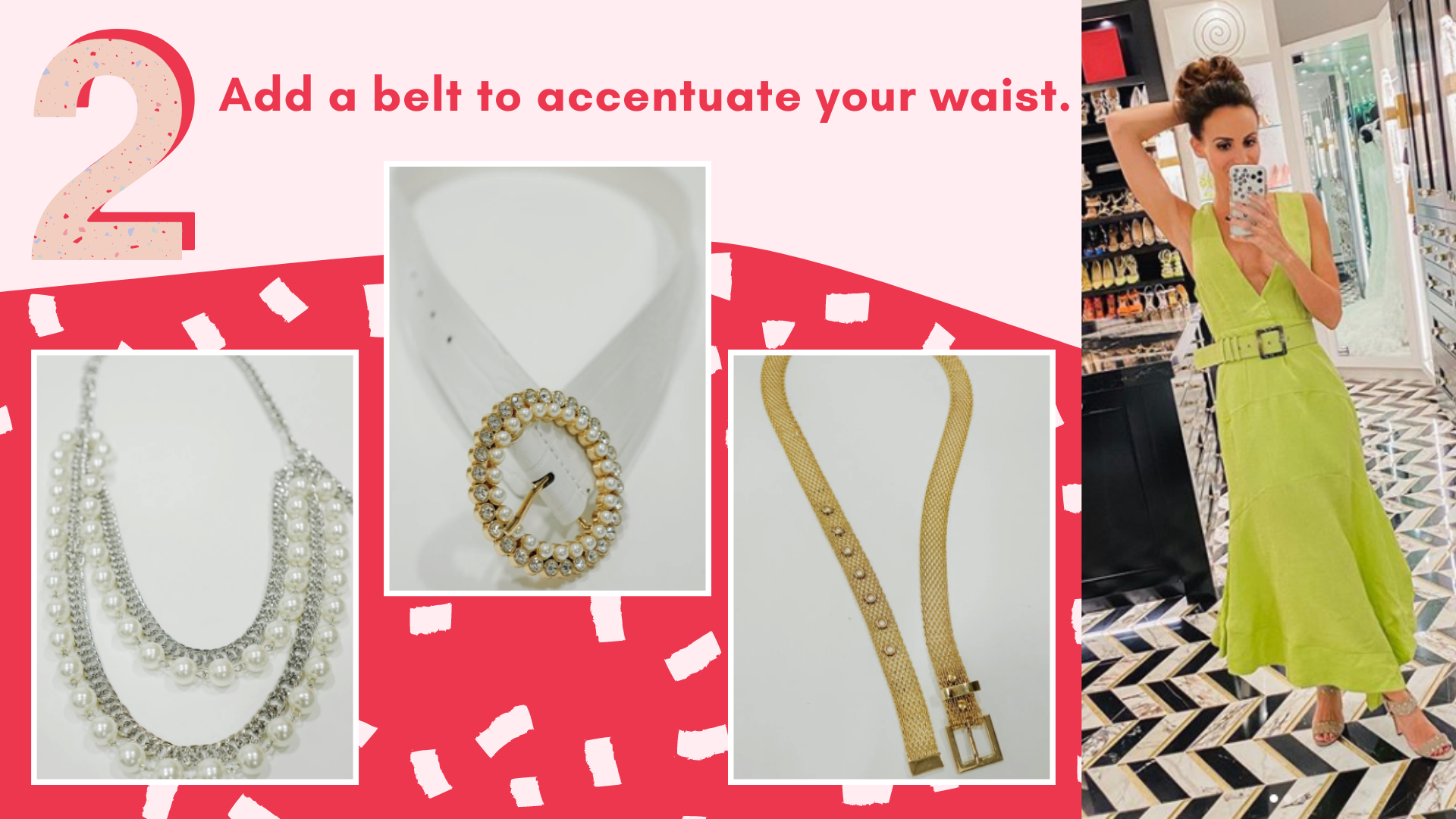 Especially when I'm wearing a flowy dress like this one, using a belt to make the outfit more fitted and flattering is so simple and stylish. You'll want to make sure that when you're adding a belt into your look, you're notching it at the smallest part of your waist. This will help accentuate that area and make the dress look much more flattering.
Not only will a belt make your look much more form-fitting, but it also can add a unique twist to your outfit — especially if you're choosing something other than a plain black belt. The Avanti examples from above are some of my favorites — especially the pearl chain belt, so unique!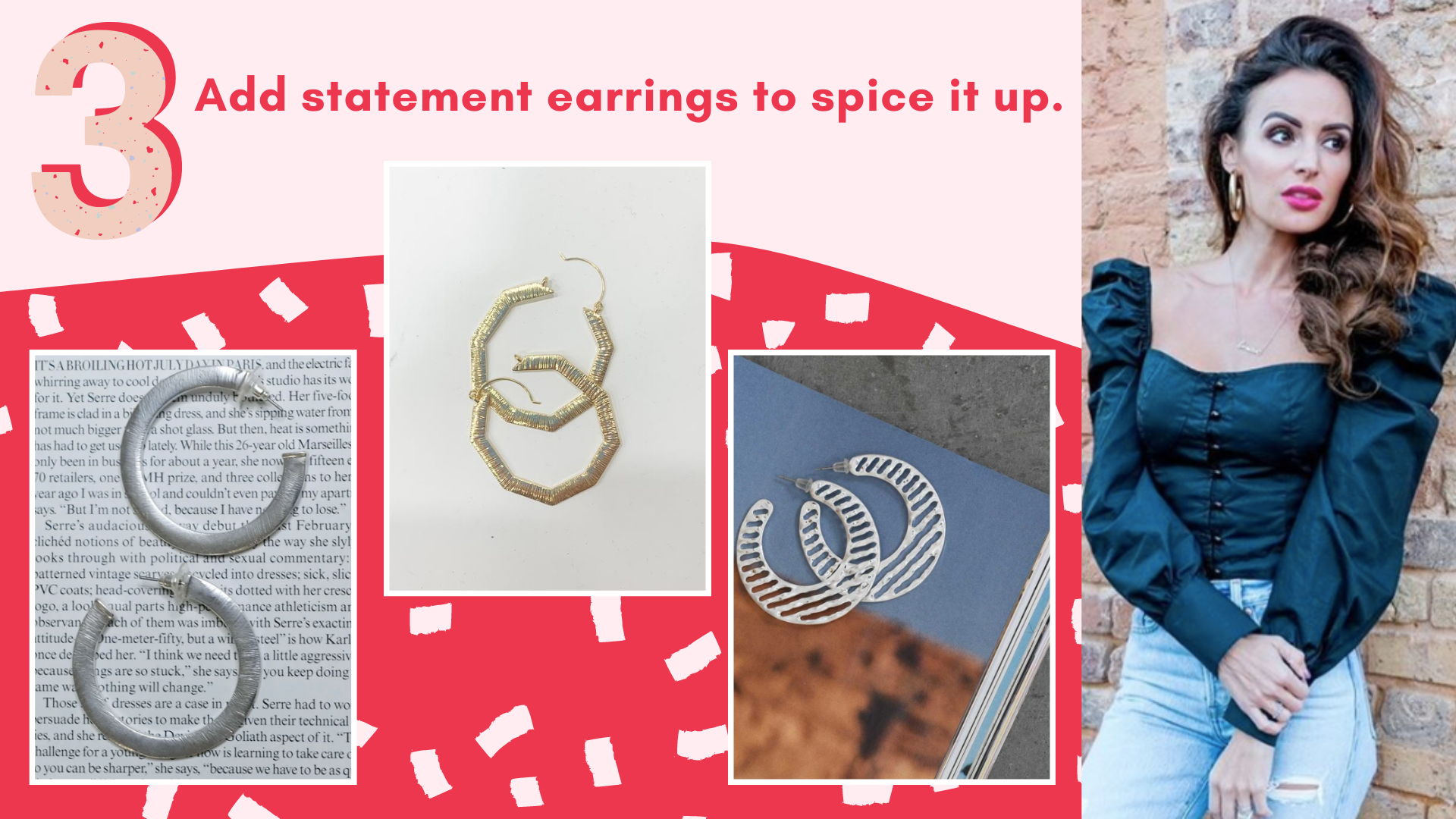 Earrings are easily one of my favorite ways to spice up any outfit. Like the other accessories, they really are SO easy to just toss on and call it a day, but with earrings, they're right next to your face so anytime you're having a conversation with someone, they're likely going to sneak a glance at your fabulous earrings.
Pro Tip: I love to coordinate the metal of my belt with the metal of my earrings to look more put together.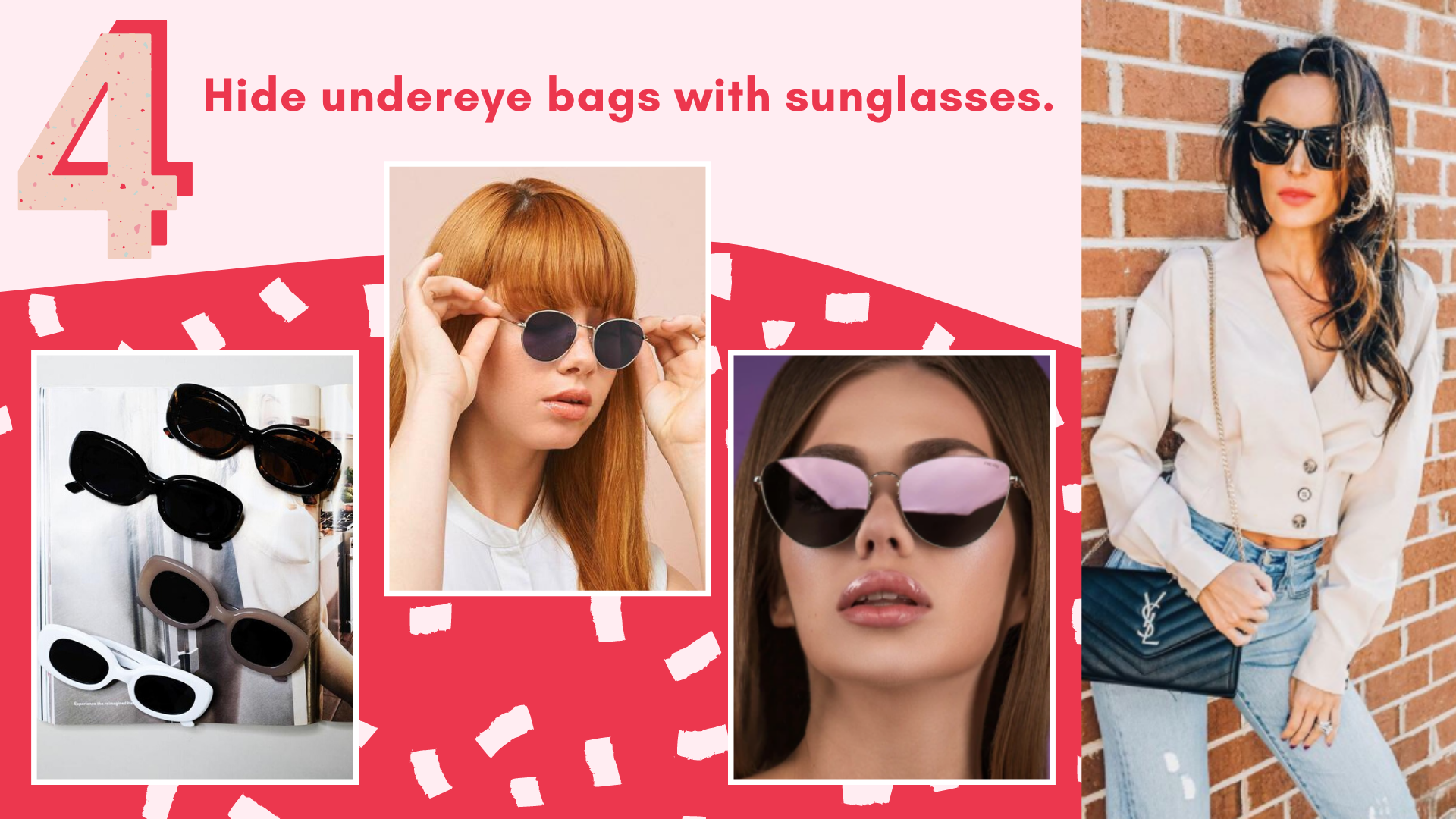 Trust me, I know: We all have those days. We go to bed late, and we wake up with eye bags that even the best concealer can't get rid of. On these days, a pair of sunglasses instantly become my best friend. Not only can they shield your eyes from the sun and your undereye bags from the world, but they add a touch of chic, coolness to your look that really no other accessories can.
Finding the perfect shape of sunglasses can be tough, but luckily, there are a few general tips you can use when choosing the perfect pair of sunnies without physically being able to try them on.
Typically, heart-shaped faces look best in retro square or cat-eye styles. Circle face shapes also can pull off the retro square or cat-eye but also look great in square frames. Those with oval faces can choose an aviator or oversized style and pull it off like a champ. If you have a square face shape, you'll want to stick with rounded or aviator shapes.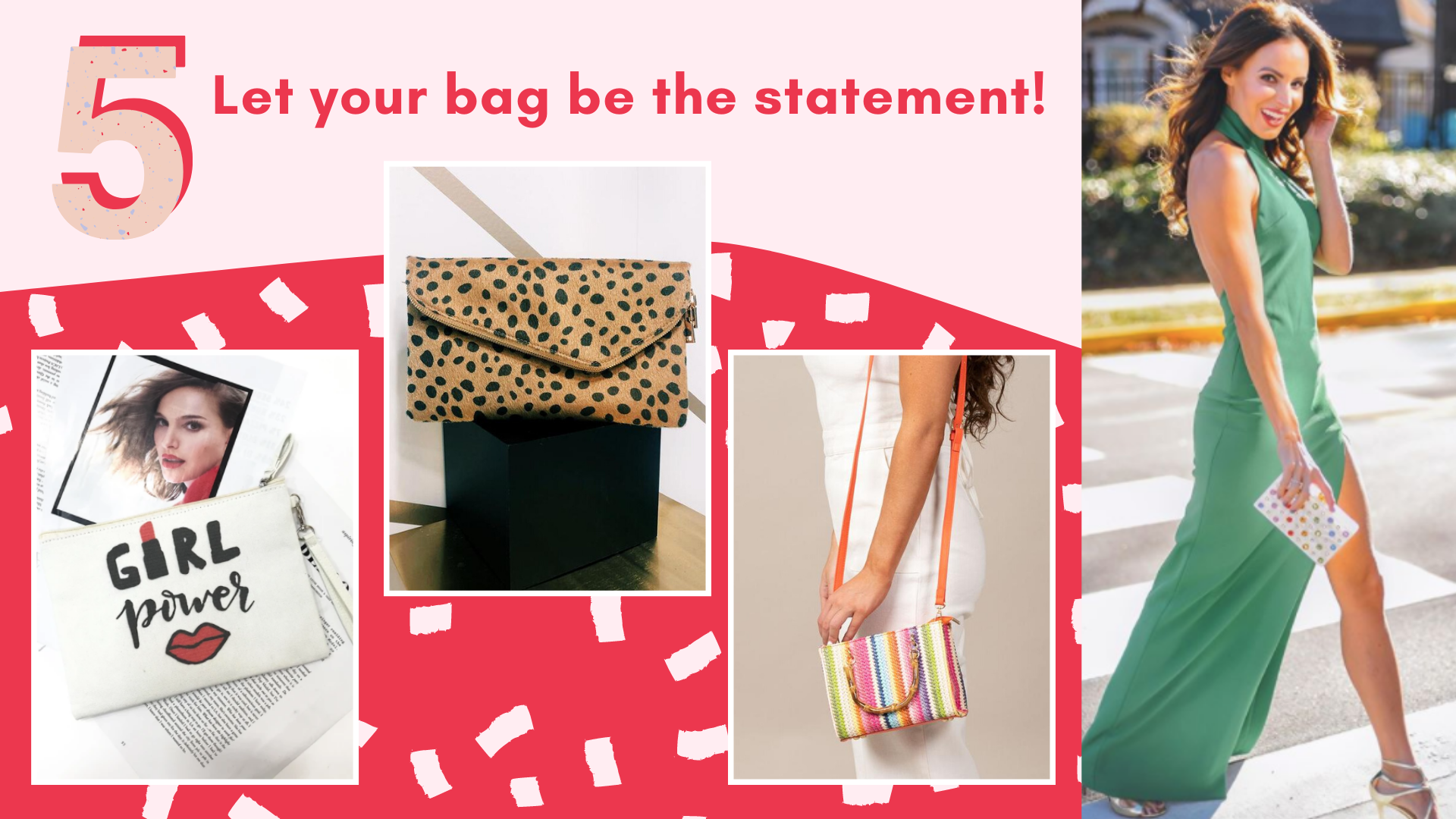 To me, there really always has to be some statement piece in my outfit. You'll very rarely see me in a super plain outfit (and if I am on some unforeseen moment, you can guarantee I'm wearing a bold lipstick, haha!). With fashion being something that's so fun and important to me, I really always love any opportunity to make things more exciting.
That being said, even if I'm wearing something like a solid colored dress, I always love to add a bag with a bold pattern or color palette. Doing this draws the eye right to your bag making it an instant conversation piece. This is just proof that you don't always have to rock a super bold piece of clothing — you can always use your accessories to take the main stage.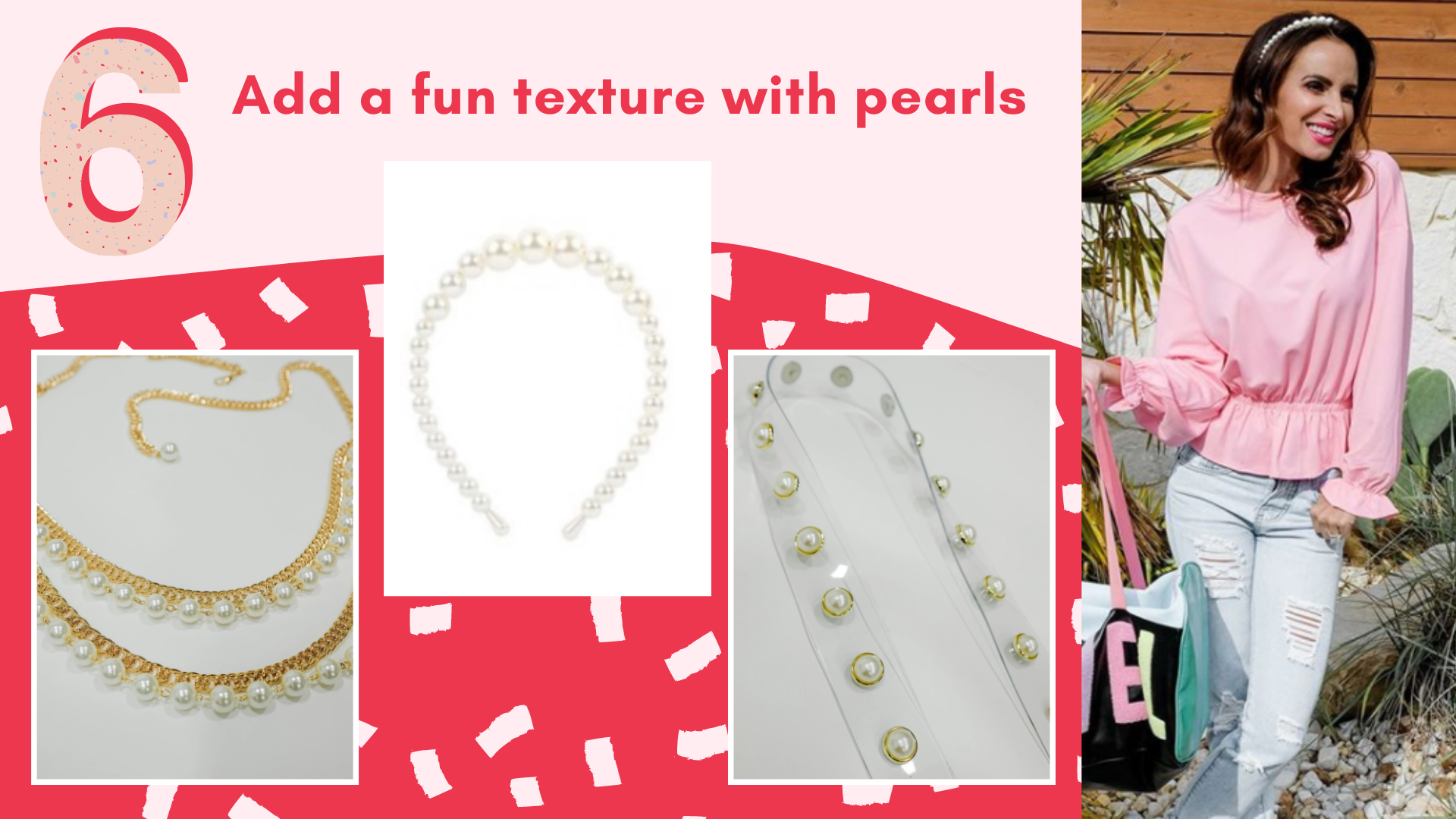 Believe it or not, pearls aren't just for your granny any more! Chances are if you've scrolled through Instagram anytime lately, you've seen someone donning a pearl accessory. Our pearl headband is a true staple — it's so easy to just pop on and adds a classic touch to your ensemble.
Pearl belts are even having their moment! We have two great options: one with a translucent base and just a few pearl embellishments sprinkled around it and one with a double chain and an attached string of pearls. Loop in the translucent option into your jeans to add some fun pearl accents to your look or opt for the dangling chain option with a dress at your waist for a form-flattering accent.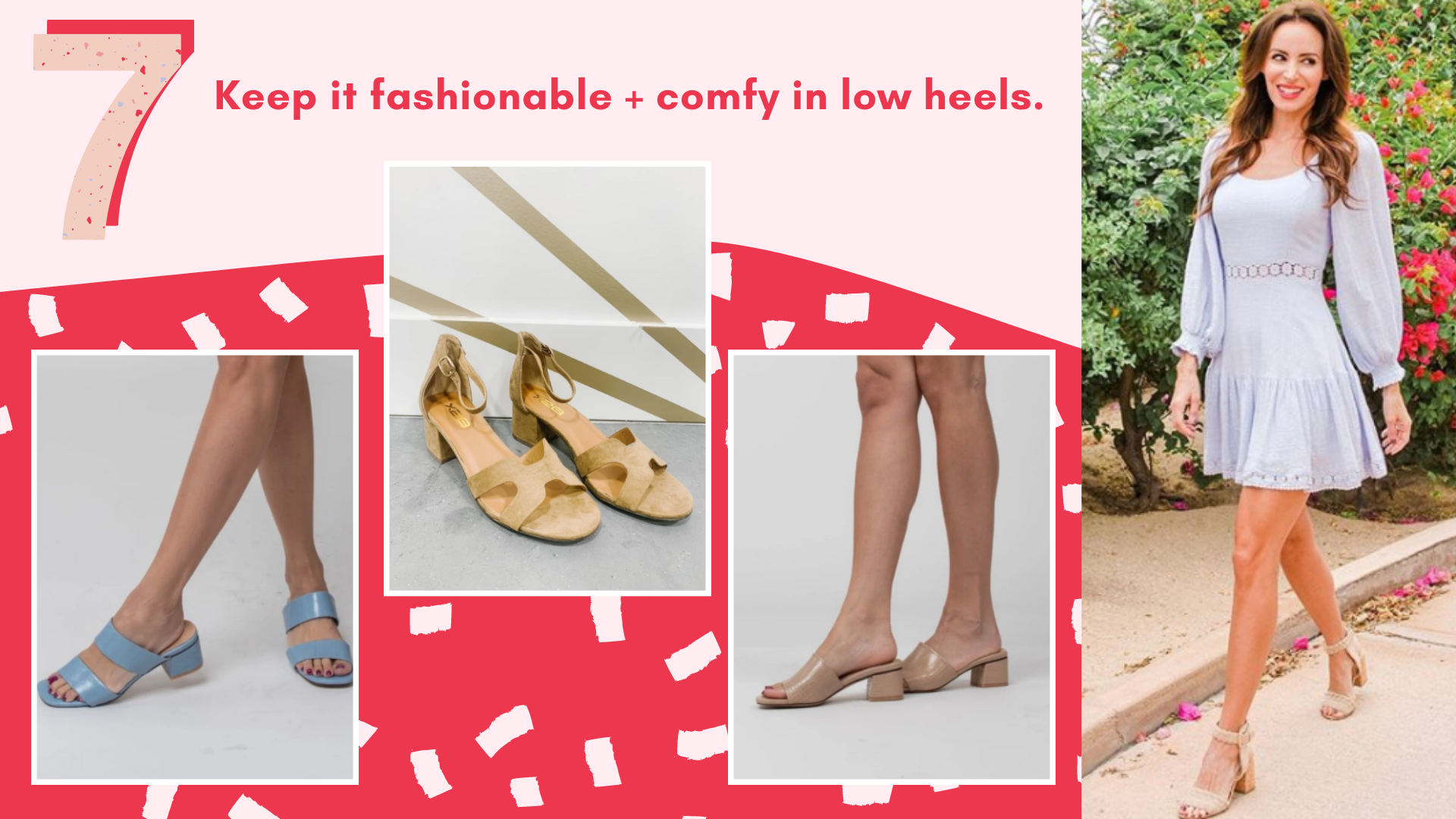 For anyone who hates wearing a stiletto heel, you'll be happy to hear that low heels are everywhere right now. What's really nice with this shoe style is that you can easily add about an inch to your height, elongate your legs, and look a bit dressier than you would with the typical flat sandal.
Whether you opt for a colorful option or something more neutral, these low-heels are the comfortable solution to the question of "what shoes do I wear?!" no matter what you're wearing for clothing. Pair them with your favorite denim and a tied-up t-shirt or even try strapping some on with your favorite mini dress like I did here!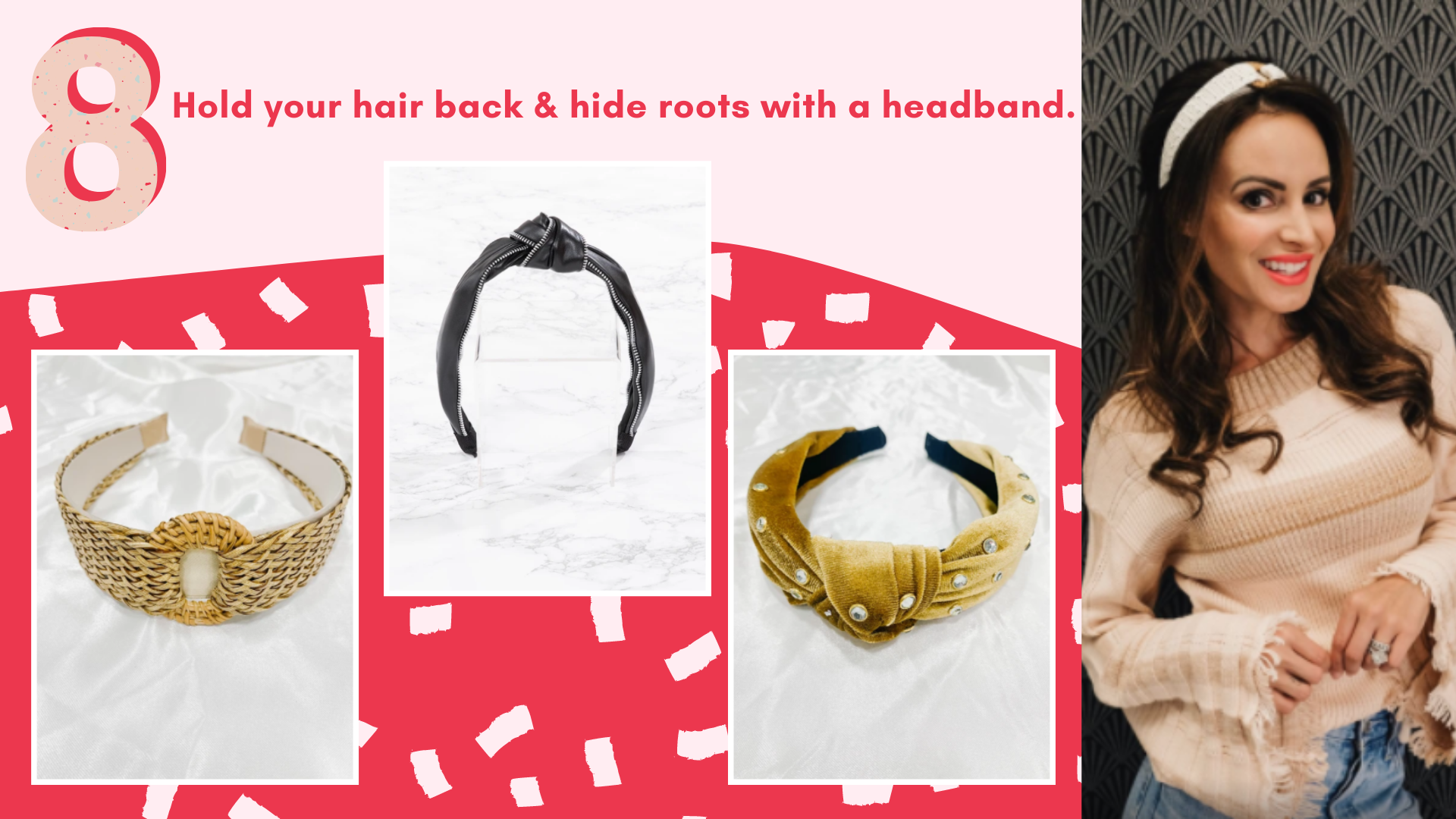 Headbands are seriously such a great way to turn your boring hairstyle into one that looks like you put in a ton of effort, but in reality, it's as easy as popping in your headband and voila! As you can see in this IGTV video I posted a few weeks back, styling a headband can be super simple.
When wearing a headband, you can start by deciding if you want all your hair pushed back or if you'd like to leave some shorter strands out in the front as I did in the video (and in the photo above). Once you've decided that, it's really just as easy as deciding whether you'd like to wear the rest of your hair all the way down, half-up half-down, or all the way up.
I always love to wear my headbands to block out the obvious roots growing out — especially since I haven't been able to hit a salon since we've been quarantined!
Don't forget: You can grab all the pictured items and more from avantithelabel.com!