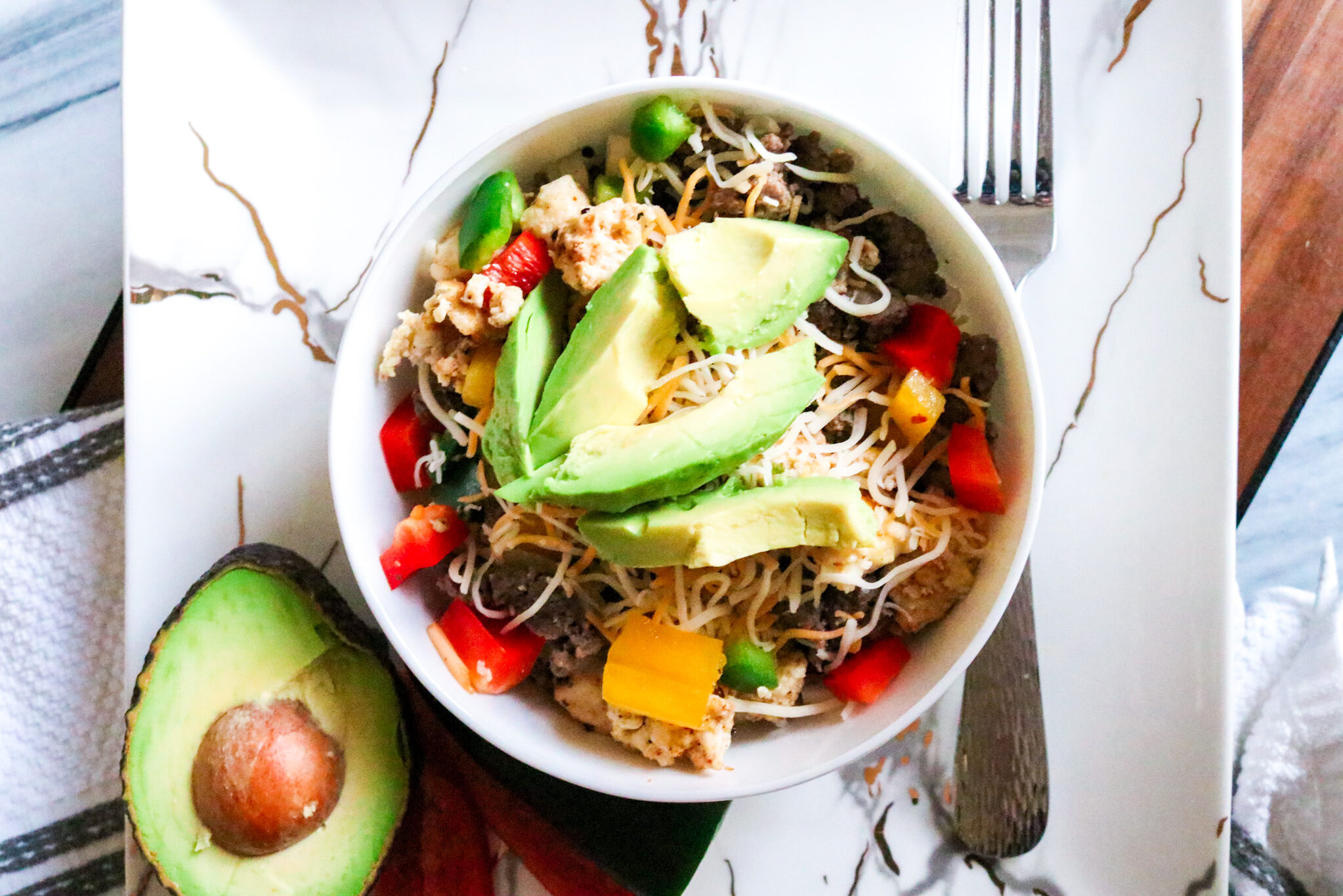 Anyone who knows me, knows I love breakfast! I might not be the earliest riser, but I still think it's really important to get a good healthy meal first thing when you wake up! I like to make sure my breakfast includes a lot of protein, veggies and good carbs to fuel me through the rest of my day.
Now, I know a lot of you might be thinking, "I don't have time to make a big breakfast every morning," I get it, and I've got you covered. Meal prepping my breakfast saves me so much time and makes me able to have a great, nutritious meal every morning. I usually like to meal prep my breakfast over the weekend, like Sunday night, when I have more time. It sets me up for success for the next week, knowing that I don't have to spend hours in the kitchen on Monday morning making food for me, Kyle and Brexton.
This power quinoa breakfast bowl is one of our favorite go-to meal prep breakfasts. It is packed with protein from ground turkey sausage (or sometimes I'll put chorizo in Kyle's), eggs, and good carbs from quinoa. I also like to cook my quinoa in bone broth for added protein! I usually store my egg, sausage, and veggie mixture separate from the quinoa.
In the morning, I'll put that mixture into a pan on the stove, and then I will heat up the quinoa in the microwave. Once everything is nice and hot, combine those two and add cheese, avocado and cilantro on top and enjoy!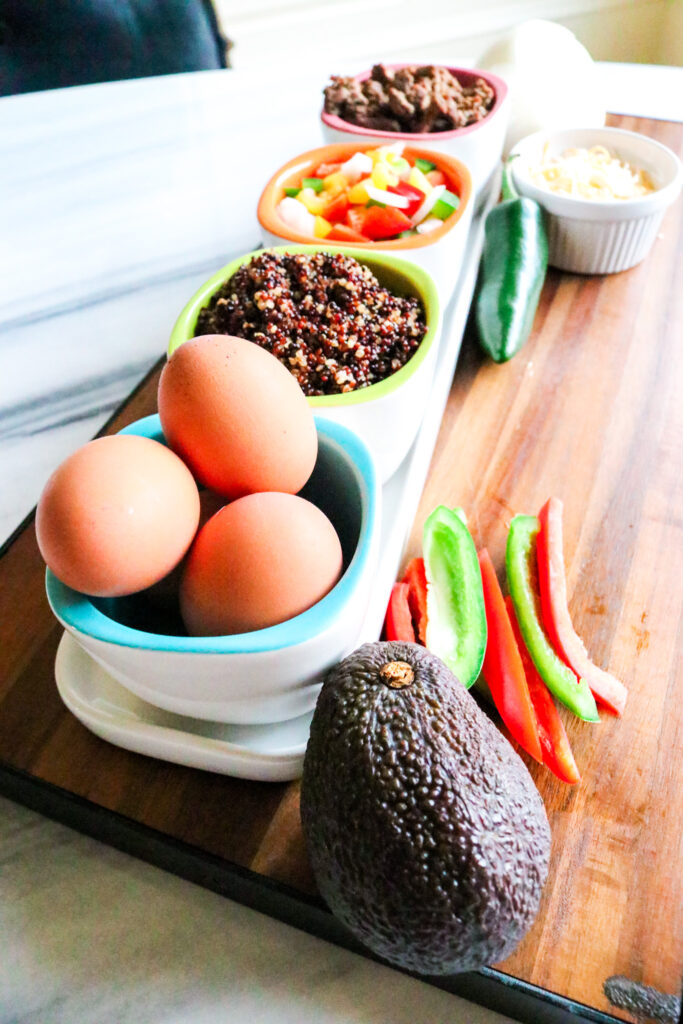 Ingredients
1 Dozen Eggs (can substitute or add egg whites)
¼- ½ tsp Mrs. Dash Southwest Chipotle Seasoning
1 tbsp Olive Oil
16 oz. Ground Lean Turkey Sausage
1 Red Pepper, diced
1 Yellow Pepper, diced
1 Green Pepper, diced
1 Jalapeno, seeded and diced
½ Yellow Onion
1 cup Uncooked Quinoa
2 cups Bone Broth or Water
Toppings
Mexican Blend Cheese
Avocado
Cilantro
Instructions
Cook quinoa according to package directions. Transfer to an air-tight container once done.
While quinoa is cooking, dice peppers, onions and jalapeno and add them to a pan with olive oil. Sautee until the vegetables are soft. Remove from pan and set aside.
In the same pan, cook ground turkey sausage (or your choice of protein) until browned. Set aside.
Scramble eggs and/or egg whites in a pan with Mrs. Dash seasoning.
Once eggs are cooked, transfer to a bowl with the veggie mixture and ground. Stir to combine.
Store mixture in an air-tight container.
Reheating Instructions
In a hot pan, add egg, veggie, and protein mixture. Cook until warm.
Add desired amount of quinoa to a bowl and microwave until warm.
Add heated egg mixture on top of quinoa.
Top with cheese, avocado and cilantro.
Enjoy!