Want to treat your little goblin to a spooktacular lunch this halloween? Check out these super simple and fun recipes. You can either surprise them in their lunch box or let them help, they are all really kid friendly. Brexton loves to help me in the kitchen and these creepy and fun treats were perfect. Even better for me, they are all decently healthy!
The first one are these yummy mummy heads sitting in a "pool of blood" aka pizza sauce!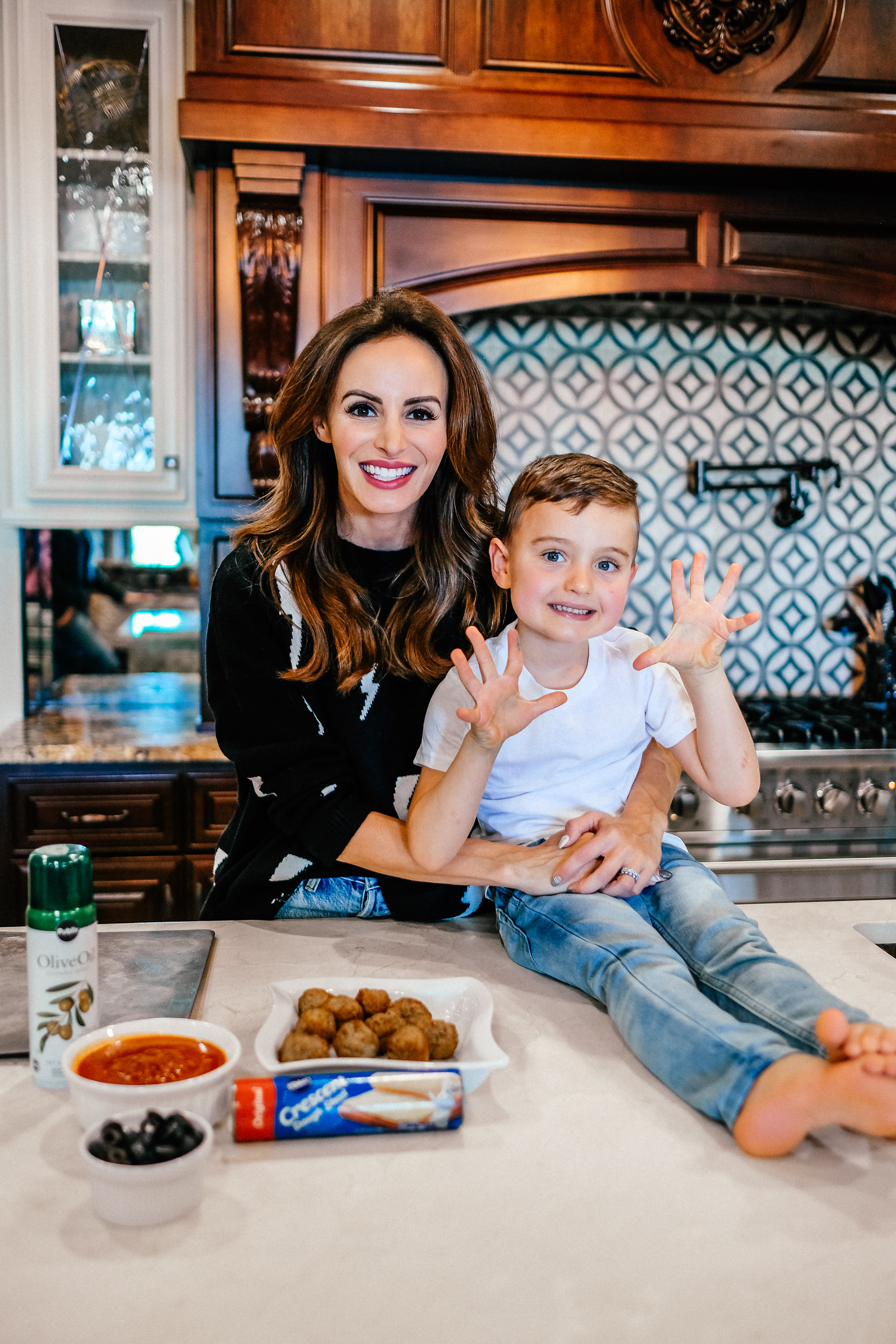 Here's what you'll need: 
-1 roll crescent dough sheet
-Meatballs
-Pasta Sauce
-Olives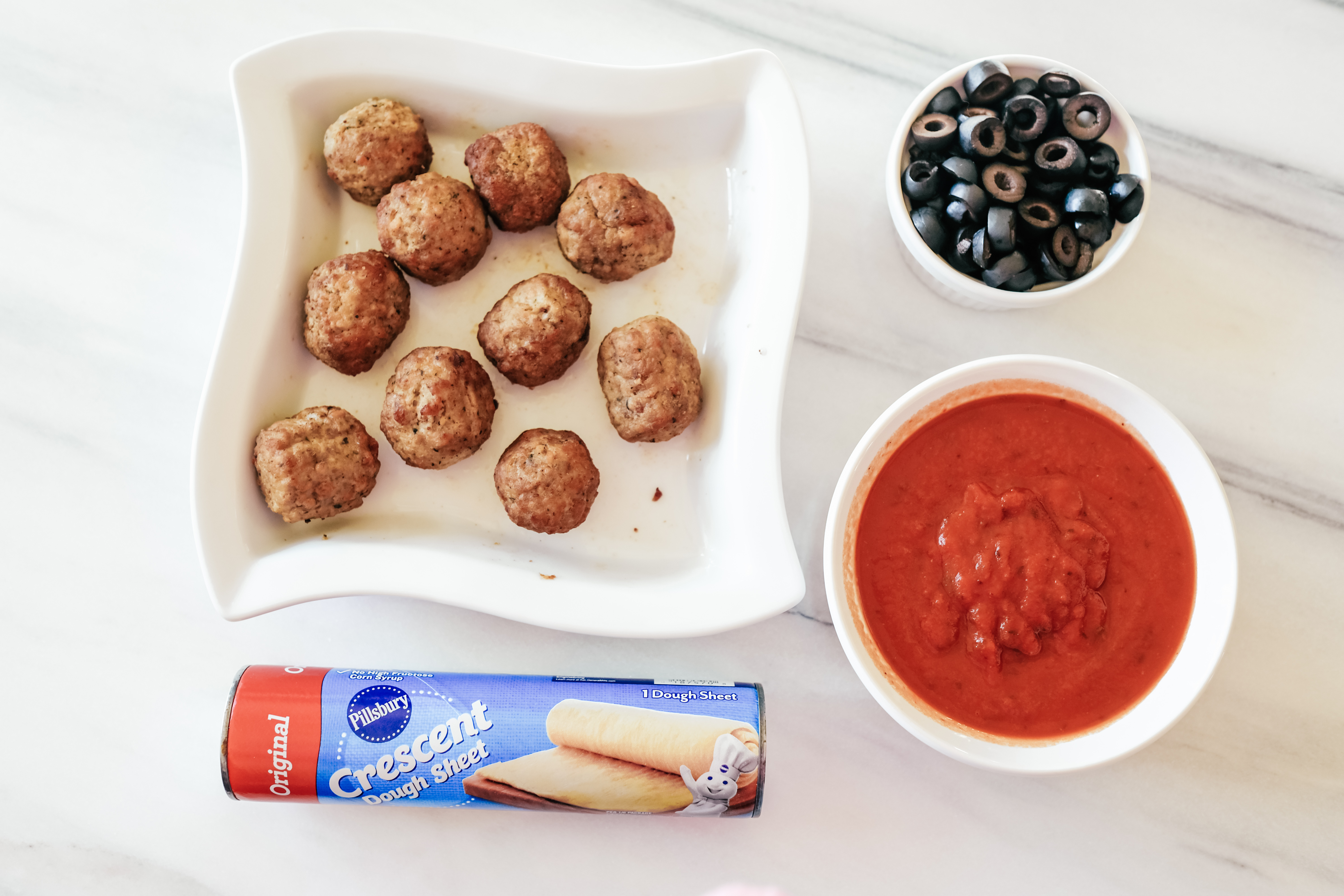 instructions: 
First, cook your meatballs. The meatballs take a lot longer to cook than the crescent dough does, so make sure to cook those before we make our mummies! After your meatballs are cooked, open up your crescent dough and slice it into long pieces to wrap the meatballs in. Then, start wrapping your 'mummies'. aka meatballs in the thinly sliced dough to create a mummy. After you've wrapped your meatball, dip two olives in pasta sauce and place on to meatball for the eyes. Pop your mummies into the oven for the exact time the crescent dough says on the wrapper. Once finished cooking, take a clean plate and a spoonful of pasta sauce. Put the pasta sauce on the plate and place the mummy head in the 'blood' and you're finished!! So adorable and super easy!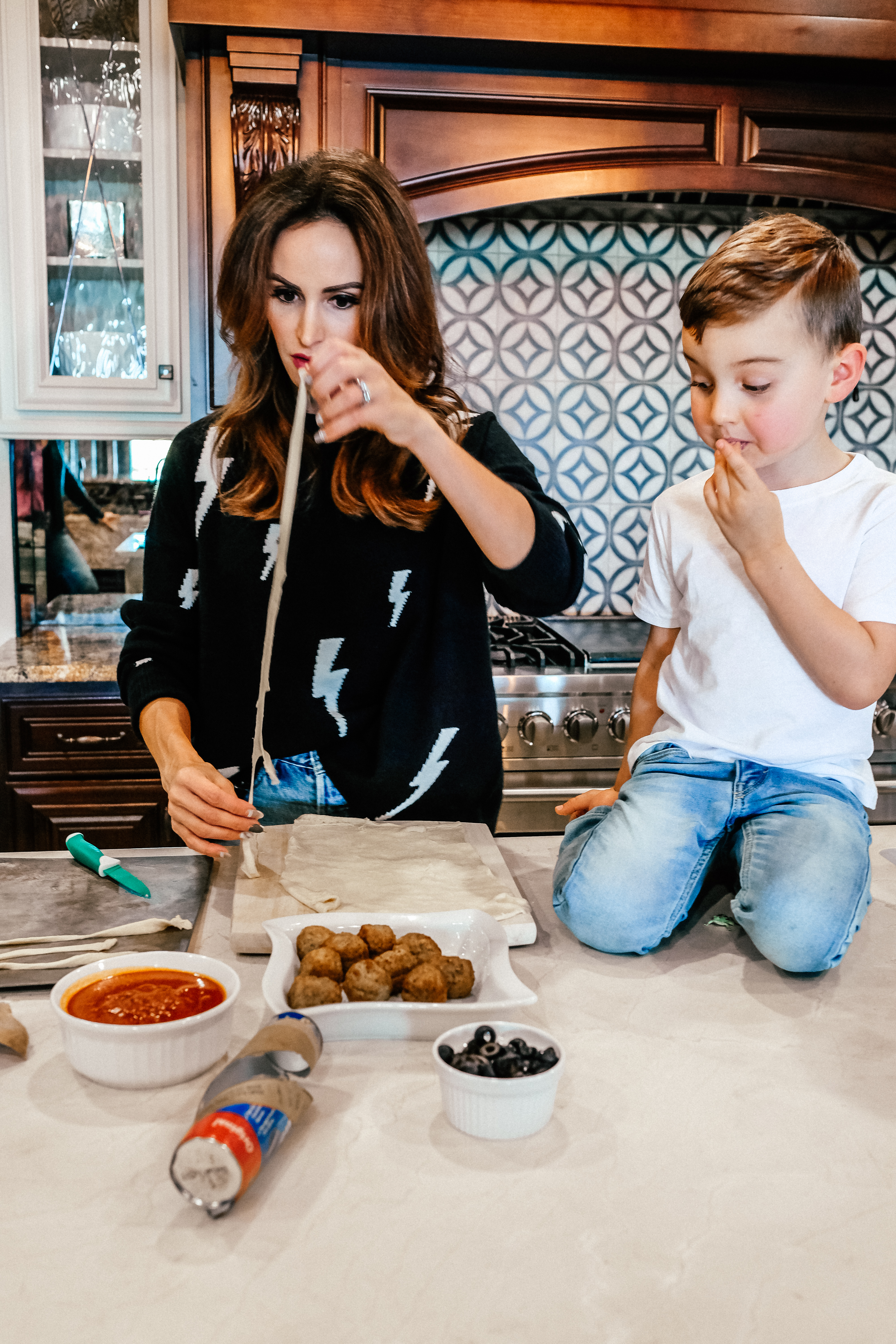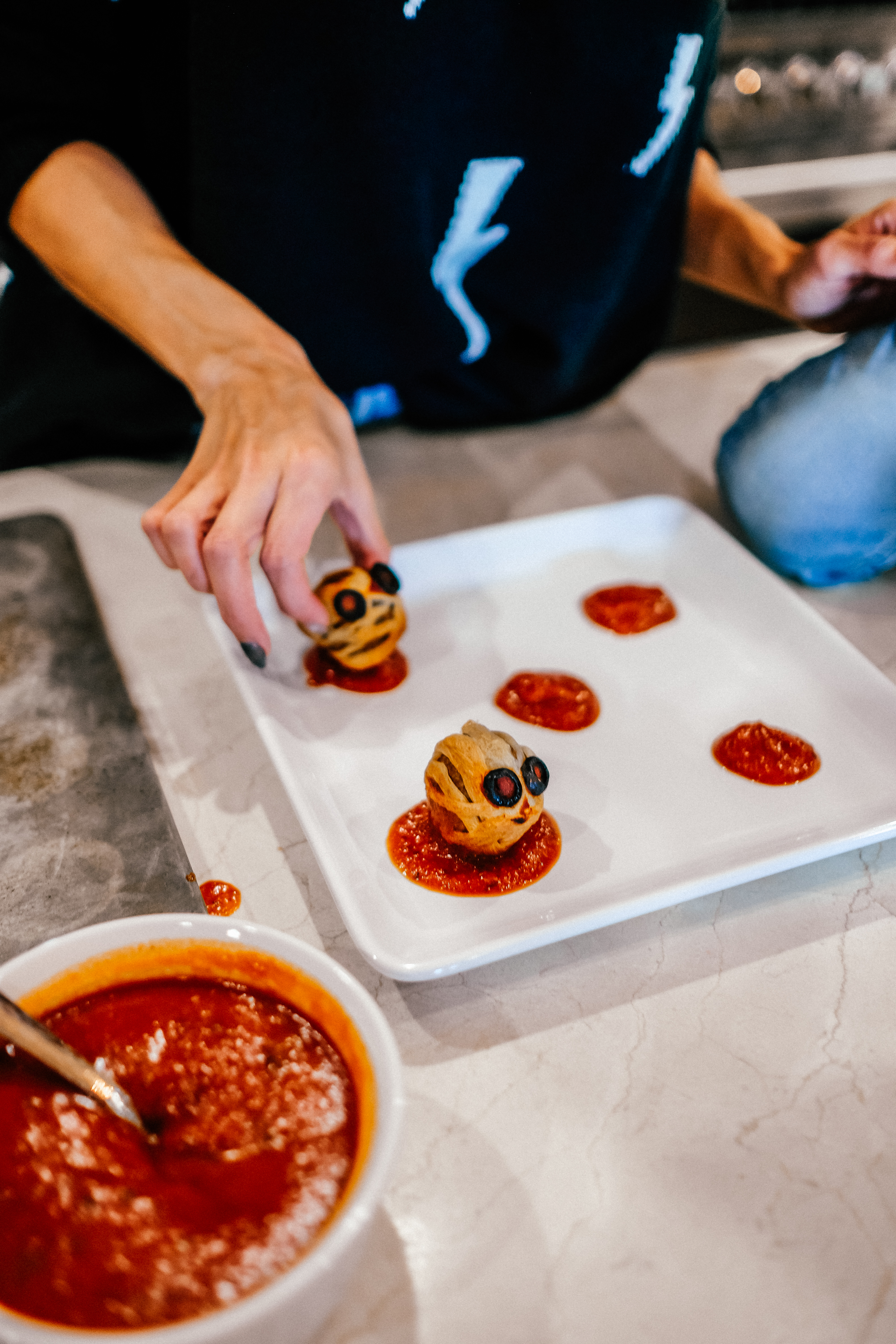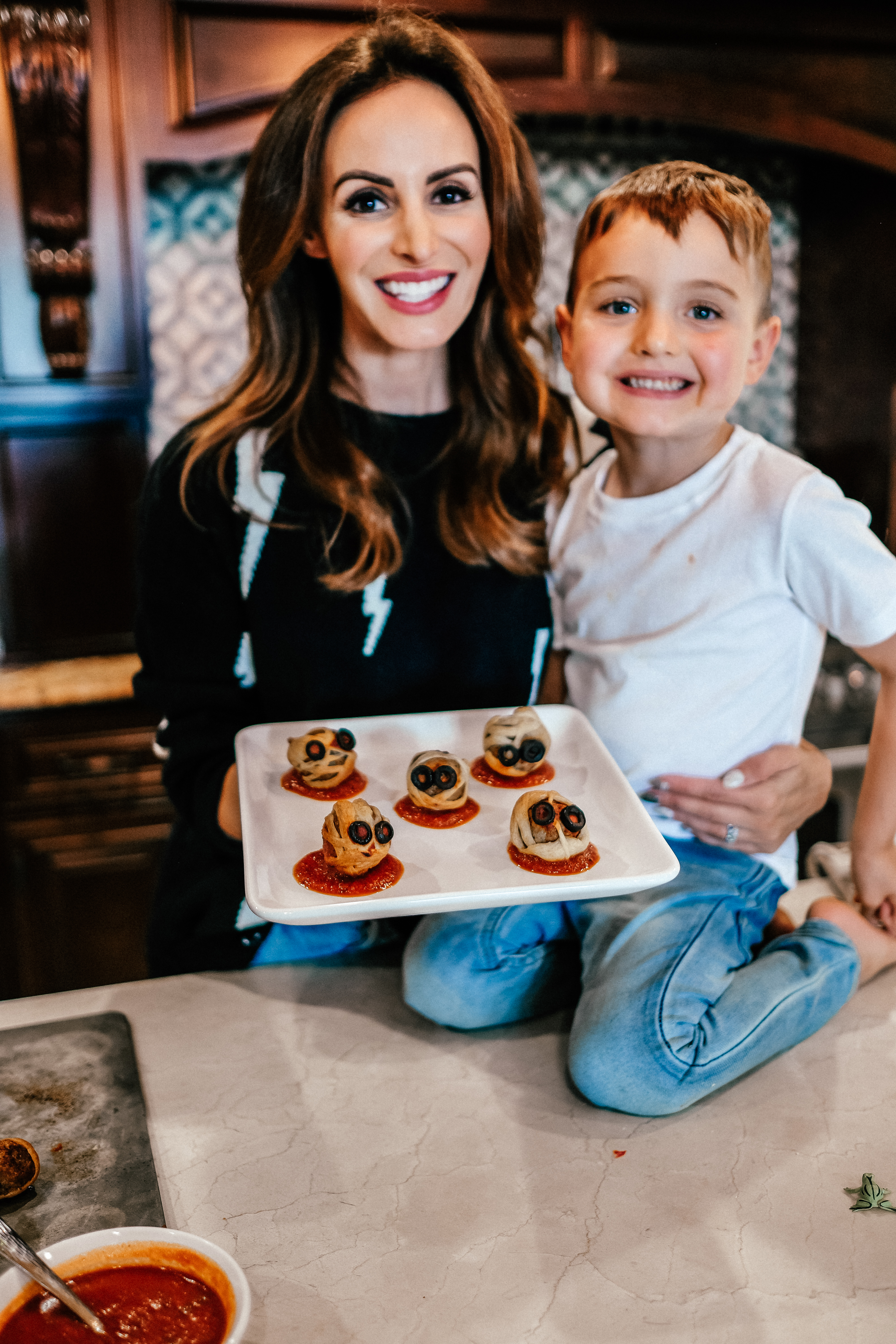 The next are monster mouths! These were equally as delicious as they are fun! You have the option to fill the apples with whatever type of nut butter you prefer and the teeth can also be marshmallows if you choose. Another great option for the tongue is a licorice stick or strawberries.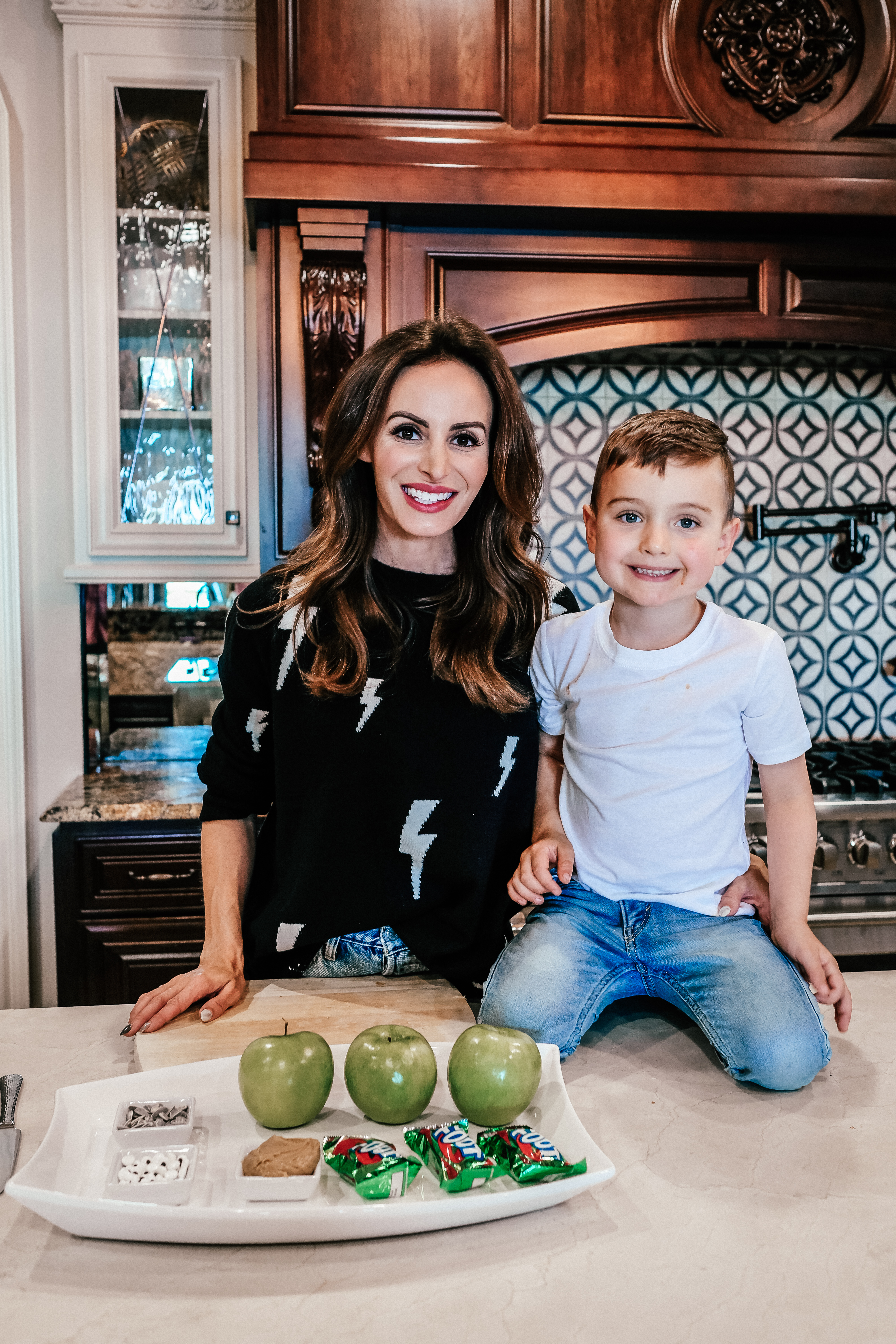 Here is what we used:
-Granny Smith Apples
-Peanut butter
-Sunflower Seeds
-Fruit Roll Up
-Candy Eyes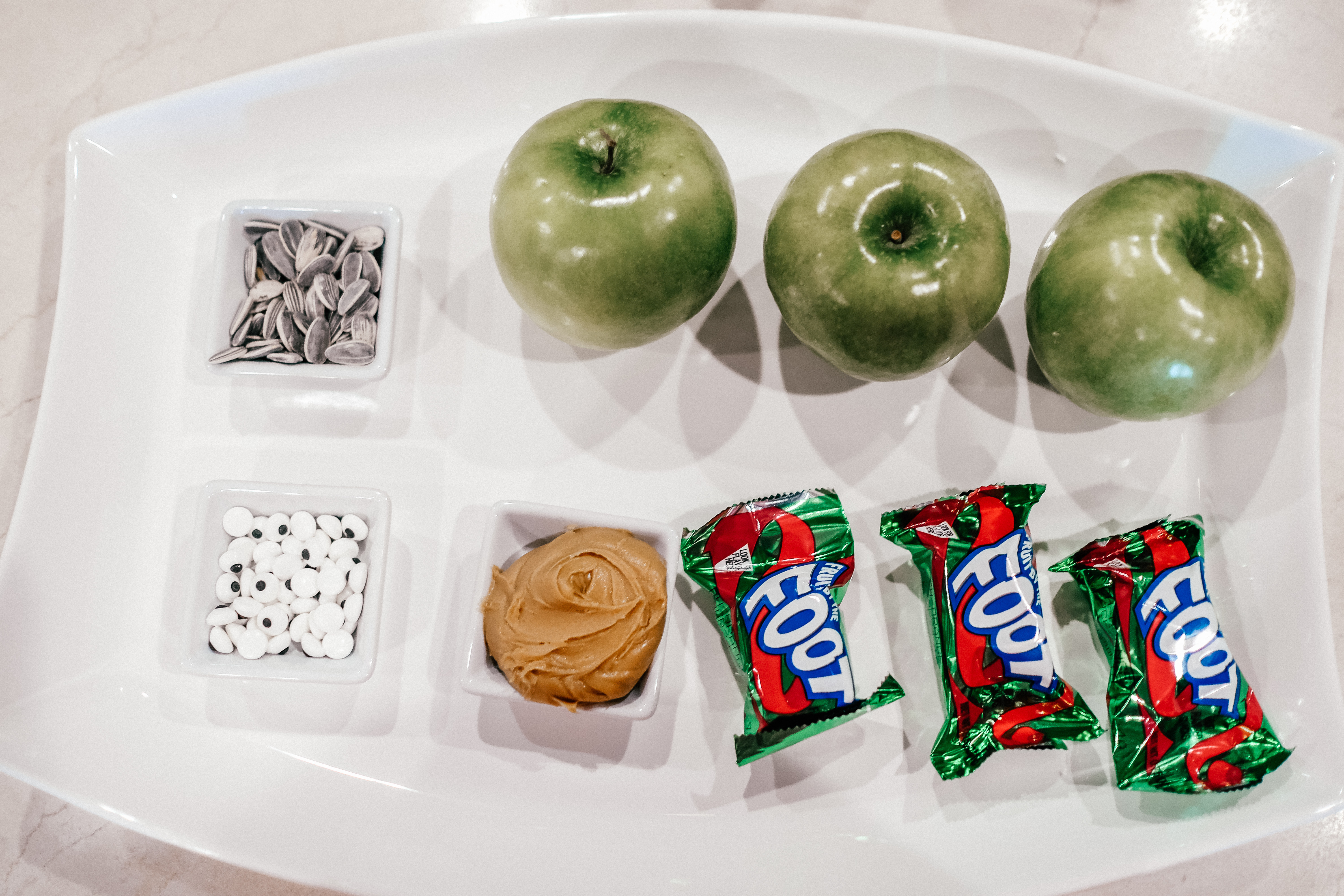 Instructions: 
First, slice up the apple (if you watch the video, I show you exactly how to cut it to create the mouth). Once the apple mouths are cut, fill them with peanut butter. Then, take your sunflower seeds and start placing them in the peanut butter to create 'teeth'. Lastly, open up your fruit roll up and cut out a tongue then place it on the mouth and you're done!! You can also bite the back side of the apple and it looks like you have a spooky mouth. Brex loved this part 🙂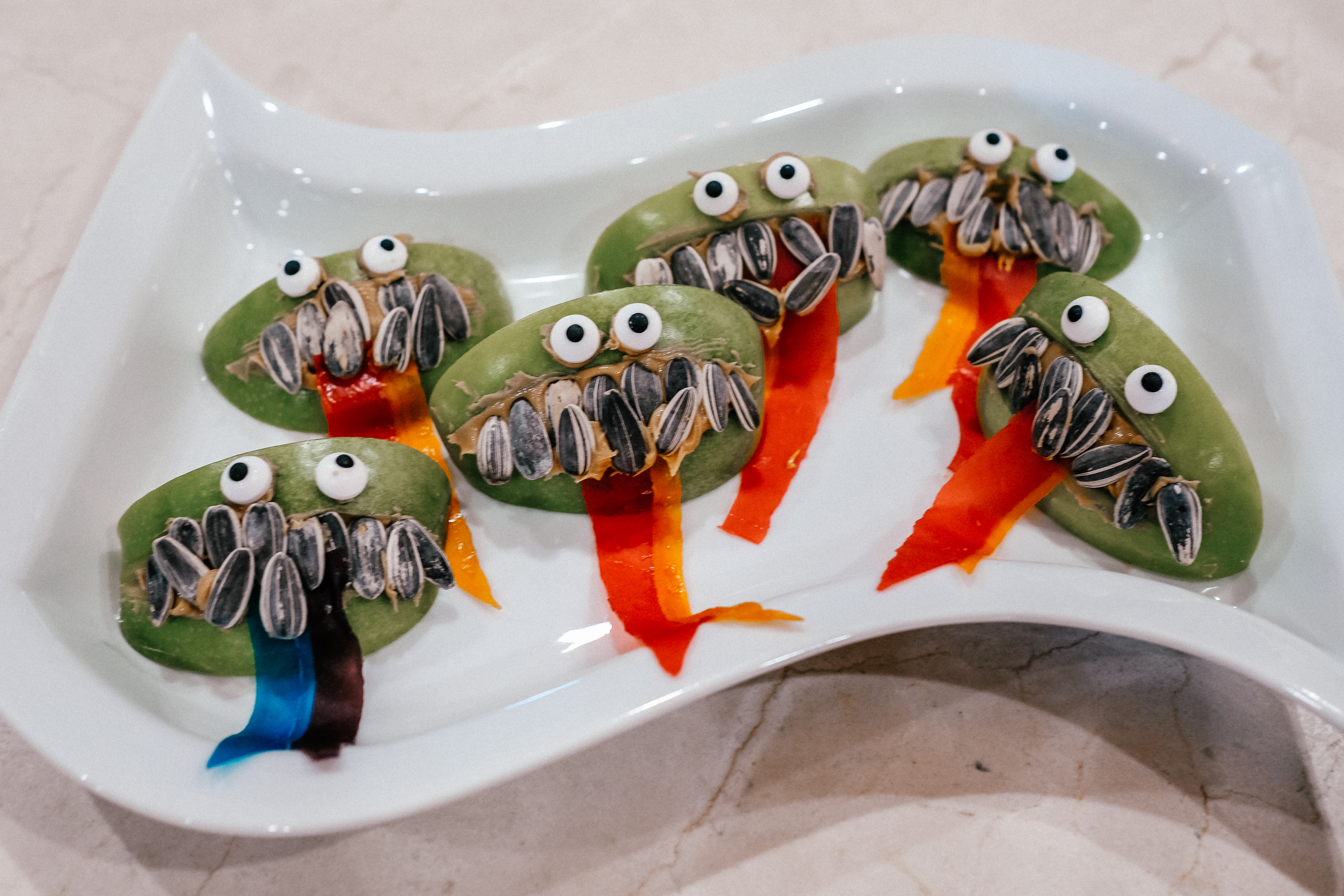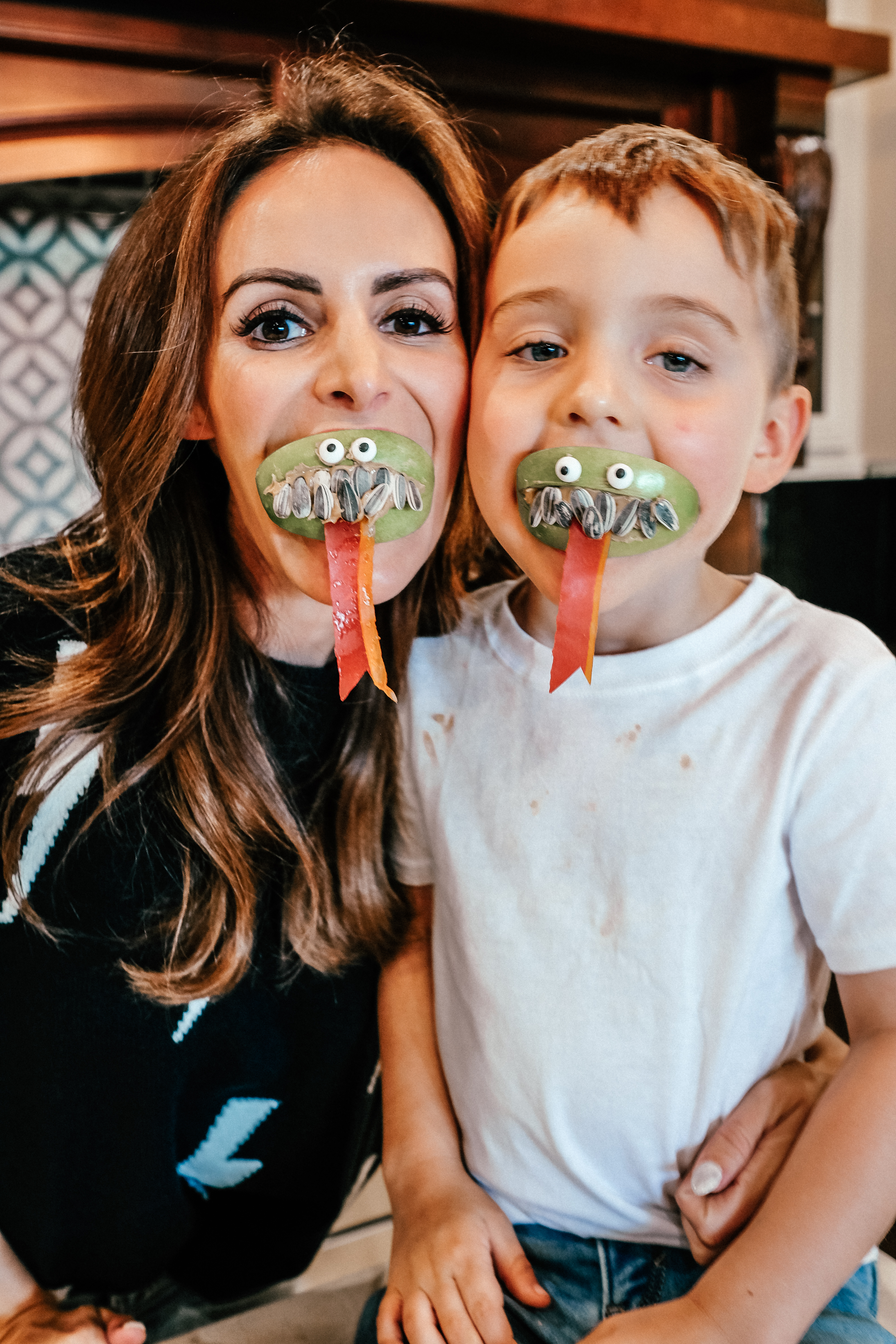 Finally every spooktacular lunch isn't complete without a Green Goblin drink. Mommy wanted something low sugar and Brexton wanted something bright green and filled with scary Halloween items so this drink is a win win. You can also opt to add sour gummy worms to it but I figured he will he will get enough sugar trick or treating!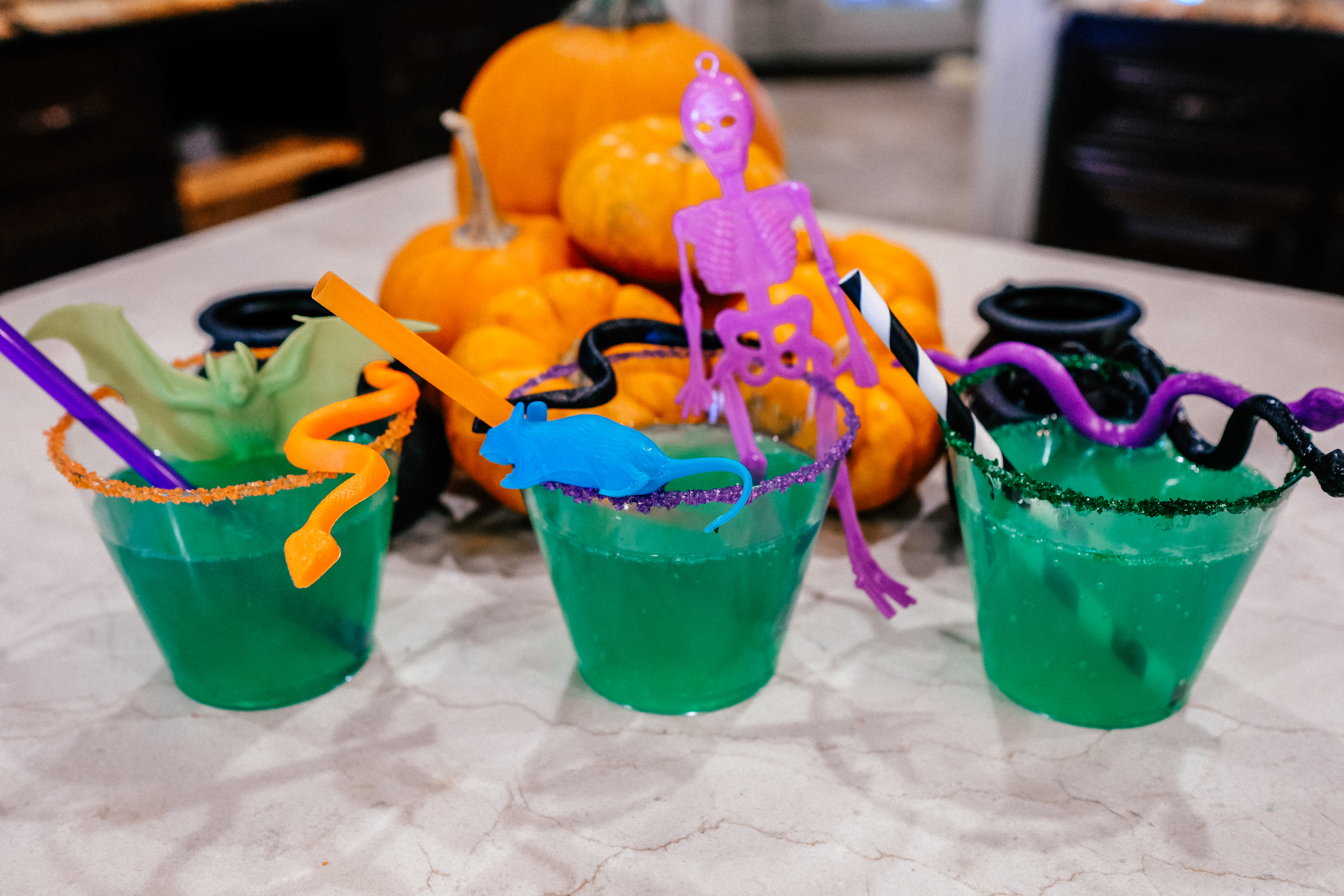 What you'll need:
-Light Lemonade
-Lemon flavored sparkling water
-Colored Sugar
-Green food dye
-Simple Syrup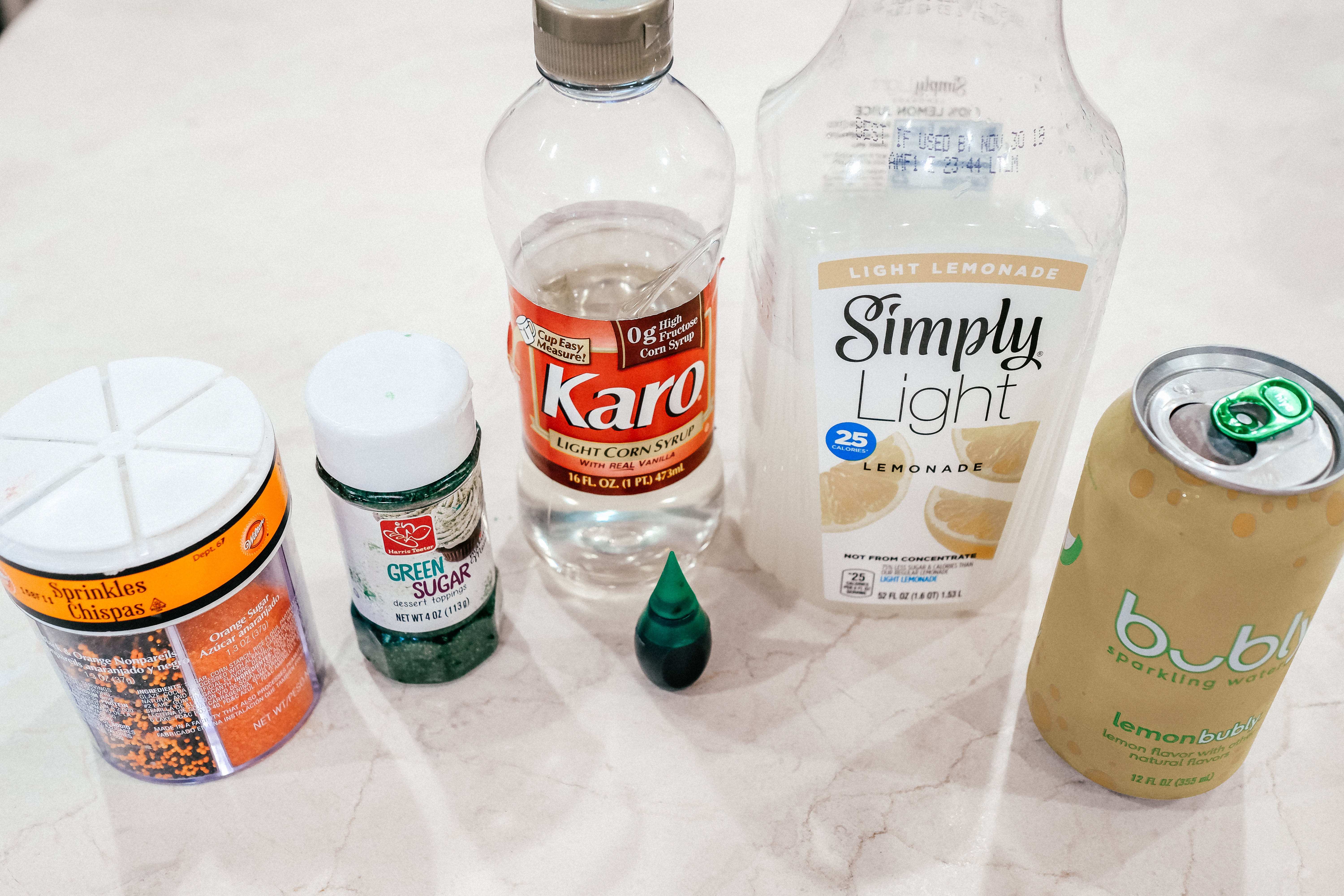 Instructions:
First, dip the rim of your cup into the simple syrup to make it sticky, then pour colored sugar/sprinkles into a bowls and cover the rim of your cup! Next, pour in half lemonade and half sparkling water then drop ONE drop of green food dye and mix. You now have a yummy, healthy and spooky drink! You can add any decorations you want. We got these at the dollar store!