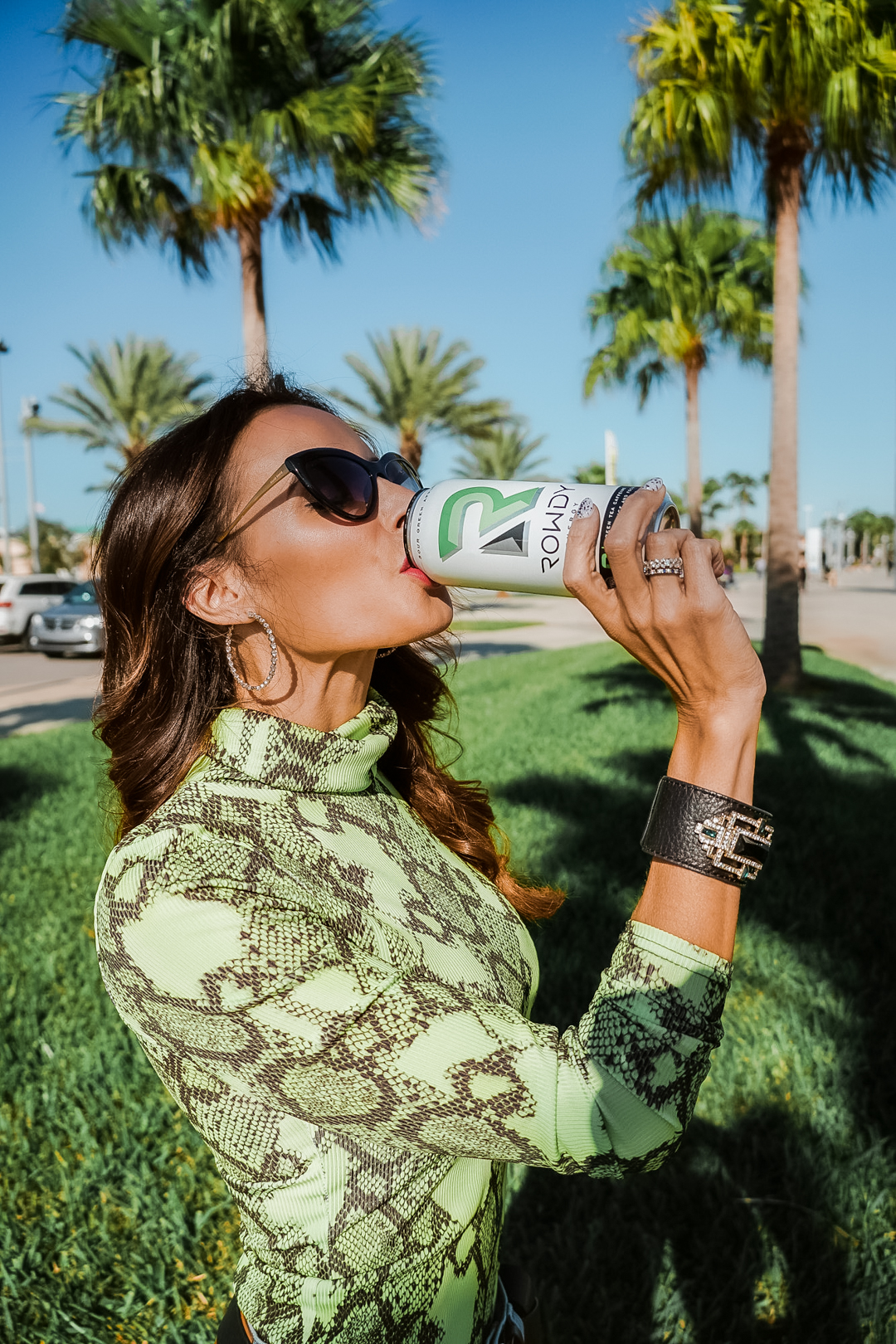 As a mother, wife, and business owner, I am always on-the-go — especially during race season. Sometimes we are gone for multiple weeks at a time! Whether I'm at home in Charlotte or traveling, I always have a to-do list that I have to tackle each day, I homeschool our son, Brexton, and I have to run the boutique, the blog, and Bundle of Joy. It's pretty safe to say that I'm usually running on fumes!
A busy lifestyle is great and all, but sometimes it ends up running me down.  I find myself hitting the point of exhaustion in the middle of the day, and I still have half of my to-do list to take care of. When it comes to times like this, I find myself needing some sort of pick-me-up to help me perform my best during those tiring days, and to be honest, sometimes coffee just doesn't do the trick. I had tried multiple energy drinks in the past but they usually left me worse off than before — usually because they had far too much caffeine (300 mg, what?!) or were packed to the brim with chemicals and preservatives that left me with jitters, then a crash, and finally a headache (none of which helped me get thru the day focused and energized).
When Kyle was tossing around the idea of creating an energy drink we knew it had to be different to stand out in an already over-saturated market. Our main priority was to make sure that it tasted amazing but could stay guilt-free and better for you than what was already on the market. We strived to create a drink that would give you long-lasting energy without the dreaded crash (NO ONE has time for that, trust me!) or jitters. It needed to make you feel good about putting it into your body.
That's why Rowdy Energy gets its caffeine from green tea, its color from fruits and veggies and its natural sugars from a proprietary sugar blend. We went through trial after trial to perfect the flavors (Kyle had to have cherry limeade as one of the flavors since it's his favorite!) and keep that sugar percentage low. For me, I wanted a taste of childhood. That came to life with a tart strawberry lemonade (this flavor is sugar-free and low-calorie!). We knew these drinks were what we would need to help our busy lifestyles run a bit more smoothly. Rowdy Energy drinks have two levels of energy — one for the instant dose of energy that you need right away and another that slowly releases to give you more long-term energy that'll last longer throughout the day making it pretty different compared to other energy drinks on the market — they even offer better hydration than the leading sports drinks!
So many other energy drinks are also pumped to the top with sugar making it hard to justify drinking when I'm trying to maintain a healthy diet. Plus, with all that sugar, you usually find yourself seriously crashing after a couple of hours — not the best situation when you have an almost five-year-old who wants to run around in the backyard for what can sometimes feel like hours. The L-Theanine in Rowdy Energy drinks help you stay incredibly focused, electrolytes keep your body well hydrated, and there are even two flavors with ZERO sugar (hello totally guilt-free energy!). Cherry Limeade and Orange Citrus have 60% less sugar and all were crafted using natural flavors so you don't have to feel bad about drinking something with a ton of artificial sweeteners and other bad-for-you ingredients.
I've also seen a ton of fellow moms lately hopping on the keto diet train which is why I'm so excited to say that Rowdy Energy's two sugar-free options (Sour Green Apple and Strawberry Lemonade) are KETO certified. Both also only ring in at 15 calories — Yes, I'm serious!!
Needless to say, whether you're a mom, a businesswoman, a busy wife, or a combination of the three like I am, Rowdy Energy is the ideal option to give you a smarter, cleaner energy (while tasting delicious, I might add!).