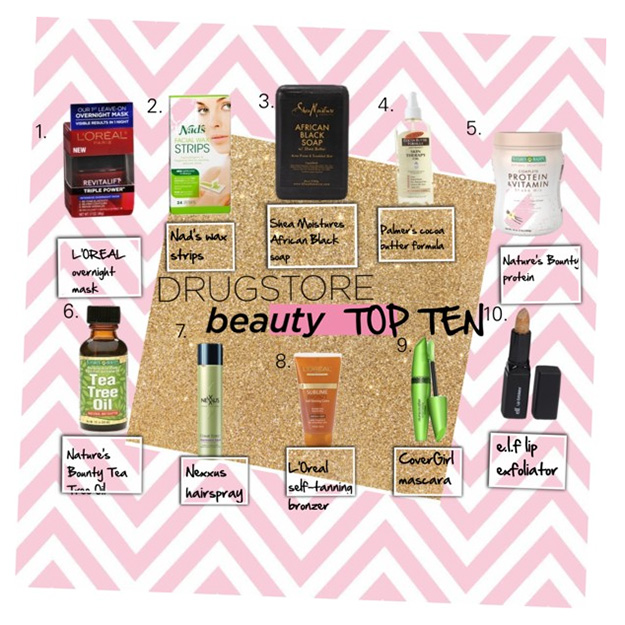 L'OREAL Overnight Mask
Perfect for when your skin is dehydrated after the sun, I use this leave on, night time mask once a week.  My skin feels velvety soft in the morning, my lines are less pronounced and my skin is radiant! I would use it more often but  I have combination/oily skin so I find once a week is best for me.
Nad's Wax Strips 
I refuse to go get my eyebrows done since they always take off everything I spend months growing! Instead I like to mainly use tweezers but use wax for the middle of my eyebrows and also far enough under the arch that I wont mess with the shape.  I like to cut these to fit the size I need then just peel, stick and pull!
SheaMoisture African Black Soap
Do you find that your body skin goes a little crazy with the season changes? Little bumps and breakouts on your back and chest be gone with this soap. It helps to absorb excess oils but replenishes your skin at the same time with oats and aloe. Says it is great for those with eczema and psoriasis too!
Palmer's Cocoa Butter Formula Skin Therapy Oil
I love that this oil isn't too greasy and has such a wonderful smell.  I apply it before bed everywhere and wake up with super soft skin! I also apply it right after being out in the sun!
Nature's Bounty Optimal Solutions Complete Protein & Vitamin Shake Mix Vanilla Bean
I love this protein powder, unlike many this mix is specifically for women! High in protein but also low in calories and packed fiber, amino acids, vitamins and even hair, skin and nail support this mix has it all.  I love to mix it with some Greek yogurt and make a dip for fruit.
Nature's Bounty Tea Tree Oil Natural Antiseptic 
Goodbye unsightly zit! Apply a drop of this to the area to help fight breakouts.  If my skin is being especially unruly I like to apply a few drops to my moisture to help keep my breakouts in check.
Nexxus Comb Thru Touchable Hold Finishing Mist
My go to hair spray! Strong enough hold to keep my style in place but never hard.  After curling my hair I spray on this hairspray and  then comb through with either a paddle brush (to create more retro glam waves) or my fingers (natural, pretty, messy waves)
L'Oreal Paris Sublime Bronze Self-Tanning Gelee Medium Natural
Usually I opt for a bit higher end sunless tanner because of the many horror stories you hear but I was in a bind one night and quickly ran out to Walgreens in search of something to turn me into a bronze goddess overnight.  After much debating I was pleasantly surprised with this one. I loved the gel texture and found it really easy to apply.  There was a distinct scent that was different from the normal sunless tanner smell and I actually kind of liked it! I let it dry for an hour and then went to bed and only had a little bit of streaking right by my ankles which I always do.  I also thought the color was really nice and natural.
CoverGirl LashBlast Clump Crusher Extensions Mascara Very Black 840
I pair this with my Maybelline Lash Discovery Mascara for the ultimate false looking lashes.  This product is great though because it volumizes and lengthens without making my eyelashes look like spider legs
e.l.f. professional Lip Exfoliator Clear
The perfect quick, cheap lip exfoliator to give you a perfect pout! Do this at night and then apply a heavy duty lip treatment or before you go out so your lips will have a natural plump to them.  I like to wet the exfoliator just a little but before applying it because I find it a little dry.